Topicfinder displays and retrieves various SEO metrics within the application. Let's examine each one.
Starting a Report
When initiating a report, you will encounter three sections.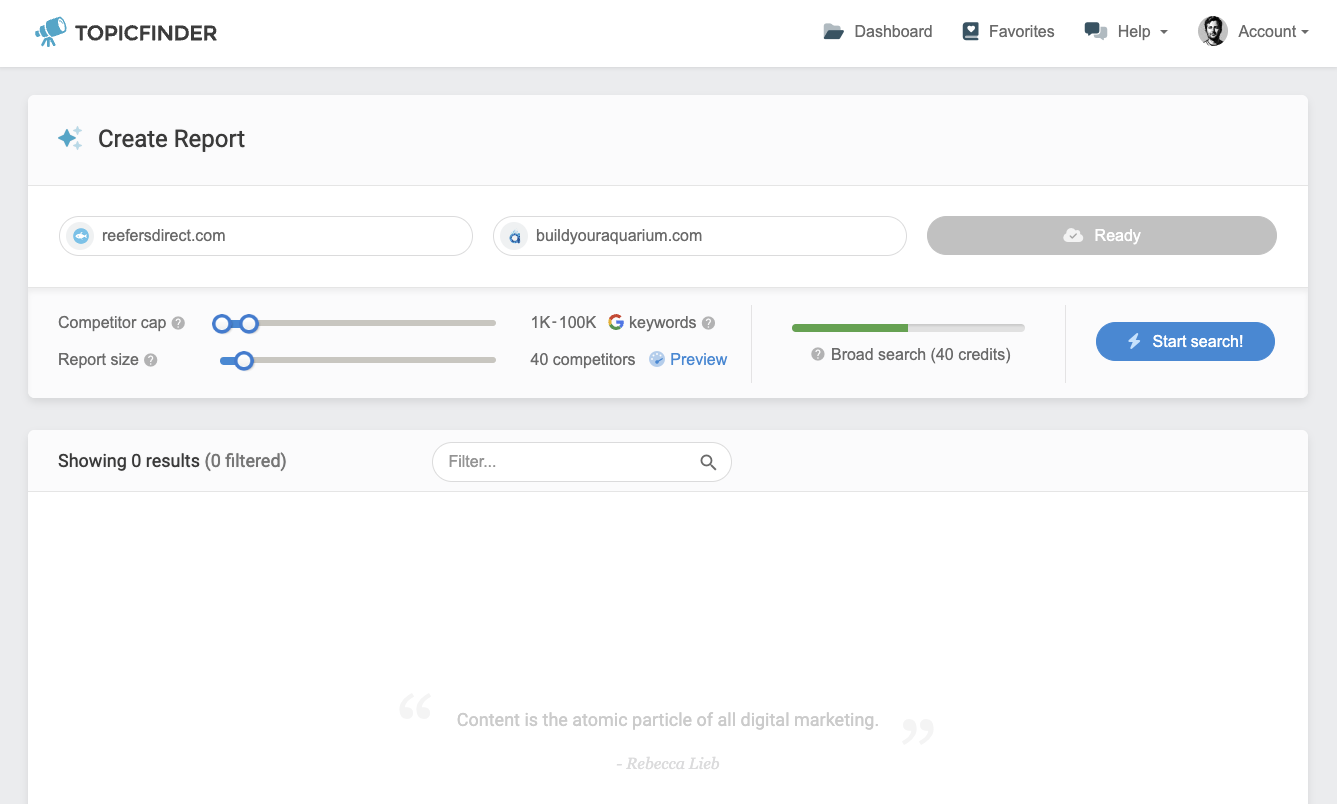 Those are:
Competitor cap: The default value is set at 50,000/mo, representing the number of organic (search engine) visitors a website receives per month. By adjusting this value, such as setting it to 10,000/mo, we exclude any websites with more than 10,000 monthly visitors. This feature allows you to focus your search on websites of specific sizes, excluding larger content-driven websites that may not be direct SEO competitors despite ranking for similar keywords.
Report size: The default value is approximately 1/10th of the available competitors, usually around 30. This determines the number of competitors from which we extract content and SEO data. Each competitor requires one credit, meaning a search for 32 competitors would cost 32 credits. You can modify this slider to customize the size of your report. More competitors lead to higher credit consumption and larger reports with more data.
Search estimate: This green bar displays the number of credits you will spend on the new report. Adjusting the sliders on the left side updates these figures accordingly. There are four scores; Light Search (>30 credits), Broad Search (>60 credits), Deep Search (>200 credits), and Massive Search (more than 200 credits).
Additionally, there is a "Preview" dropdown that allows you to preview the competitors we have found before executing the search.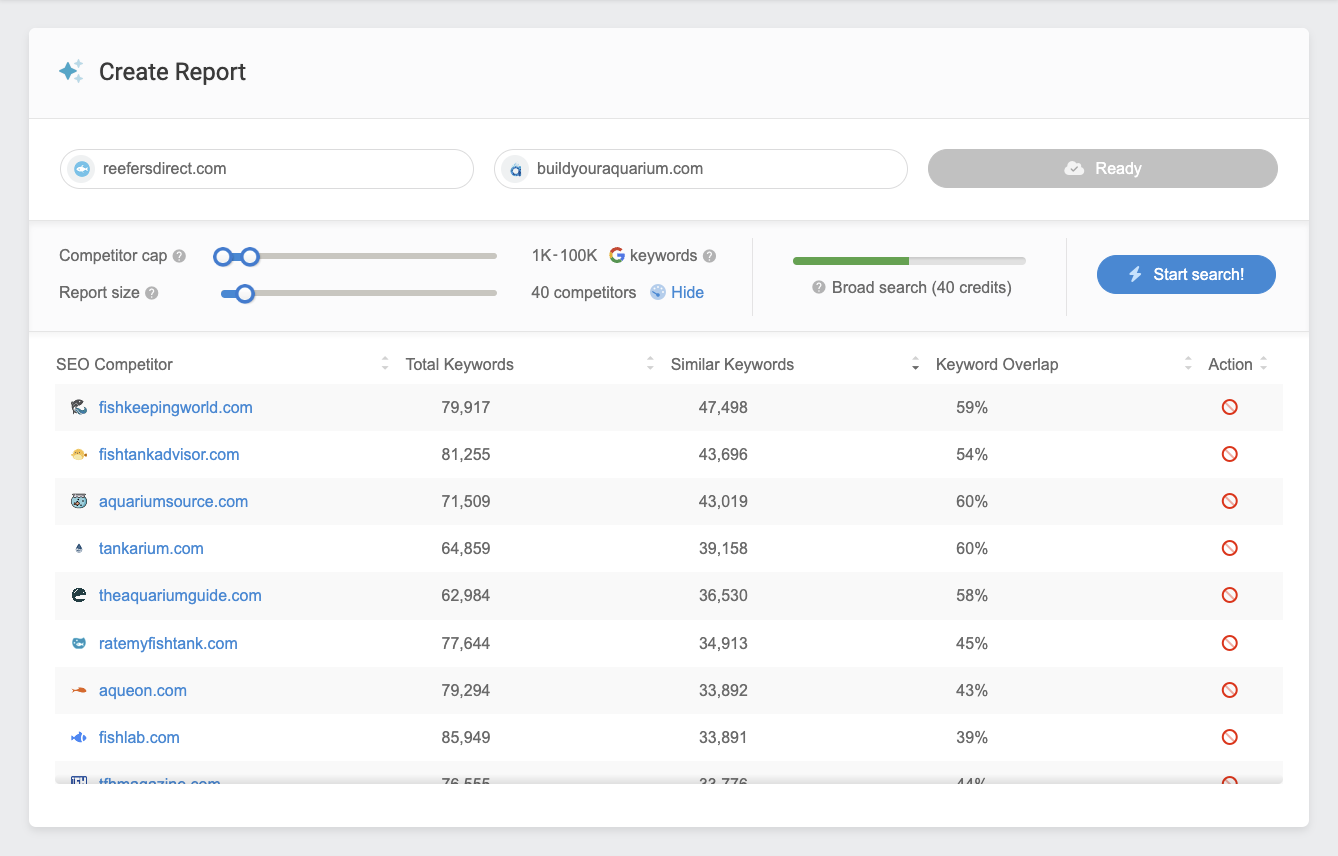 In the table, you will find three metrics:
Total keywords: Indicates the overall number of keywords that a domain ranks for on Google.
Similar keywords: Represents the number of similar keywords shared between the analyzed domain and your primary domain. A higher count of close keywords indicates a greater similarity in content between the two websites and gives us confidence that they write about the same things as we do.
Keyword overlap: This is a percentage that compares similar keywords to total keywords. For example, if similar keywords is 10,000 and total keywords is 20,000, then the keyword overlap would be 50%. 
Report Table
The main report table presents six different metrics.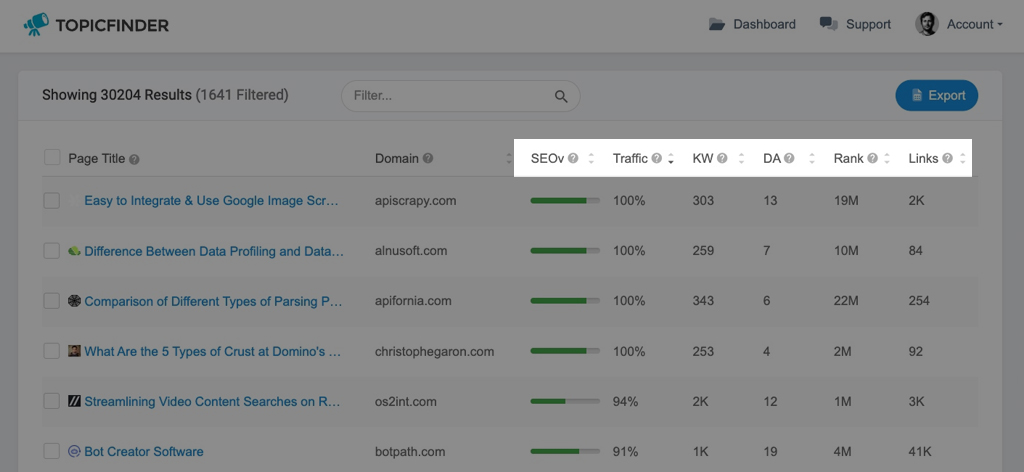 Those metrics are:
SEOv (SEO Viability): This proprietary metric assesses the feasibility of targeting a particular topic from an SEO standpoint. It considers factors such as the competing page, the authority of their site, your site's authority, traffic potential, the page's value to the competitor relative to their other pages, keywords they are ranking for, the site's rank compared to yours, and more. A higher SEO Viability score suggests that the topic may be realistic to target in terms of ranking if you decide to create content about it on your website. However, a high score does not guarantee a perfect fit for your industry.
Traffic (Traffic Share Percentage): Indicates the percentage of traffic that this specific page generates for the competitor's website, relative to their other pages. For example, if a page has a 63% traffic share, it signifies that this page attracts the majority of the website's Google traffic. This metric is particularly useful for identifying high-traffic blog posts on smaller websites that lack extensive content. Identifying these posts allows you to write about similar topics and capitalize on the existing traffic.
KW (Domain Keywords): Represents the number of keywords a domain is ranking for on Google.
DA (Domain Authority): A score ranging from 1 to 100 that measures the link authority of a website. A higher score indicates a larger website with more backlinks.
Rank (Domain Rank): A score from 1 to 99,999,999 that determines the prominence of a website. A rank of 1 denotes the largest website in the world (usually Google.com), while 99,999,999 represents a newly registered domain.
Links (Domain Backlinks): Indicates the number of backlinks the domain has. Backlinks serve as a strong signal of domain authority, and websites with more backlinks are generally more challenging to outrank compared to those with fewer backlinks.
You can sort the report table based on each of these metrics, and the metrics will also be present and sortable in any exported reports.