Review of OutreachMama: Are They a Legitimate Service?

In the world of paid link building, there are a lot of ways you can go about accomplishing your goals. You can reach out and pay for sponsored posts. You can pay to hire a consultant with connections, capable of getting you positions writing for top blogs. You can hire a third party service to handle the whole process for you. You can pay an employee to do it, or even do it yourself and save the money.
With all of these options, one that many people turn to is the third party service. There are many services available, from sellers on Fiverr to big-name brands like The Hoth, Fat Joe, and OutreachMama.
I've written about such services before, and I dance around it a bit, but the fact is that most of these services are rumored to be private blog networks that bill themselves as networks of legitimate sites.
I suppose that once a site reaches a certain level, whether or not it started as part of a PBN doesn't really matter. However, when you're paying for links that are supposed to come from legitimate sites, even if 1% of them come from legit sites, the other 99% being PBN links does nothing but hurt your results.
OutreachMama is one of the big names, so the question is: do they sell legitimate outreach with links coming from real guest posts, or do they rely on private blog networks just like so many others?
An Overview of OutreachMama
First of all, here's a link, so you can follow along at home.
OutreachMama has one of the better reputations amongst link building companies, though every such company is going to have people either making up reviews or assuming the worst about them without trying to use them.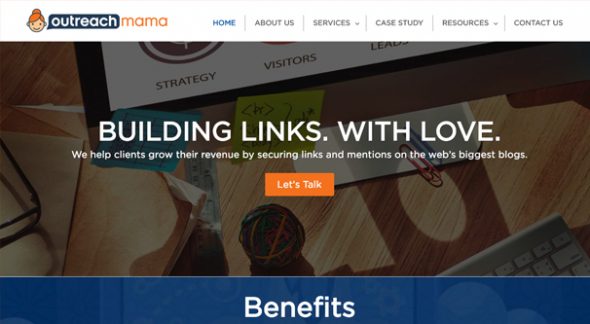 The company has a handful of different services on offer. These are:
Blogger Outreach. This service uses the connections that OutreachMama has built over the years to network with blog owners. Connecting client blogs with the sites that dominate their industries allows them to get guest posts published on higher level sites than the client would normally be able to reach.
Guest Posting. Where blogger outreach simply builds connections, Guest Posting takes it one step further. OutreachMama uses their stable of freelance and in-house writers to create deep, detailed content relevant to the client's industry, coupling it with outreach to get those posts published on mid- to high-tier sites in the given industry.
Agency Link Building. This is a sort of combination of the two previous services, at scale, aimed at resellers. Agencies can contract OutreachMama to provide their services, white label, to the agency's clients.
Brand Link Building. Link building through sponsored posts, guest posts, press releases, and other forms of relevant marketing makes this service stand out. They promise to build high quality links from industry-relevant, top-tier sites.
Blog Writing. Since OutreachMama already has a stable of writers practiced in creating content for a wide variety of industries, they put those talents to use. Clients can hire OutreachMama to produce content for their own blogs, consistent in quality and style with the posts sent out to be guest content.
Skyscraper Marketing. This form of marketing treats content marketing as a tower. At the base, OutreachMama creates high quality content. They then use that content as the basis to reach out and build links to a site, all while targeting site-appropriate blogs to earn those links.
As a large-scale company, it might come as a bit of a surprise that OutreachMama only has 23 employees, despite having worked with over 10,000 sites and built thousands of links. Being a smaller company (and outsourcing a lot of their content creation), they are able to maintain a small community sensibility.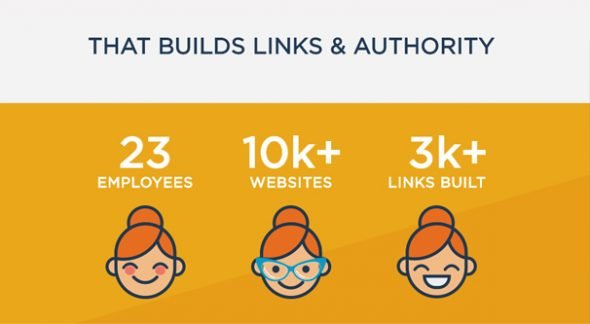 OutreachMama promises that their links are built the right way, through outreach, networking, relationship building, and trust. They don't turn around and buy bad links, nor do they use private blog networks to provide their links. At least, that's what they claim; whether or not that's true remains to be seen. All links, unless otherwise stated up-front, are followed links that pass SEO value rather than nofollow links. Now, how many of the sites they network with actually provide followed links is another story. It may vary by industry.
How does it all work? It's a fairly simple and somewhat standard process, though if you've used the more hands-off companies like The Hoth, you may feel like they're a little more in-depth than what you're used to.
You contact them. You can submit a form to reach out, call them via their phone number, or reach them via their orders email address.
One of their "SEO concierges" reaches out to you. This is fancy speak for one of their sales team, looking to bring you on board by discussing their services and packages that might be relevant to you.
You choose on what services and packages you want and place your order.
The delivery team will ask you for any additional details necessary to complete your order. They communicate with you and keep you updated on how your order is progressing, when they've reached out to sites, and when they're getting responses.
In their FAQ, they state that the typical turnaround time for a normal project is around 30 days, during which they keep you updated on the process with weekly messages and recommendations for other link building opportunities you can pursue on your own.
It's worth noting here that while they attempt to build links in 30 days or less, the top-level editorial links often take longer simply due to how long the content calendar for those big-name sites takes to process. Such high quality links might take anywhere from 1-4 months, according to the FAQ.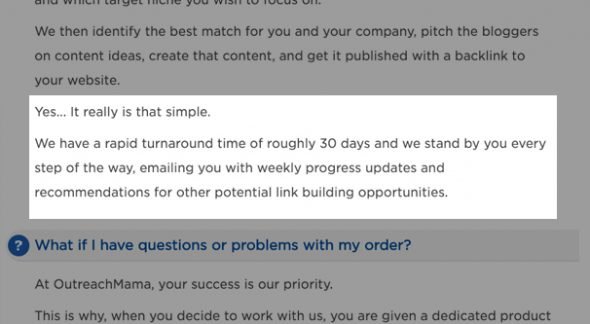 One of the benefits of OutreachMama is that you can be as hands-on or hands-off as you feel comfortable. If you want to recommend sites for them to reach out to, blacklist certain sites you don't want to work with, guide specific topics, or otherwise put constraints on their team, you can do so. Or you can leave them to do what they do best, and devote your time and energy to other projects only you can do.
There are some limitations. For example, while you can provide content direction and even specific keyword goals for the content you have them create, you do not have the ability to review and approve or reject content before they publish it. You just have to trust that their team is capable of writing high quality content for you. They do this primarily to keep turnaround times short and consistent, rather than variable due to the unknown level of nitpickiness you might have. Of course, if you don't like it, you can always cancel your contract with them and talk to the site that published it, asking for its removal.
Unlike content, you are allowed to approve any site they're targeting with your outreach. They might not be aware of all of the industry connections and feuds taking place behind the scenes. This control allows you to avoid having them reach out to direct competitors or people you don't like, or who don't like you, for some personal reason.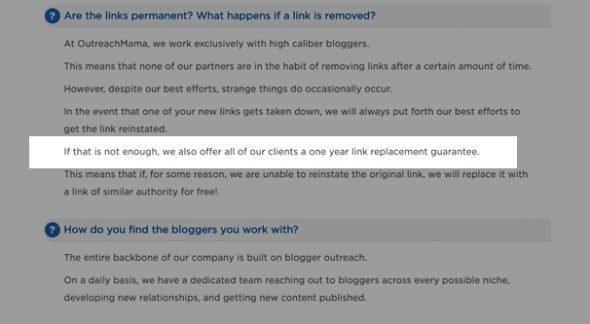 OutreachMama offers one unique service that many other link building companies do not, which is a link replacement guarantee. A lot of link building companies, particularly those running PBNs, rotate out their links over the months after they are published. You buy 100 links, and by the end of the year, half of them might be gone.
The OutreachMama guarantee is that links are usually not removed – since most bloggers don't go through and remove links from their site for no reason – and if a link does disappear within the first year after it has been initially purchased, they will do everything they can to get it reinstated. If it isn't reinstated, they will replace it with a new link on a different site for free.
Of course, there's one nagging question I'm sure you all want to ask, and I want to ask it too. How much does all of this cost?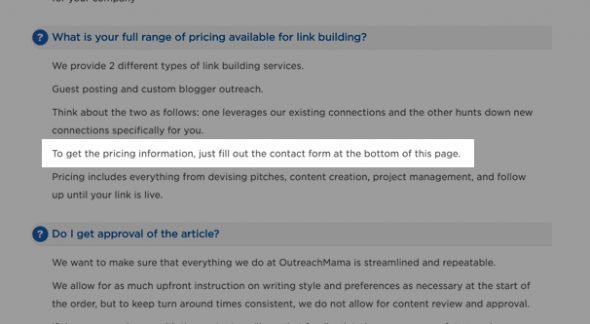 Unfortunately, OutreachMama does not disclose their pricing on a pricing page publicly. They ask that you fill out a contact form and submit to a message from their sales team to discuss pricing. On the one hand, it does make sense; they want to get an idea of how difficult your industry is, the quality of your existing site, how difficult you might be to work with, how much you want in the way of services, and that kind of thing to estimate pricing.
All I can find as far as pricing information goes is this review from last year. In an overview of a bunch of different guest posting services, OutreachMama comes up, and the author claims that they charge a price that averages around $80 per link they build for you.
Personally, I find this price to be fairly good. You can pay twice that for a single blog post sometimes, if not more depending on the depth of the post and the quality of the freelancer. To roll in the outreach and link placement legwork all for $80 is pretty dang cheap.
Review and Verdict
From what I can tell, OutreachMama is a perfectly legitimate service in a sea of similar companies that take shortcuts and overcharge just for their own pure profits. A small team of dedicated networking specialists, a stable of high quality freelance writers, and the talent to mash them together puts the relatively new company at the top of the field.
As with any review of a service like this, however, the experience of one person may not be that of another. I've seen link building services that pick low-quality or low-value clients to shaft, knowing that as long as they keep their expensive clients happy they won't suffer from a few bad reviews. I'm not saying or even implying that OutreachMama does any such thing, I'm just imploring you all to exercise caution.
My advice is this. If you're interested in the services that OutreachMama provides, talk to them about it. Contact them in whatever way you feel comfortable, and talk to them about a small-scale introductory package. I don't believe they have any sort of introductory offers, but they should be more than willing to sell you a package that only includes a couple of links. Opt for their cheaper services, and see what you get.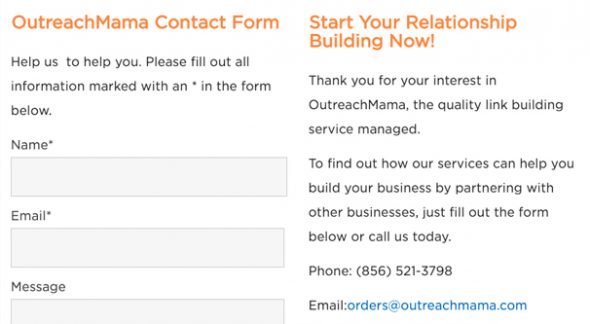 OutreachMama is very transparent with their process. They don't try to hide or not disclose the links they build. You don't have to rely on tracking your link profile to find what sites they used. They provide you the source of links in a Google doc when they go live, and you know and can approve of the sites they target ahead of time. I imagine the smaller scale sites would be cheaper than the larger, harder to reach sites, but that's pure speculation on my part.
Monitor what OutreachMama is doing for you, and determine if what they're doing is in line with what you know about the best practices for link building. If you don't like something they're doing, talk to them about it and see if they change. If they don't satisfy you, cancel your contract, and even ask for a refund; they claim to give complete refunds for dissatisfaction. Worst case scenario, you're out a few hundred bucks for a few months. Best case scenario, they hook you up with some high quality links, some great content, and the connections to build some top-tier networking.
Fine-tuned for competitive creators
Topicfinder is designed by a content marketing agency that writes hundreds of longform articles every month and competes at the highest level. It's tailor-built for competitive content teams, marketers, and businesses.
Get Started