In rare cases, reports can find some irrelevant or undesirable results. This can result in seeing content pages that are not related to your industry.
There are a few possible causes and solutions to this problem. Please scan through this article and jump to the situation that seems closest to yours.
Your website is small or brand new.
In some cases with new websites, there aren't very many relevant competitors to be discovered yet because your overall search presence is too low.
This is commonly the case with:
Websites that have newly registered domains.
Websites that are less than one year old.
Websites that have fewer than 50 pages.
Topicfinder works by looking at websites with a high percentage of overlapping keywords. If there are not many keywords indexed yet, our API partners, algorithms, and servers have very little to go off of.
Solution: Choose two different websites to start your search. The primary website doesn't have to be your website. You can always use Google to search for a relevant topic in your industry to find competing websites. Your results will be much more relevant with sites that already have some content indexed. Searching for related content on a site with limited content will likely yield unhelpful results.
Your competitors don't have much content yet, and reports are finding a lot of service pages and few blog posts.
If your reports are primarily finding top-level services pages and not longer-form content pages, there are a couple of possible reasons for this.
A. Your chosen competitors don't have much content yet.
The most common reason for this is that the competitors Topicfinder found may not be very active with content creation.
Before kicking off a new report, take a look at a few of the competitors we've found with the "Fine tune" feature. If you can't find any blogs, resource pages, learning centers, guides, or articles on most of those websites, then this may be the case. You should try some different websites before starting a report.
You may have to run a few reports until you find some SEO competitors that have websites with lots of content that is relevant to your industry. These will help Topicfinder find more websites like those and more unique content opportunities.
If the websites that you start with to run your report don't have very much relevant content, then the chances are good that the other websites Topicfinder finds won't have very much relevant content either.
Solution: The solution here is to start with SEO competitors that have relevant blog posts that are ranking on Google for topics in your industry. These don't have to be business competitors, but they should be writing for similar topics that you'd like to rank for. 
B. You haven't set any filters.
If you're seeing a lot of pages and not as many blog posts, you can set a filter to hide any page title that is under a certain character count.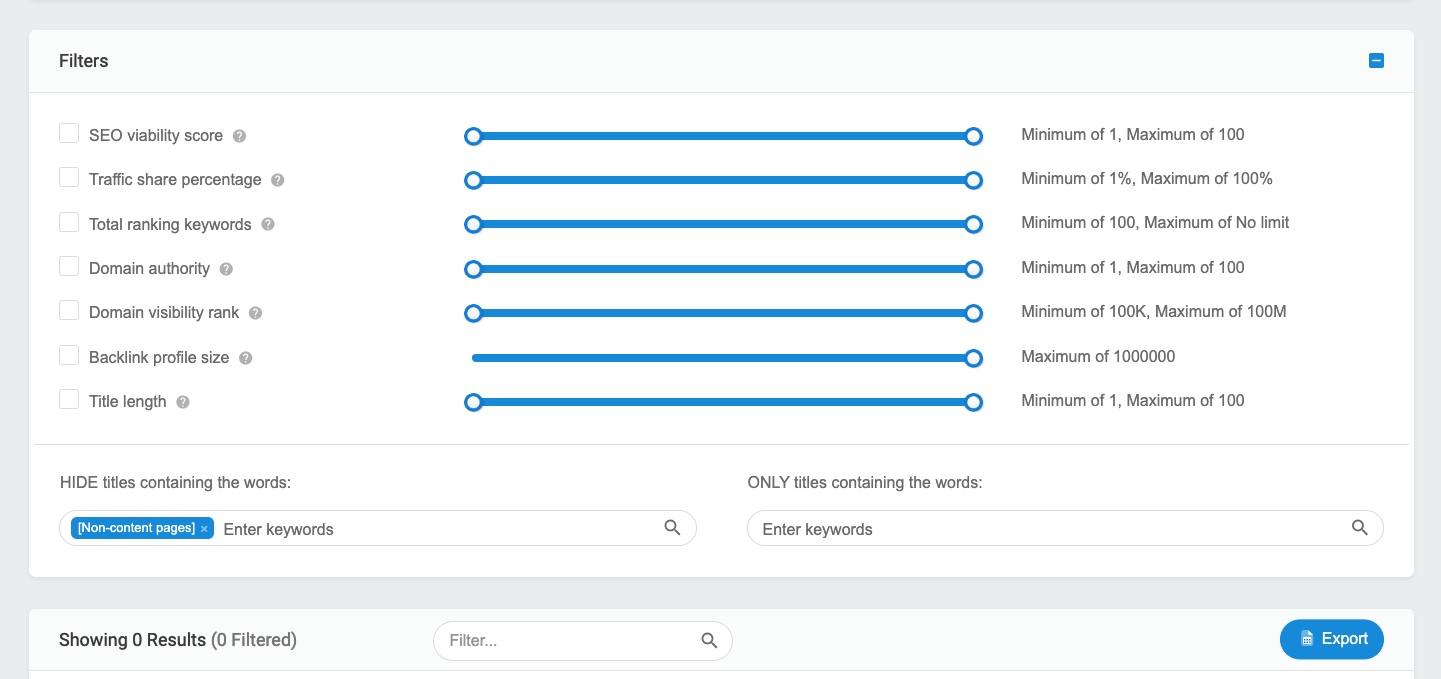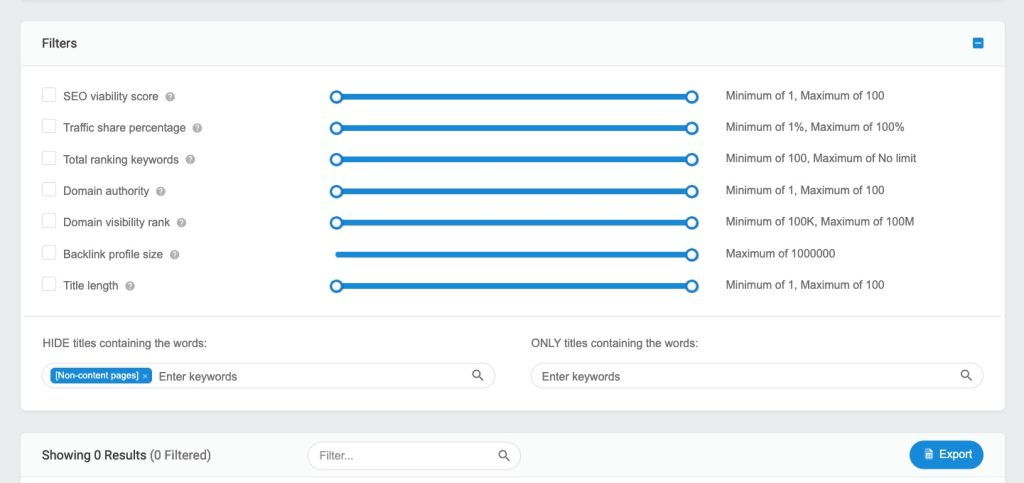 For example, in this screenshot, we set a title length filter to only show us titles that have 20 characters minimum. This hides most top-level service pages and non-blog pages. You can play with these settings a bit to filter out the pages that aren't of any interest to you.
Some of the results are lower quality.
When pulling data from thousands of competitors, we are bound to occasionally see some results that have lower-quality pages. These can include:
Results that are in a different language
Spam websites
Multiple pages with the same titles
Pages in other languages
Pages with errors
Domains that don't load properly
We work hard to filter these from view and to ensure we're not looking at these websites.
However, if any of them do happen to share a lot of pages and keywords with you, a handful might show up. It's not likely that they'll be very visible, though, as these low-quality websites tend to have poor rankings and will be toward the bottom of your lists.
If you do see any of these, you can always remove them with your filters.
If you find that this is happening very often, it may be that Google and our various API partners are grasping at straws because you don't have many competitors yet. You might want to consider choosing different competitors with more content pages, so we have more information to go off of.
If you're seeing a lot of these, or if you'd like to report a bug, please contact us.