How to Submit a Guest Post to an .EDU Site

When talking about backlinks, one concept that comes up fairly often is the idea that some links are better than others. This is true, of course, but there are a few pieces of misinformation floating around.
Obviously, nofollowed links are much less valuable than followed links. Links from high quality, relevant sites are much better than links from low quality or irrelevant sites. There's a sliding scale of value.
One common misconception is that .gov and .edu sites are inherently better for SEO than other kinds of sites. Are they?
Basically, .gov and .edu sites are restricted. You can't just go register a .gov site, because they're only available to governmental agencies and politicians. The same goes for .edu, as it is restricted to educational entities. The .edu domain is a little more open, but it's still quite restricted.
The value coming from a site on a .gov or .edu domain is coming from the fact that it is likely a verified entity. That doesn't mean it's a good, relevant, or high quality website. In fact, most schools that have web developer programs often give their students all some free web space. Links from student webspace tend to be transient – since they're removed when the student leaves the school – and they're often disregarded by Google's algorithms, if they aren't broad-spectrum nofollowed by school policy.
Of course, there are plenty of .edu websites that aren't student websites, and many of them may maintain their own blogs. There are a lot of potential opportunities to guest post on .edu sites, in a way that can get you links, you just need to go about it the right way.
Sound familiar? There's nothing inherently different between a .edu site and a .com site, a commercial blog or an educational site. In fact, I would go as far as to say that the people running most .edu sites don't know much about web marketing. They might be running them as internal or local resources, or as pet projects, or as something mandated by the administration. In some ways, it may be easier to get a post published on a .edu site than a typical blog.
Step 1: Find Targets
As with any guest posting campaign, the first thing you need to do is find sites that may be willing to accept guest posts. With a dedicated .edu campaign, this has a few unique challenges.
First up, you can use your typical Google search footprints to find sites. Simply use your keywords and .edu in a Google search and you will get primarily .edu results.
This is going to be a little less effective than normal simply because a huge majority of .edu sites out there are not going to be posting guest post guidelines pages, and those that do might not fit what you're looking for.
Here's an example. The University of Wisconsin Whitewater College of Business and Economics – say that ten times fast – has The CoBE Report, their college of business blog. They even have a page where they talk about writing guest posts for their site. Read these over and tell me what you think.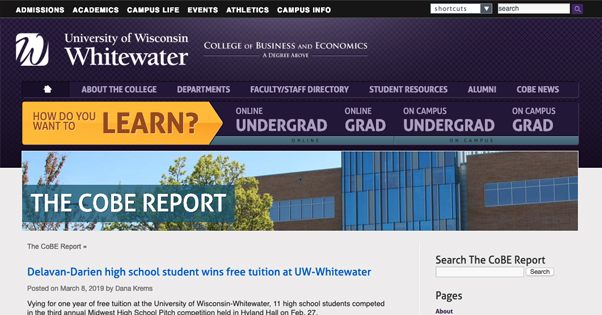 What do I think? These are very basic guidelines, aimed more at students looking to contribute than at outsiders. They have very basic "here's how to write a blog post rather than an academic essay" guidelines, and they say nothing about outside contributions. In fact, it's entirely possible that they only publish content from students at the university.
Writing a guest post for this particular college is going to present some unique challenges. You need to write something that is relevant to students in the college of business. That means anything aimed at a business owner isn't likely going to work well, nor are national-level or local-outside-Wisconsin tips.
These are the kinds of challenges you'll run into with a lot of different .edu sites. Even if they accept posts from outsiders, they may not accept posts from businesses with links added to them. You never know unless you try, but you're likely going to run into a fairly low success rate.
Here's another example of a .edu site that will accept guest posts: ASU. You can see that this is a much more robust guest posting page, with examples of the kinds of topics and posts they want to see, and detailed instructions on how to submit. As a college for philanthropy, non-profits might have a high success rate with this particular blog.
You're also likely to find pages like this one. This is a blog run on Princeton's domain, but it's basically the personal blog for their librarian. As they say in this short post, they don't accept guest posts, but may accept tips that could be relevant. Does your business do something relevant to academic librarians? No? You'll probably want to pass on this one then.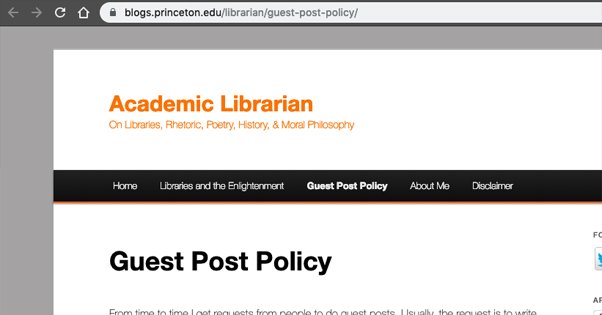 The other option you have is to find any old .edu site and look for a blog. Many universities will have blogs, but the might not be active, or they post once a month during the semester. The overworked teacher responsible for running it might be fine with accepting a post, but the tricky part becomes reaching them.
In these cases, you need to track down whoever is in charge of the blog and find their contact information. The good news is, academics tend to be more receptive to outside contacts than business owners, because they're less exposed to the usual spam we all receive every day. The bad news is, they have any of a thousand different reasons to be skeptical of your pitch, and their understanding of blogging may be limited.
Still, doing the legwork to track down a blog author or manager for a site that doesn't otherwise have a guest posting policy can be a way to get more unique links than you otherwise would.
Pro Tip: Consider looking in your local area. Chances are pretty good there are a few different educational organizations around where you live. Targeting elementary schools is unlikely to be effective, though if you have parenting advice for people with young children, maybe it would work. High schools are a bit better, but universities and charter schools tend to be more open.
When you look for local or regional schools, you have more of a connection to the area. Pitching something as "a local business with an interest in benefitting the community" is a better position than pitching something as a business from six states away.
Step 2: Consider a Personal Pitch
Remember that, among spammy webmasters and SEOs who don't know any better, the .edu TLD is the holy grail. Any .edu site that has a public guest posting page is going to be hammered with low quality pitches for "a post that is sure to be relevant to your audience" and other such generic, boring bullshit.
What you need to do is come up with a topic that is specifically relevant to the blog you're pitching. For example, if you found this site in your searches, you would want to pitch a post that has something to do with art, museum exhibitions, relevant resources for the people interested in those topics, and so on. This is a narrow space, and not something I expect the average reader of my blog to be able to reach, but who knows. Maybe you can come up with something for them.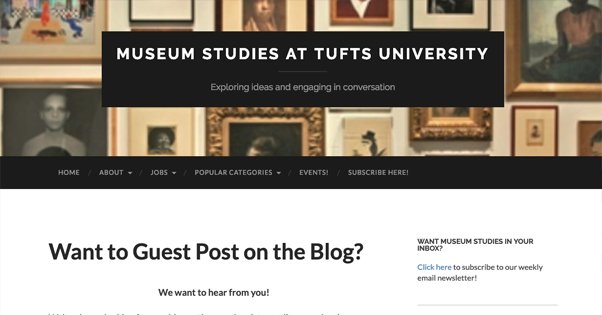 Any pitch you develop needs to adhere to the following:
Your pitch must be personal. Even using a template might be too impersonal for your pitch to be accepted.
Your pitch must be hyper-relevant to the topic of the educational institution you're pitching. If it's a college of business, write about business topics. If it's a college of art, write about art topics.
Your pitch must adhere to any guidelines put forth by the manager of the blog. If they tell you 700 words, write 700 words, even if modern web standards indicate posts work better at 1,500+. If they give you specific topics, limit yourself to those specific topics. If they want you to send a full post, send a full post rather than a pitch.
The key here is to remember the kinds of people you're talking to. You're not pitching to a savvy marketer, you're pitching to someone who is probably railroaded by their department into running a blog they don't really care about.
Step 3: Track Your Results
As with any major guest posting campaign, I highly recommend that you track your results. You don't need to go into detail about the domain authority of your .edu links, just set up a basic spreadsheet.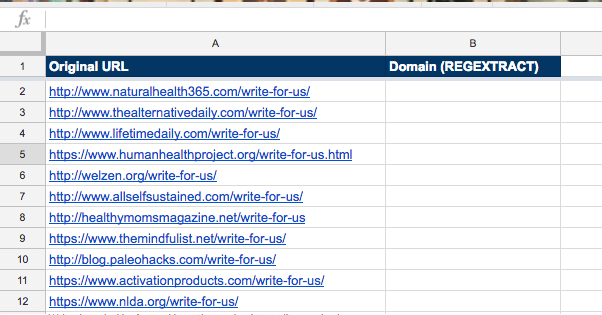 I'd recommend columns for:
The name of the institution you're pitching.
The URL of their blog, since many institutions have blogs for different departments.
The URL of any guest posting requirements.
Any contact information that's relevant to the pitch.
The pitch, or the basics thereof.
The date you submitted the pitch.
The date you followed up, if any.
The date they accepted or denied you.
If accepted, the URL of the post they published.
Any special notes, like if you have a tie to the organization personally or professionally.
All of this is mostly just internal data so you can track things like "did I submit one to this college yet?" and "how long has it been since I sent off that pitch?" It simply helps you prevent letting leads die or sending pitches to an organization that told you they don't accept any, but you forgot.
Step 4: Broaden Your Searches and Try Again
Any good guest posting campaign is going to have a few waves of attempts. I figure you can spend a lot of time harvesting a lot of potential blogs you can pitch, and then figure out the top 20 or top 50 or however many you consider reasonable to pitch at once.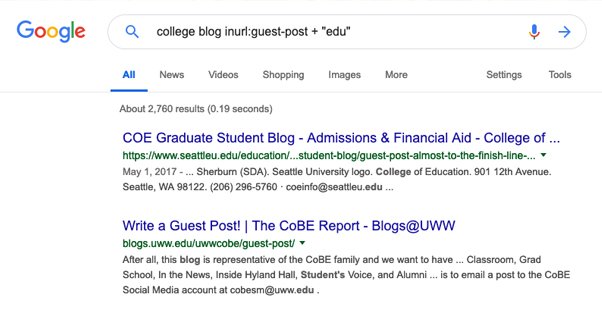 Once you hear back or determine you've been ignored by most of them, you can cast another net and send out another wave of pitches. Cycle through your list, do more research if you want to, and carry on until the effort of finding new .edu sites is too much.
Step 5: Move On to Easier Pickings
At the end of the day, this is all a lot of work for a few backlinks on domains that, while they have a decent amount of trust, aren't likely to have a lot of relevance to your business. The way I see it, there are a ton of educational organizations out there, but only a few of them with close enough ties to you to make a guest post worthwhile. Local institutions, institutions focused on your precise niche, and any that you may have a financial tie to are all decent options. Some random university across the country in an unrelated degree program? Maybe not the best choice.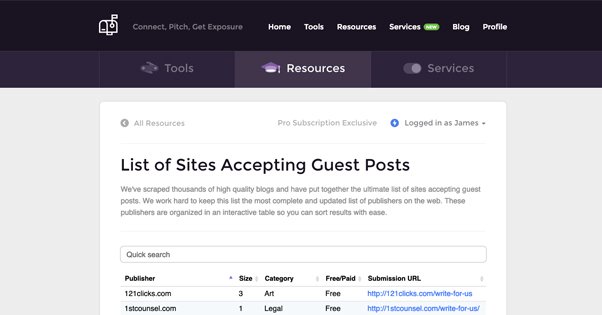 You might as well get the low-hanging fruit picked for your links if you can, but don't spend too much time on it. Remember the 80-20 rule and recognize that you're going to encounter significantly diminished returns the longer you keep at it. Unless you can prove tangibly that a single .edu link is getting you a high degree of SEO benefit, just move on. There are enough other sites you can guest post on with better quality content and better results that you don't need to stress yourself out over this.
Fine-tuned for competitive creators
Topicfinder is designed by a content marketing agency that writes hundreds of longform articles every month and competes at the highest level. It's tailor-built for competitive content teams, marketers, and businesses.
Get Started