Google Ads Negative Keyword List: 500+ to Add in 2023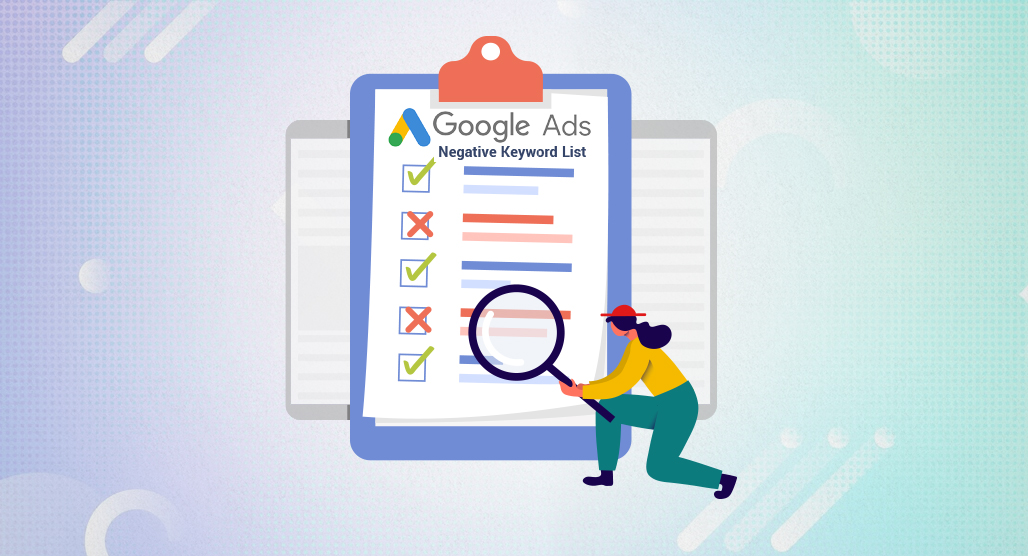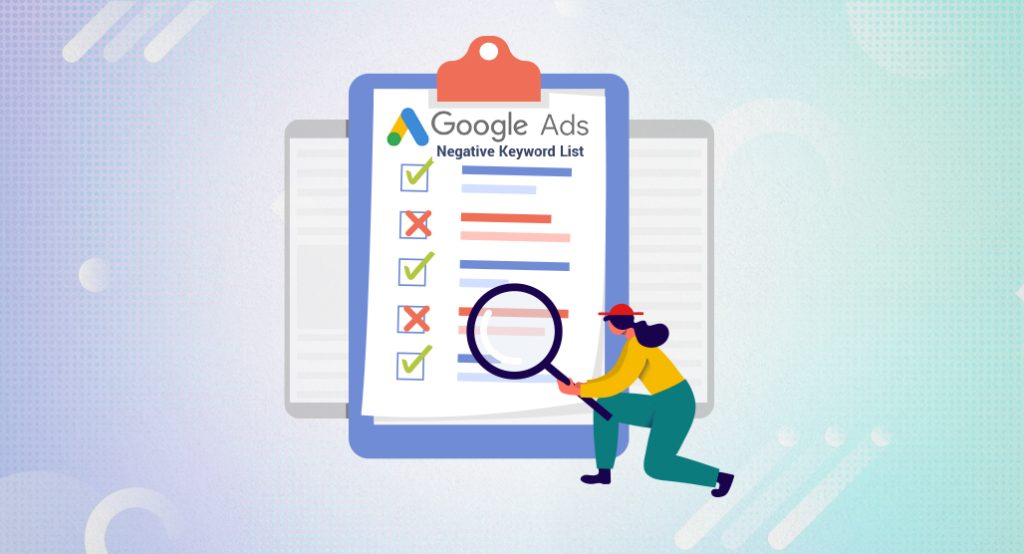 Negative keywords are an important part of any keyword strategy, but even more so when you're using an ads platform as broadly varied and potentially unreliable as Google Ads.
Let's start from the top. What are negative keywords, what are they good for, how can you use them, and which ones should you use? Read on to find out.
What are Negative Keywords in Google Ads?
Contrary to what the name implies, negative keywords are not keywords with a negative slant to them. You're not adding "bad" or "cheap" or whatever to your keyword list.
No, negative keywords are keywords with a negative sign in front of them, essentially. You know how on Google (and similar search engines) when you put a – in front of a word, it excludes results with that word from the final search results page? That's a negative keyword.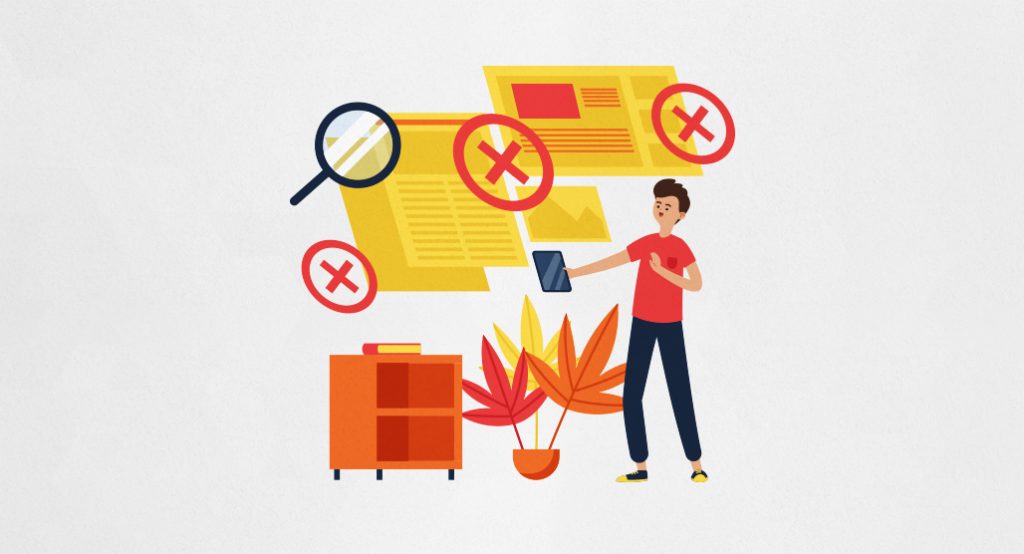 With Google Ads, it's basically the same thing. A negative keyword is a keyword you specify, which tells Google not to display your ad on search results with that keyword in it.
What Good Do Negative Keywords Do?
Negative keywords prevent your ads from showing up on searches that have basically zero intent to spend on your product. You're paying money for your ad placement, so you expect to get some returns from it. Here are a couple of examples of how it might work.
Negative Keyword: "Alternative"
If your normal keyword list includes your brand name, you're going to be running ads on your brand name in queries. That's generally a good strategy, but you run into issues. For example, what if someone is already familiar with your brand and searches for "<Brand Name> Alternatives"? They're clearly looking for something that isn't your brand. Showing your ads to them is likely not going to result in any real value.
Now, sure, maybe you can come up with a circumstance where you can recapture the people who are dissatisfied with or otherwise don't want to use your service. Maybe you offer them discounts, free months, added credits, or something else to bring them in. That's a strategy worth considering, but it's not necessarily going to have a good return on your investment. It's something you need to evaluate and test.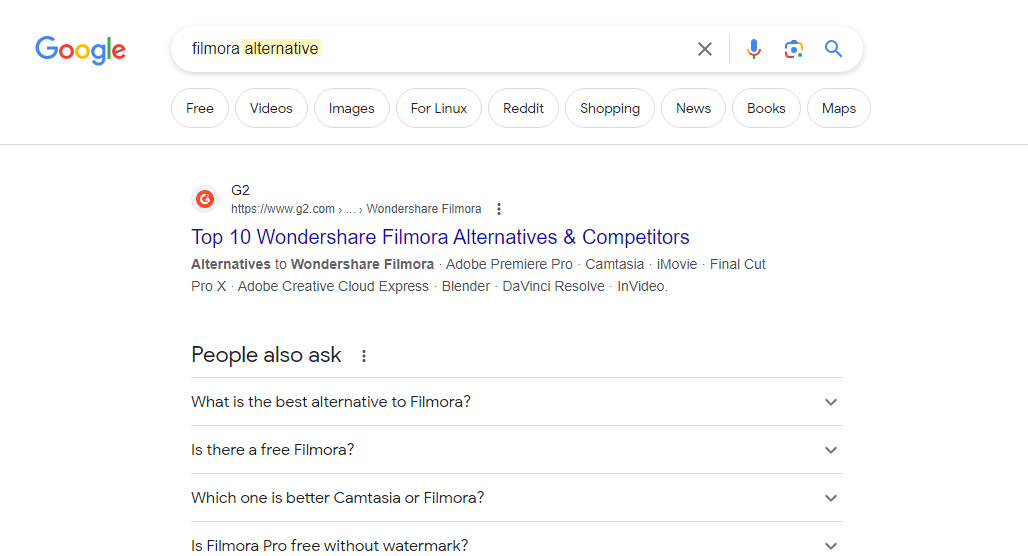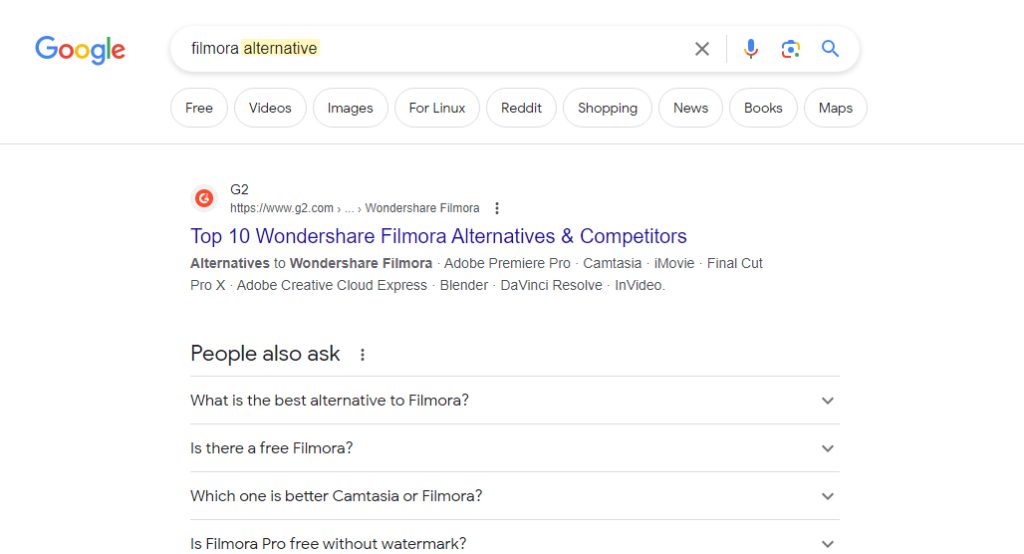 Here's a counterexample, though: what if the query is "<Competitor Brand Name> Alternative"? Well, blindly adding "alternative" to your negative keyword list will mean you won't show up on those queries, even though someone who is dissatisfied with your competitors is likely going to be a good potential customer.
Here's another example.
Negative Keyword: "Free"
How often, when someone searches for your brand, or your kind of service, or your core keywords, is the association with "Free" going to be beneficial to you?
Sometimes, it may be! If you offer a free trial, denylisting the word "free" in your keywords list is going to prevent your ads from showing up. If you have good enough organic SEO, you can still appear in the results for that query, but anyone else targeting the keywords with ads will still appear above you to anyone who isn't blocking ads.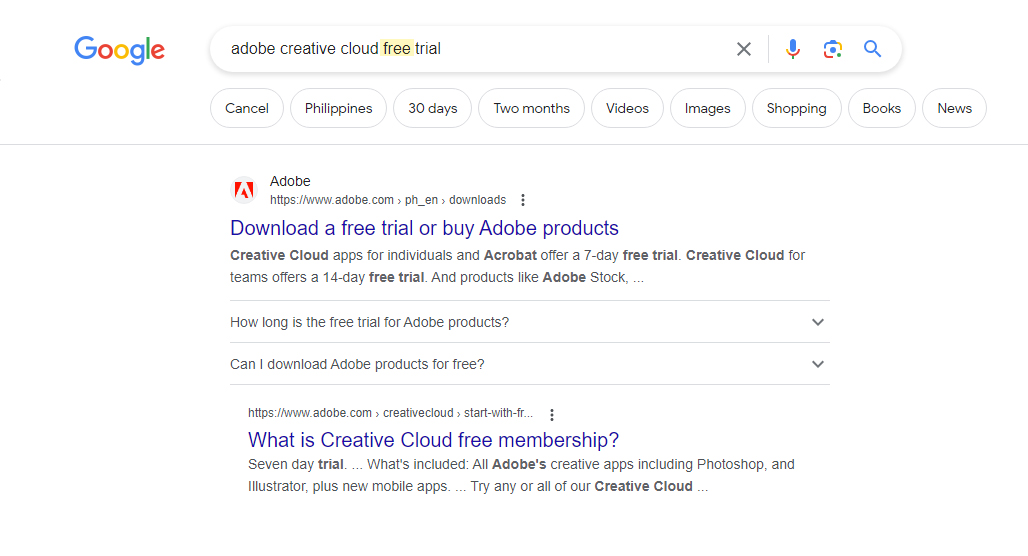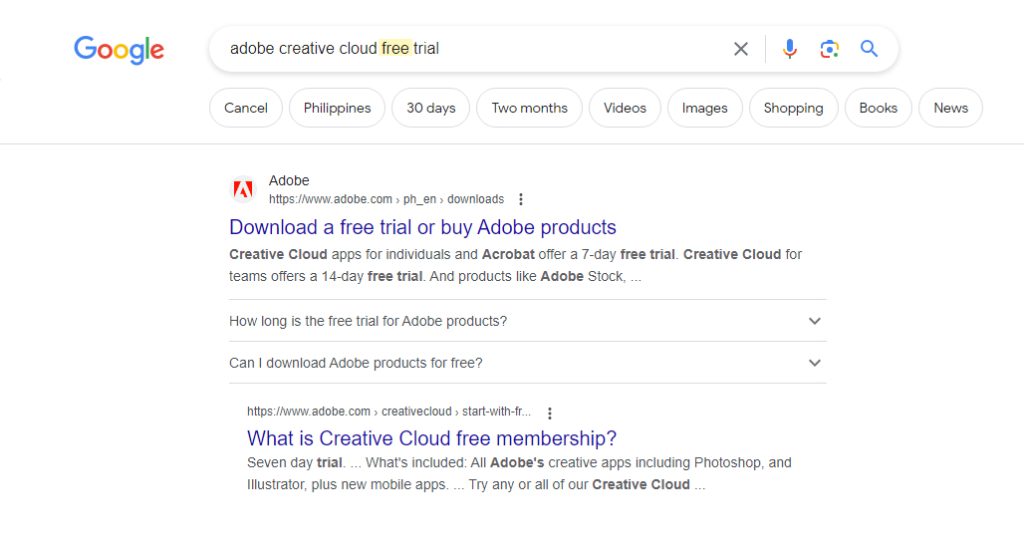 In many cases, blocking something like "Free" is fine, though. People looking for a free version of your software or app are going to be disappointed if you don't have so much as a free trial, and many of them aren't in a position to be paying customers anyway.
Negative Keyword: "Amazon"
This is a simple example. Amazon is, obviously, a brand name and a marketplace. Someone plugging Amazon into their search query is trying to find your products on Amazon, which isn't your site. They don't have the intent to browse your site for them.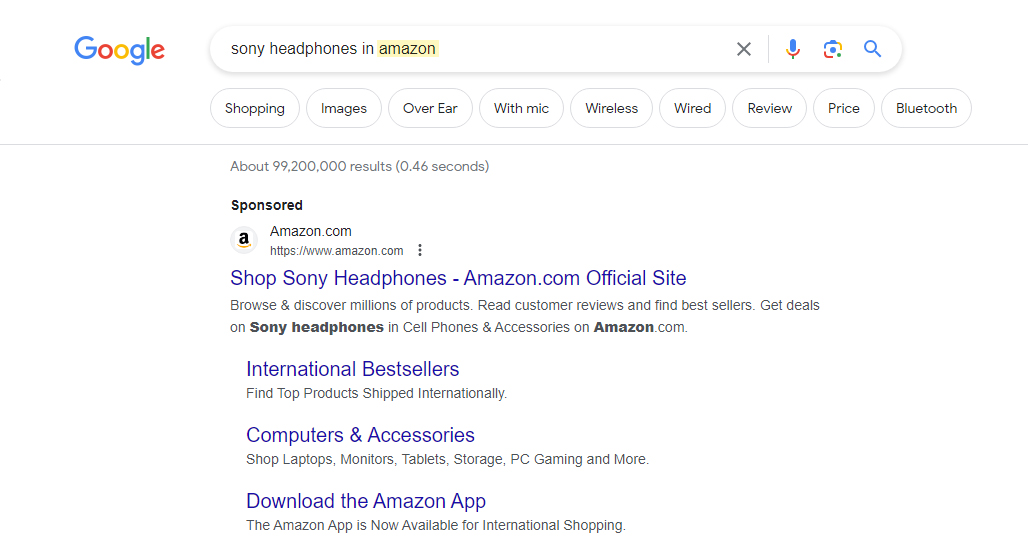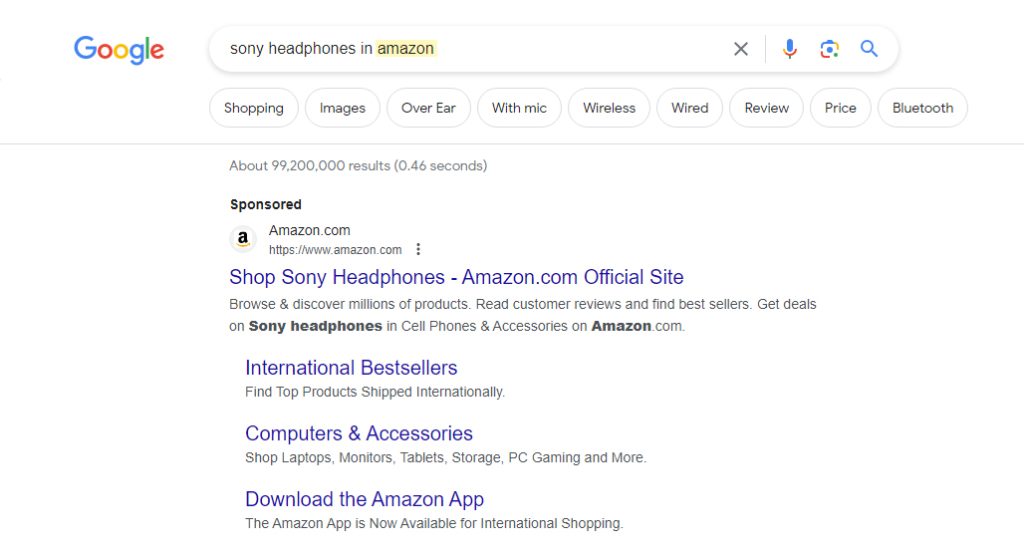 Sometimes, all they want to do is read reviews and compare pricing. Sometimes they may be looking for alternative vendors or comparable products. Occasionally, again, with the right crafted ads, you can capture these searchers, but general ads aren't going to benefit from this display.
There are plenty of other examples of negative keywords, but I'll get more into that later in this post.
How Can You Use Negative Keywords in Your Google Ads?
There are two parts to answering this question: theory and practice.
The theory of how to use negative keywords in Google Ads is simple in explanation but complex in implementation.
Look for words that indicate a query that won't be beneficial to your ad performance, and put that keyword as a negative keyword in your ads.
This is contextual. As the examples above show you, you can't generate one single negative keyword list and use it for every ad you run. Some keywords are certainly never going to have valuable search intent for you, but others may or may not, depending on the ads you're trying to run.
How do you identify negative keywords you should use? I'll go into detail on that in the next section.
The practice of adding negative keywords to Google ads is actually pretty simple. Here's how you do it.
Log into your Google Ads account.
Pick an ad campaign you're running and click to open it.
Click on the Keywords tab to view all of the options relating to keywords for that campaign.
Click on the Negative Keywords tab at the top to view the negative keywords list and options.
Here, you can add a new list or choose an existing list of negative keywords you've already made and saved. It's often a good idea to create a "generic" negative keyword list you'll use for everything and secondary lists you review for whether or not they apply to a given campaign.
Note as well that you can apply your negative keywords list to both the campaign and to ad sets within the campaign. This allows you to A/B test the same ad with different negative keywords. Now, if you're reaching the point where this is your optimization, you can probably turn your attention to new ads instead for better returns, but if it's something you want to do, go for it.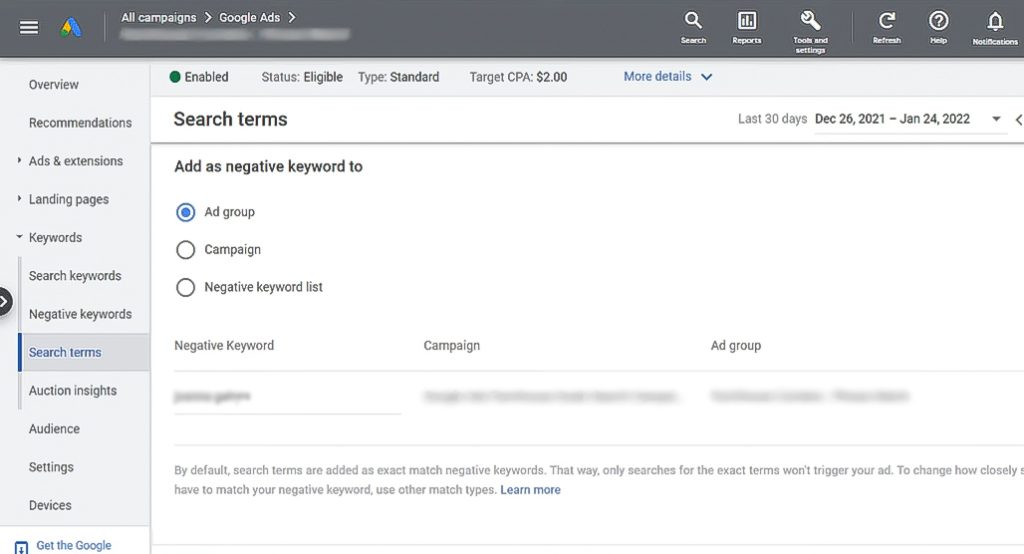 I mentioned adding a keyword list to the campaign that you have saved, so how do you do that?
Click the Tools option at the top of the Google Ads window.
Under Shared Library, click on Negative Keyword Lists.
Add your list there and save it with a descriptive name.
Now you have a list saved in your Ads account, which you can assign to any campaigns or ad sets elsewhere. You can also manage your negative keyword list here, and the changes will reflect across all ads that use that list, which makes management across dozens or hundreds of ads much easier.
Note: You can only save up to 20 individual lists in a Google Ads account.
That's pretty much all there is to it. It's actually very easy to use negative keywords, mechanically speaking. The difficulty comes in figuring out what keywords to use for which ads.
How to Find Negative Keywords to Use
So, how do you even go about finding negative keywords to use in your lists? Well, you have a few options.
The first option is to search for negative keyword lists. That's probably why you're here in the first place; my list (down below) is a good place to start. There are dozens of marketing and advertising sites out there with their own lists as well.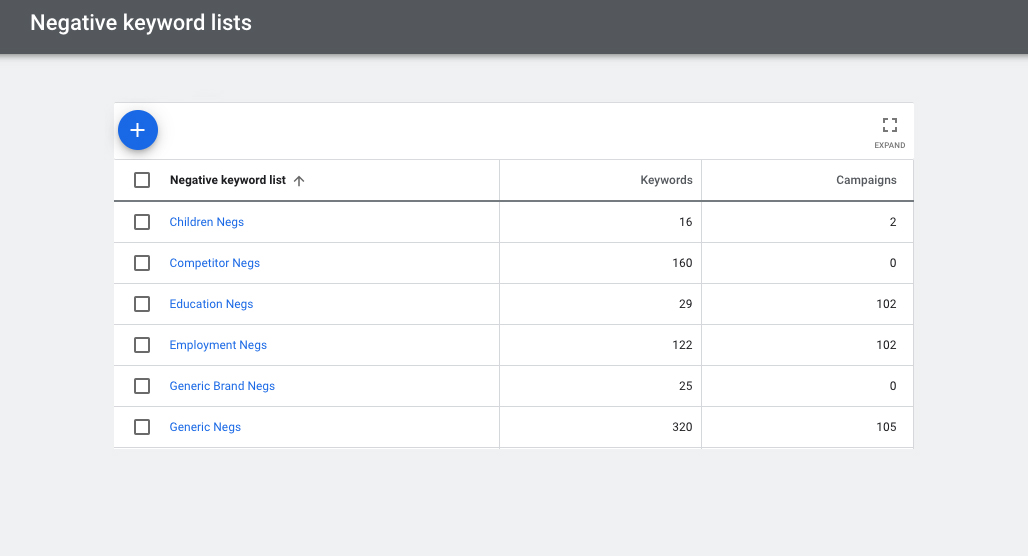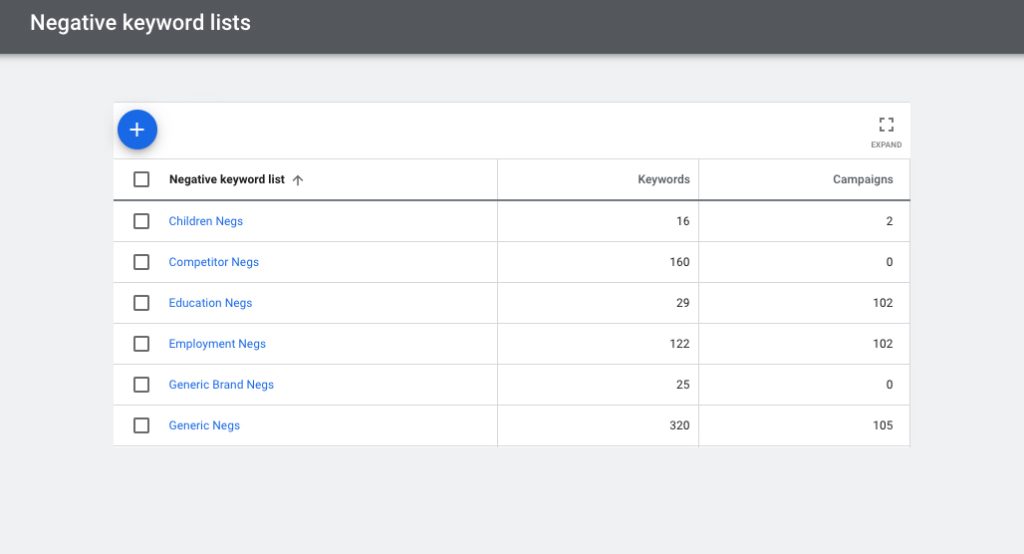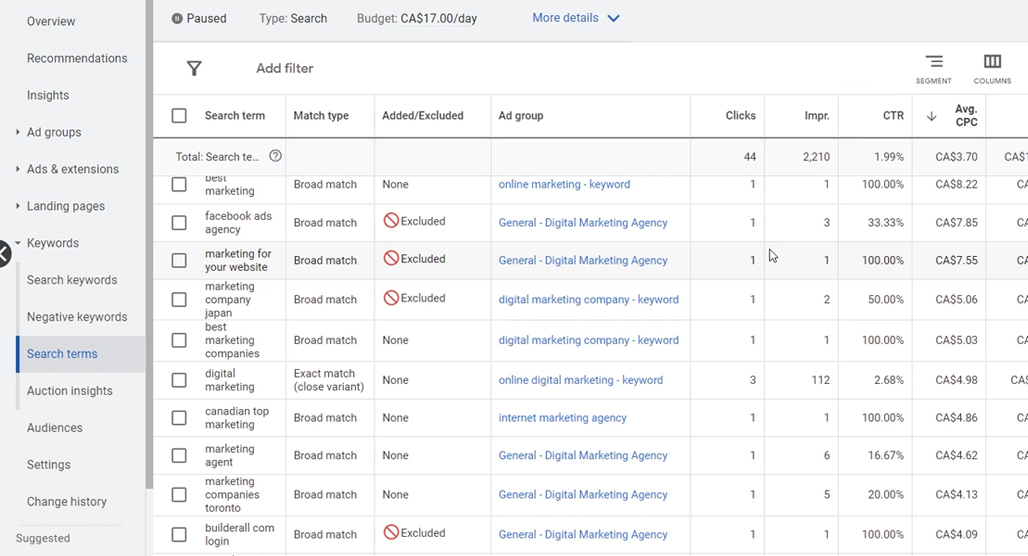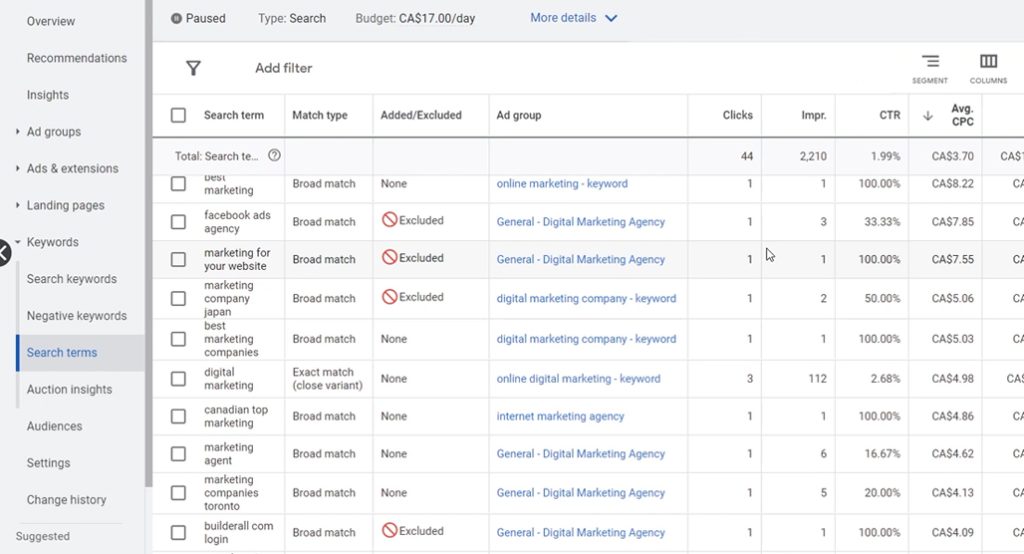 Another way to find negative keywords is through your own search terms report. In the same menu where you add negative keywords to a campaign, you can click to see the search terms report, which will show you the search queries people are using and where your ads are displayed. You can comb through this and find the queries that don't match up with your intent, identify specific parts of the keyword that invalidate it, and add them to the negative keyword list.
Understanding Negative Keyword Match Types
Before just plugging in a list of keywords, you should know what match types are and how they work. There are three keyword match types in Google Ads, which you can use for both standard and negative keywords. They are Broad, Phrase, and Exact.
Broad Match keywords are keywords just added in plain text, with nothing around them. Something like:
Running shoes
This excludes queries that include both of the words in the keyword phrase, regardless of other keywords or even the order of the words. So someone searching for "running shoes" wouldn't see the ads. Nor would someone searching for "blue running shoes" or "shoes for running."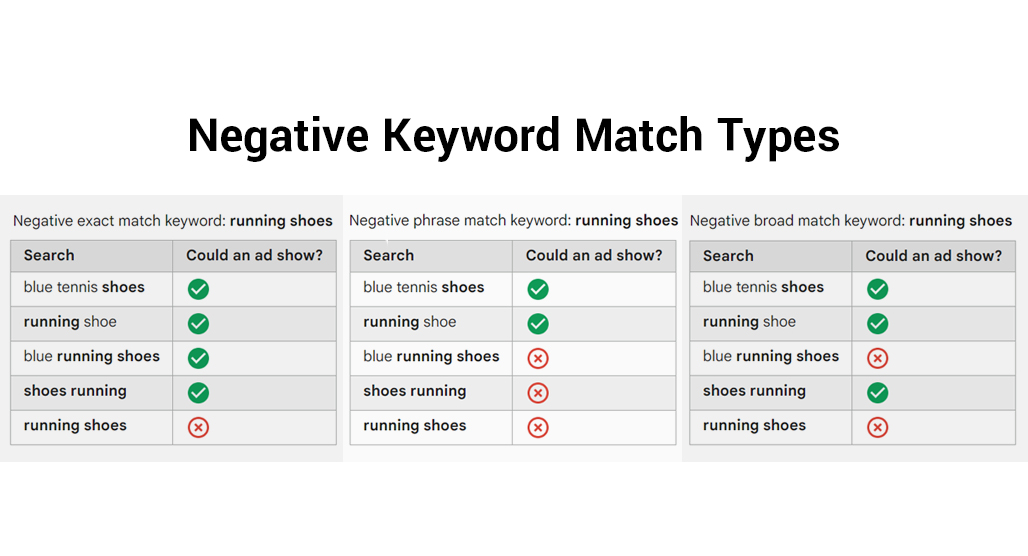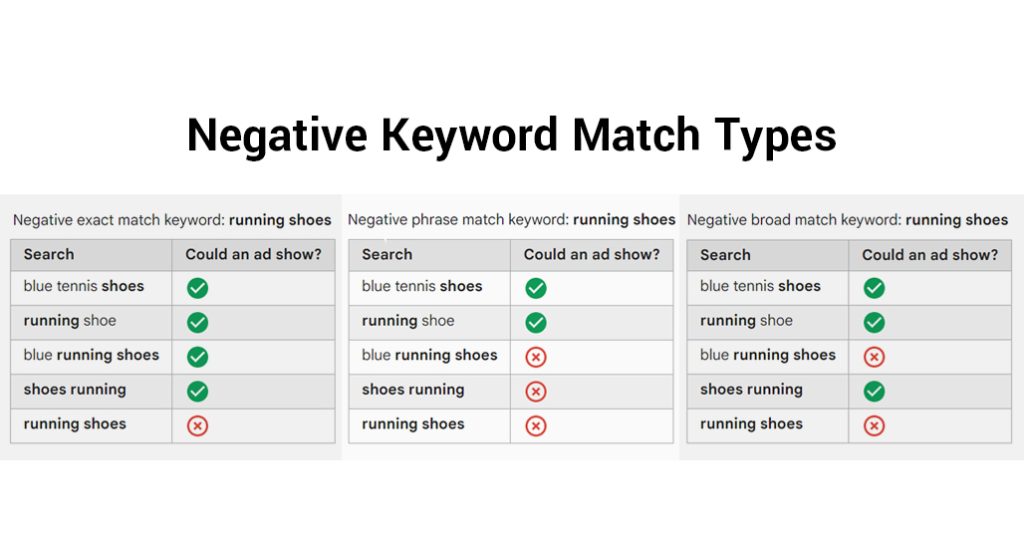 Phrase Match keywords are keywords added with quotation marks around them. Something like;
"Running shoes"
This specifies the order but allows for other orders. So "blue running shoes" wouldn't show your ads because it contains "running shoes," but "shoes for running" would because it doesn't contain the whole phrase as-is.
The third type, Exact Match, excludes only the exact phrase search and no other queries. It needs to be enclosed in brackets:
[Running shoes]
In this case, "blue running shoes" will still show your ad, but "running shoes" will not.
All of this is important nuance because sometimes, keywords that would work for your ads in one order but change their meaning in the reverse order can still be used as negative keywords.
What Negative Keywords Should You Use?
You probably came here for the list, right? Well, here we go. Here's my generic list of negative keywords useful for running Google Ads in 2023. Note that there are some near-duplicates on here because plurals need to be set separately.
Also, there are a bunch of negative keywords many people recommended adding that aren't on here. For example, you'll often see various adult content or pornographic keywords on a list like this, but I haven't included them. Why? Honestly, they basically never come up for most marketing topics. How often is someone going to be attaching your brand name or product keyword to an adult topic?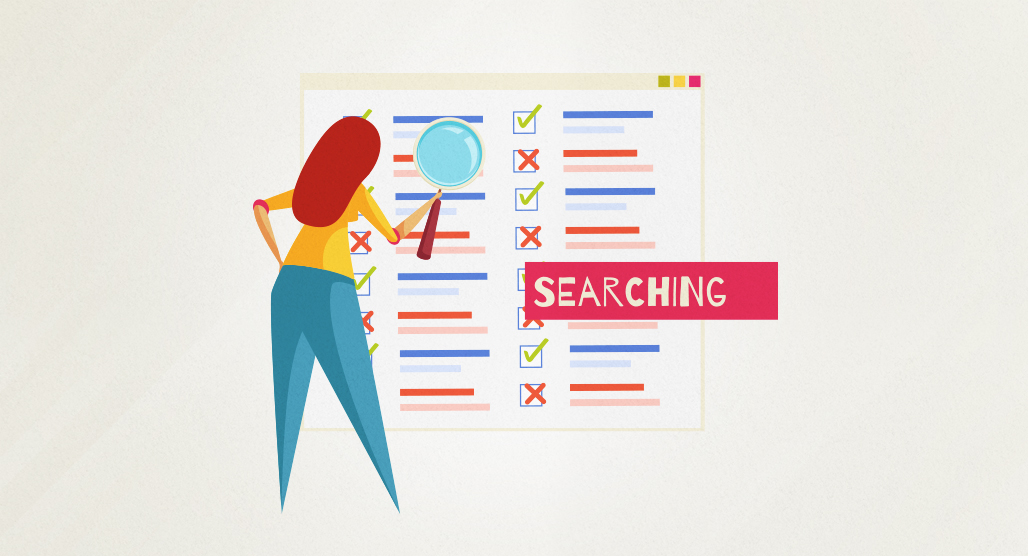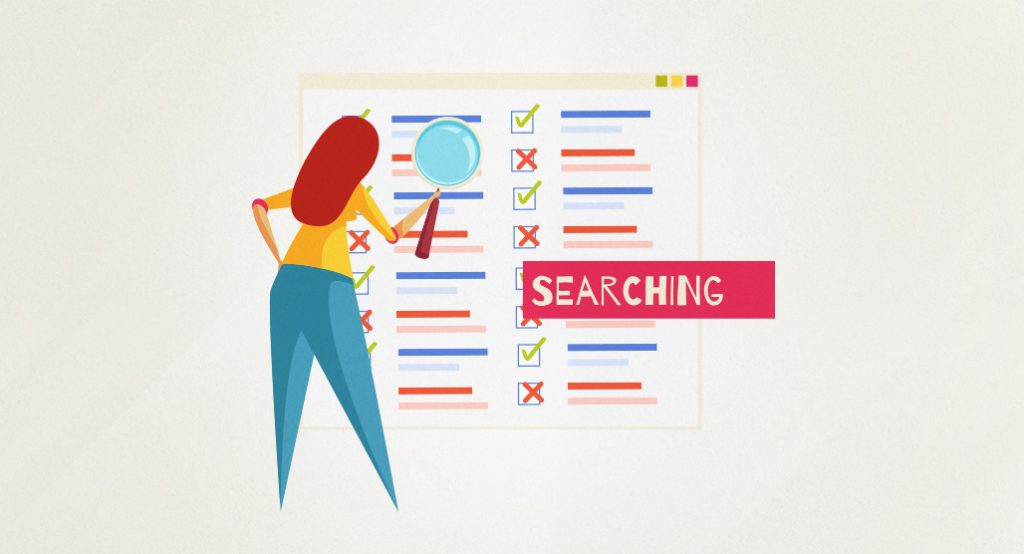 Anyway, on to the list:
about
act
act of
affordable
album
amateur
antique
app
apps
article
articles
assistance
association
associations
at no cost
at no expense
auction
awful
bad
bargain
basic
beginners
bidding
blueprint
blueprints
bogus
book
books
broken
budget
burn
burner
calculator
career
case studies
case study
cd
certification
certifications
chargeless
chart
charts
cheap
cheapest
cheat
cheats
class
classes
clearance
clone
close out
close outs
closeout
closeouts
club
clubs
code
college
colleges
community
complaint
complementary
complex
compliance
complicated
complimentary
conference
conferences
confusing
consultation
consumer
copy
copycat
cost
cost-free
costless
council
councils
counterfeit
counterfeited
coupon
coupons
course
courses
courtesy
courtesy of
crack
cracked
cracks
craft
crafts
create
creating
cv
data
deal
deceit
deception
deceptive
define
definition
desktop
developer
developers
diagram
diagrams
difficult
discount
discounted
disk
distributor
diy
do it yourself
doc
docx
dollar store
download
downloading
downloads
dropshipping
dubious
duplicate
duplicated
dvd
education
elementary
employment
emulator
emulators
error
exam
example
examples
exams
expense-free
expired
export
exporter
exporters
fake
faq
faulty
file
files
fix
flawed
for dummies
for free
for kids
for nothing
for zero cost
forum
forums
fraud
fraudulent
free
free access
free download
free downloads
free for all
free for download
free for use
free of charge
free of expense
free to download
free to use
free usage
free use
freebie
freebies
freely available
freely downloadable
freely usable
freeware
full episode
full movie
game
games
giveaway
gnu
gratis
gratuitous
guide
guides
hack
hacker
hackers
hacking
hacks
hand made
handmade
help
history
hoax
hobby
home
homemade
how can
how can i
how do i
how does
how to
illegal
imitation
imitations
import
importer
importers
inauthentic
incompatible
inefficient
inexpensive
inferior
info
information
institute
institutes
instructor
instructors
interview
introductory
iso
isos
jailbreak
jailbreaking
jailbroken
job
journal
journals
junk
keygen
keygens
knockoff
law
laws
layout
layouts
leak
leaked
leaks
learn about
legal
legislation
libraries
library
limited
liquidation
low cost
low grade
low price
low quality
low-quality
magazine
magazines
make
making
malware
manual
map
maps
markdown
meaning of
measurement
mediocre
metrics
microsoft
misleading
model
models
mp3
mp4
newbie
news
newsletter
newsletters
newspaper
newspapers
no cost
no exchange
no fee
no guarantee
no returns
no support
no warranty
no-charge
non-refundable
novices
null
nulled
odd lots
off-price
offer
old
on sale
on the house
open source
open-source
out of stock
outdated
outlet
overhyped
overpriced
overrated
overstock
patch
patches
pattern
patterns
pawn
pawned
pdf
penny-pincher
phishing
phony
pirate
pirated
pirating
plagiarism
plan
plans
police
poor
poor quality
ppt
pptx
pre-owned
preowned
price
prices
pricing
printable
printables
problems
program
programs
promo
promotion
promotions
public domain
quote
quotes
ransomware
reasonable
recruitment
reduced
refurbished
regulation
regulations
remainder
remainders
rent
rental
repair
repairs
replica
report
reports
research
reseller
resource
resources
restricted
resume
retail
retailer
retailers
review
reviews
rip
rip-off
ripped
rips
rom
roms
root
rooted
rooting
rules
safety
sample
samples
scam
scammy
schematic
schematics
school
schools
second-hand
secondhand
seminar
seminars
serial
serials
shady
sham
shareware
short cut
short cuts
shortcut
shortcuts
simplified
soft ware
software
spam
specifications
specs
standards
starter
statistics
stats
store
stream
streaming
streams
subpar
substandard
success stories
success story
support
suspicious
sweepstakes
tax
taxes
teacher
teachers
template
templates
terrible
textbook
textbooks
thanks to
theories
theory
time-consuming
tip
tips
torrent
torrents
toy
toys
trade-in
trade-ins
training
troubleshoot
tutor
tutorial
tutorials
tutors
txt
unauthorized
unavailable
uncharged
unethical
universities
university
unlock
unlocked
unlocking
unpaid
unprofessional
unrealistic
unreliable
unrequested
unresponsive
unsafe
unsolicited
unsupported
unverified
used
video
vintage
warez
weather
what are
what i
what is
when can
when i
where can
white paper
white papers
wholesale
wiki
wikipedia
windows
with compliments
without charge
without cost
without expense
without pay
without payment
wordpress
workshop
workshops
xls
xlsx
zero cost
So there you have it; a comprehensive list of negative keywords you can use in 2023. Remember, this is just a place to start, not an all-encompassing list. Use it as a starting point, and customize it to your needs.
Fine-tuned for competitive creators
Topicfinder is designed by a content marketing agency that writes hundreds of longform articles every month and competes at the highest level. It's tailor-built for competitive content teams, marketers, and businesses.
Get Started