10 Effective Ways to Find Niche Keywords for Your Website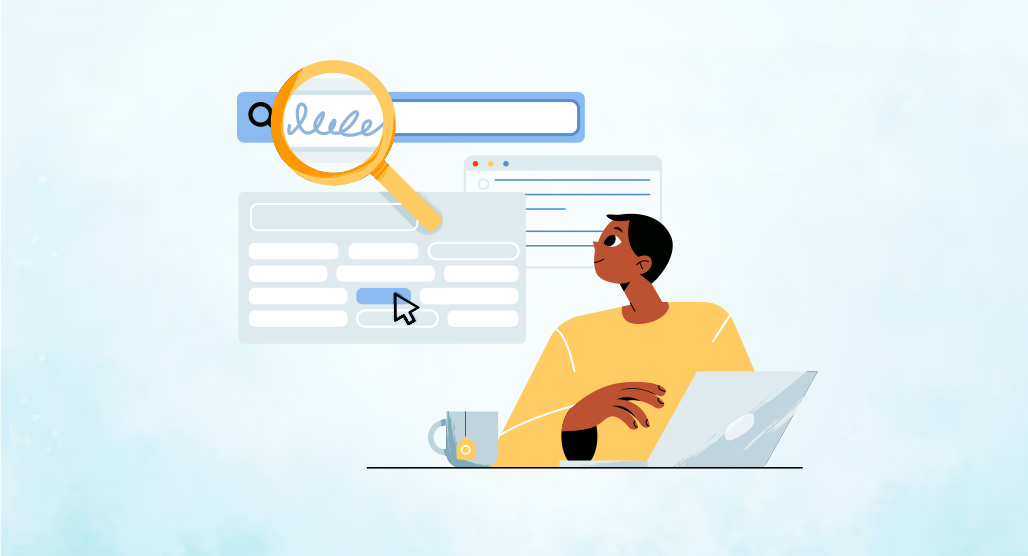 Finding keywords to cover in your content marketing strategy is a difficult and complex task.
The biggest challenge is finding keywords that have the potential to actually work for you. That means keywords that have enough search interest and traffic, but not so much that competition has already saturated the conversation and you don't have a chance at ranking.
Here's a quick comparison.
If you search for the keyword "finding keywords," the top ten sites in the search results are HubSpot, WordStream, Zapier, WordTracker, Google Ads, Ahrefs, Moz, Ahrefs again, KeywordTool, and Semrush.
That's a stacked lineup. If you're a small or mid-sized business, even writing 10x content isn't going to get you up there in the top results for such a general keyword.
Now look at a longer-tail keyword like "finding niche organic keywords" and check out the top ten sites. You have Growth Machine, WordStream, Helium 10, WebFX, Semrush, PPCExpo, ILoveSEO, Search Volume, Delante, and Matt Janeway.
I don't know about you, but I haven't even heard of several of these before, and I've been working in content marketing for over a decade. It's a lot more attainable to get in the top ten here as an SMB blog, though, of course, it's still going to be a lot of work.
Now imagine that you need to consistently find keywords that fit that second profile rather than the first without slipping too far into "this is a keyword 10 people a year search for" territory. Every keyword you target needs to be:
High enough interest to be valuable to you if you rank for it.
Low enough competition that you can conceivably rank for it.
Relevant to your overall niche and industry, so it's plausible you are speaking with authority.
Suitable for the kind of content and user intent you're trying to match up.
Worse, all of these are moving targets. The larger your site grows, the "better" the keywords you can target and expect to be able to rank for. Something you felt was wildly out of reach a couple of years ago might be easily doable after you've worked at growth for that intervening time.
So, today, I'm going to skip past most of the process for vetting and evaluating keywords. I'll cover that another time. For now, let's talk about specific ways you can find those keywords in the first place. After all, you need to have a list of keywords to browse before you can evaluate them.
1: Topicfinder
As a content marketer with over a decade of experience, working with everyone from small, brand-new businesses all the way up to global companies, I've had to explore a wide range of different options for gathering topic ideas and keywords. There are a ton of tools out there, some good, some mediocre. Rather than adapt to any one of them or try to use many of them, what I've done is built my own using all of the information sources and keyword generation processes I've developed over the years.
Topicfinder is the result of that aggregate experience. I've built it to give me what I want for any topic I can think of, which makes it invaluable for immediately building keyword lists for new clients and expanding topic lists for existing sites. While it definitely leans a little more into quantity over quality, that's what your post-generation vetting process is for.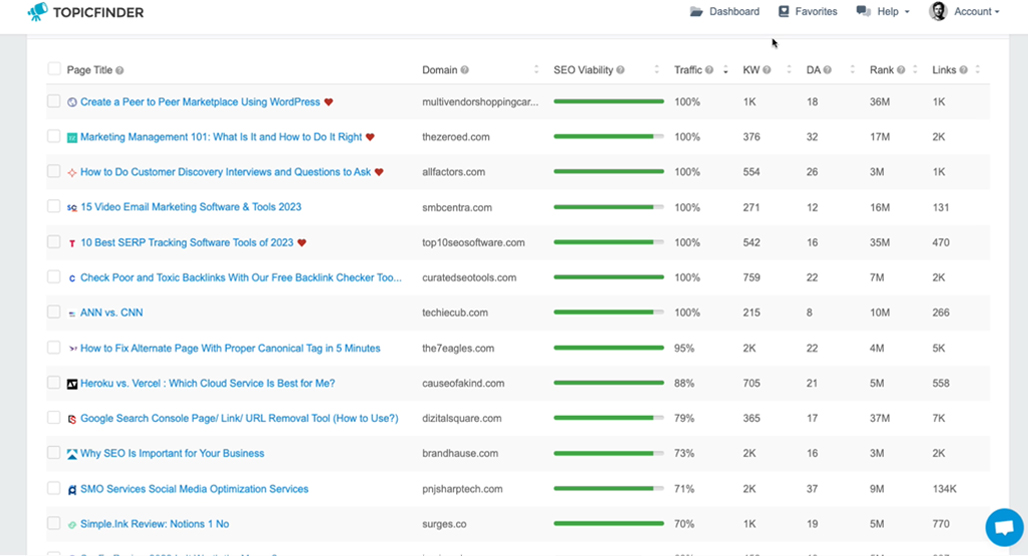 Recently, I decided to buff up, polish, and make Topicfinder accessible to the world at large. You can give it a try with a free trial right now just by clicking here. It's still in the early days, so if you have any feedback as well, drop me a line!
2: Google Tools
Google is the big cheese when it comes to search and advertising, and the way they choose to handle keywords sets the standard for the entire internet as it is today. Without their influence, the internet would be unrecognizable. Fortunately for us, Google provides several tools that can help you find keywords to use for your site.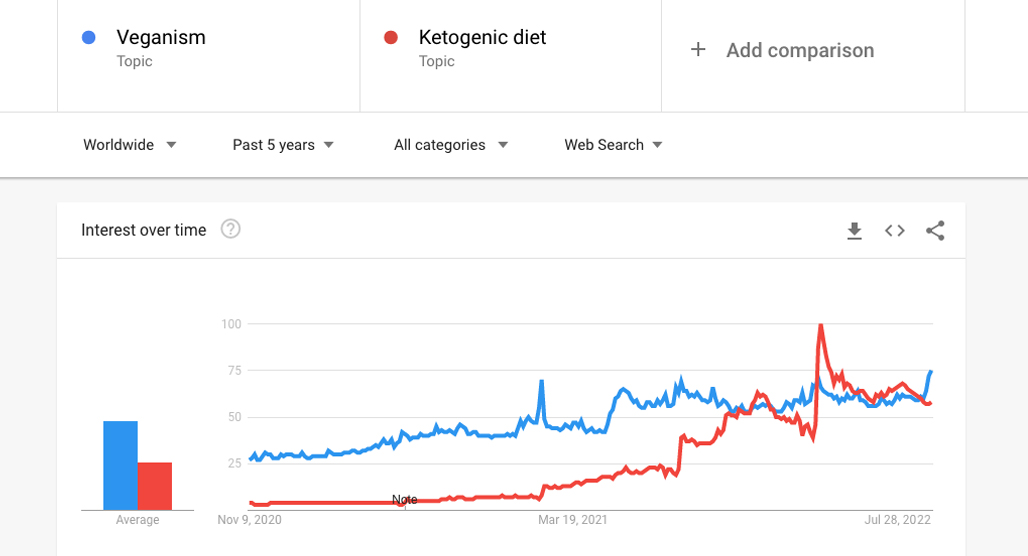 These include:
Google Search Console. The GSC gives you a lot of insights into how your site is performing in search, discovery feeds, and so on. One useful report is the Performance -> Search Results page, which tells you what keywords people are searching that show your site as a result. It also shows you how many impressions you get and how many clicks you get from those results. You can use this to see what keywords people are searching for and how to angle, replace, optimize, or otherwise shift your content to better align with those keywords.
Google Analytics. GA gives you a lot more information about your site than GSC does and can put the information you get in GSC into context with a variety of other metrics and views. You can use it to come up with more focused and better-aligned topic ideas and keep an eye on their performance on a regular basis.
Google Keyword Planner. The Keyword Planner isn't a site-level analytics tool; it's a paid ads planning tool. It has a ton more information than the two above, and it's specifically designed for keyword research. The only downside is that, since it's aimed at paid ads, your information may be skewed a little away from organic content, but it's generally pretty easy to tell when a keyword likely won't work as well for organic search.
Google Autocomplete. There are a handful of different ways you can see queries other people ask of Google. Typing anything allows Google to suggest half a dozen or so ways to finish the phrase, all of which are potential topic and keyword ideas. There's also the "People Also Ask" box and other enhanced content on the search results page, which can give you more ideas.
Google Trends. For businesses and blogs that want to cover trending topics, Google Trends is a finger-on-the-pulse tool with information on daily and real-time trends you can use to develop and publish content rapidly.
Many of the keyword research tools you can find online are going to be pulling information from Google in various ways, so if you know how to use these tools, you can save yourself money and effort by going directly to the source.
3: Other Keyword Tools
Of course, content marketing is a massive industry, and PPC is even larger, so there are dozens of companies offering some kind of keyword research tool. Some of them are just Google's information, formatted and presented in a different way. Some of them are unique information based on competitors directly, based on ads they see and index, based on social media content, or even based on their own indexes and analysis.
While I'm obviously biased towards Topicfinder, I'm not opposed to other tools.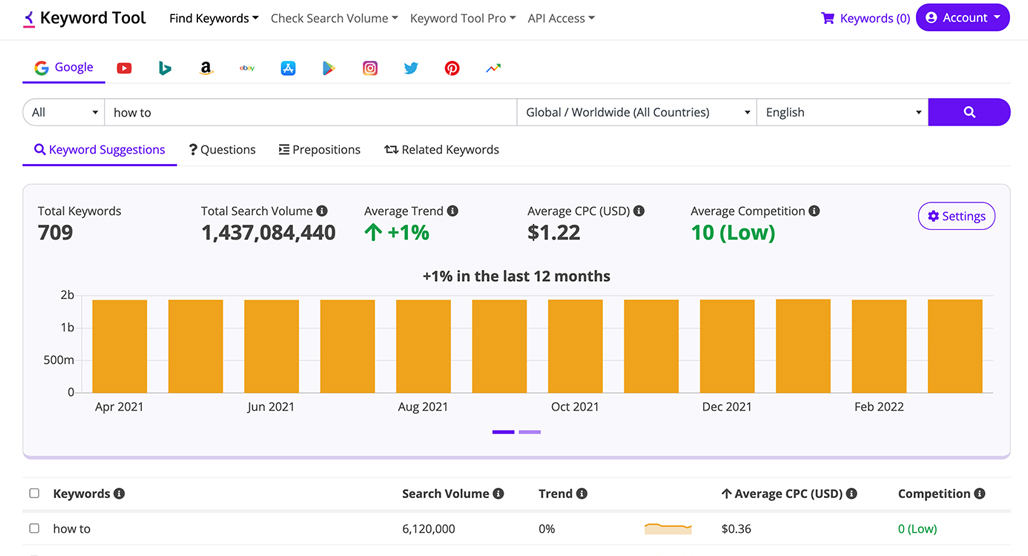 Here are some that you might consider:
KeywordTool.io is a Google autocomplete scraper that just gives you information Google gives you but can harvest it faster than you can on your own.
TermExplorer is a tool that gives you keyword lists and some estimation of the top-level competition for those terms.
Moz is one of the biggest names in SEO; their Keyword Difficulty tool is indispensable for researching and vetting keywords, though you may want to build your keyword lists elsewhere first.
Semrush is a tool I consider the gold standard for top-tier keyword research, vetting, and content planning. It's expensive but very well worth it.
Ahrefs, which is primarily focused on links and link management, but has plenty of other analytics information now, including keyword information. It's also fairly expensive and very good if you can swing it.
SE Ranking, a platform with a lot of different useful SEO tools, offers some fairly robust keyword analysis information for a relatively low price.
This just scratches the surface, of course. There are dozens, if not hundreds, of similar tools out there, ranging from enterprise-grade Semrush competitors to small-scale Google scrapers you've never heard of. Just try them until you find something you like, or skip it all and use Topicfinder instead.
4: Competitive Research
There's a popular phrase that Steve Jobs used and attributed to Pablo Picasso: "Good artists copy, great artists steal." Picasso probably never said it, but it's still a popular aphorism that has circulated for a century now, so there's some wisdom to it.
Why do your own topic research when your competitors are probably doing their own? You can just look at what they've been doing, find their best topics, "steal" them, and outdo them at their own game with 10x content. Then, when you've risen beyond those competitors, you can research the next tier of competitors higher up the chain and repeat the process.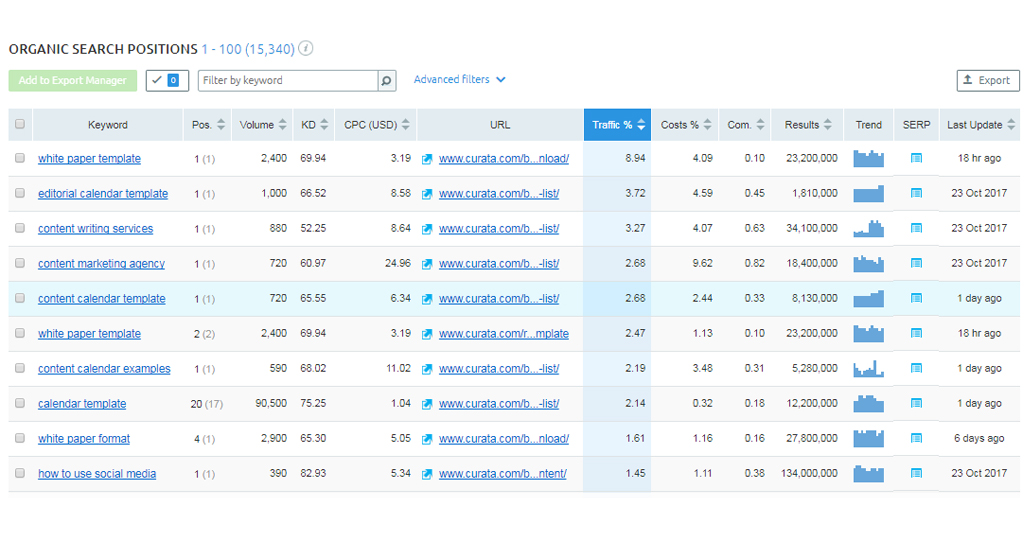 Competitive research is a well-established process, and pretty much everyone these days does it. By letting your competitors try out different keywords and either succeed or fail, you get some built-in vetting and more, all to help you direct your own content marketing.
Here's WordStream's guide to competitive research, which has plenty of information and a handful of tools you can try to put it into practice.
5: Social Media Trends
Another option for keyword research works if you're the kind of site working on new and trending topics and focusing more on newsworthy and trending topics over evergreen and long-term topics. That method is social media.
Social media is like an unfiltered firehose of information directly from the collective psyche of humanity. Whether you're browsing Facebook Insights, using Instagram's analytics (or dipping into Threads), browsing what's new and trending on Pinterest, or getting the latest terrible ideas from X, there's always going to be social media information to be found.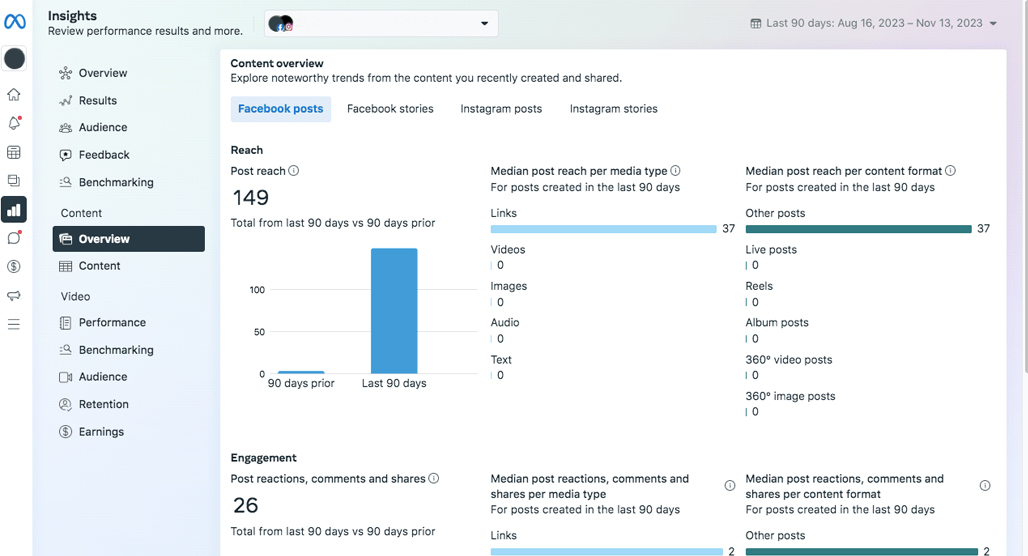 The trick, of course, isn't finding those keywords; it's figuring out how to put them to use before the trend expires. When so many trends last less than a day, you need to be on top of your game and ready to produce and publish content in a matter of hours at most.
6: Keyword Gap Analysis
A Keyword Gap Analysis is a form of competitive research. Technically, I could just lump the two together, but I think competitive research stands on its own as a more robust technique, while keyword gap analysis has a place as its own item worth talking about. I tend to think of general competitor analysis as an industry-wide, broad-spectrum analysis, while keyword gap analysis compares you to one other competitor directly.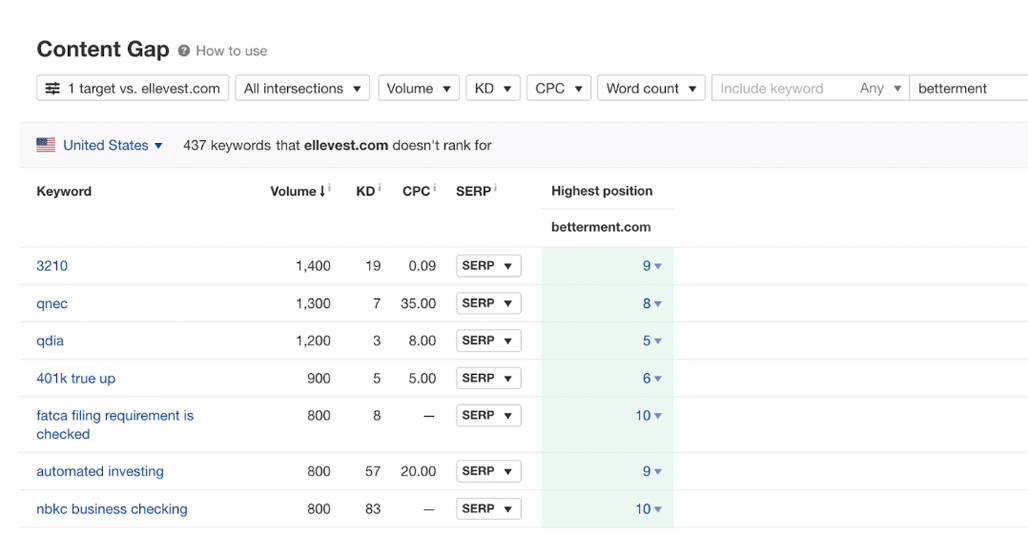 Keyword gap analysis is a way to scrape the keywords your competitors are using and compare that list to the list of keywords you're using. The keywords they use that you don't are the "gap" between you. Identifying which of those keywords are worth targeting and how is part of the vetting process.
Here's a guide on how to do it, including recommendations for a few tools you can use to speed up the process.
7: User Feedback and Comments
If your site is big enough to have a regular stream of visitors and users, you can use them to guide some of your content development.
First, look at the comments they leave. Once you filter out all of the spam and the platitudes, you'll be left with insightful or inquisitive comments. People ask you questions. What are they, and are they worth a whole blog post on their own? Often, you can spin off a user question into a full post, which further stimulates conversation and brings in more comments you can use for further content.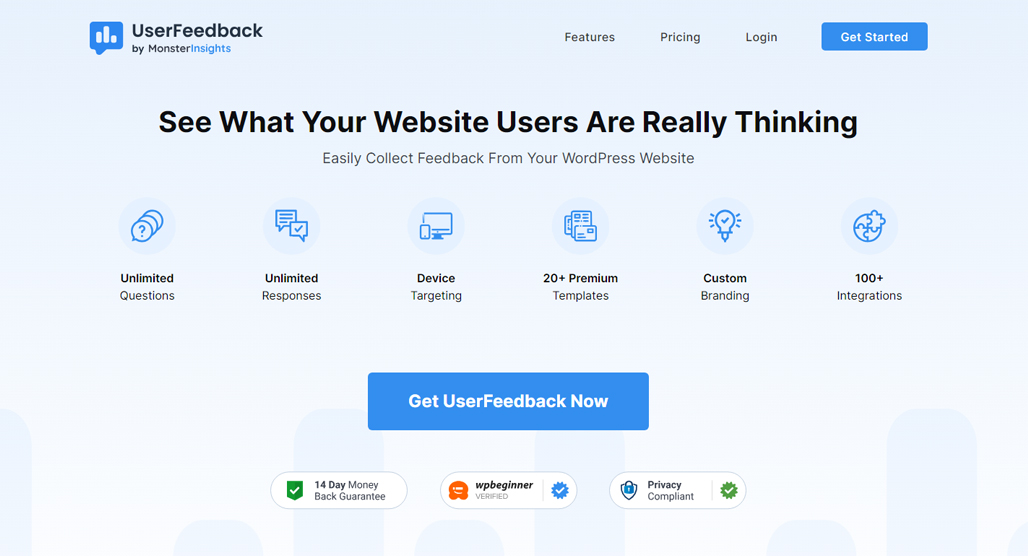 If you get traffic, but you don't really get comments, you can use a survey plugin to ask users questions in a less public format. You can get a decent amount of information this way, but you need to know how to ask the right kind of questions to get usable answers. You can also ask questions via your newsletter if you have one.
8: Spin Off Keywords / Topic Clusters
Topic Clustering is the new name for the general concept of "covering all aspects of a topic." Here's a guide.
Rather than making one "ultimate guide" post, you have a large index-style post with general information and link it to other content you create on sub-topics.
An excellent example of this is the Moz Beginner's Guide to SEO. The core "guide" post is just one general post, and it covers very, very briefly a bunch of different topics. Then, each of those topics links out to its own post that digs deeper into the subject. Often, those posts link to a variety of narrower, more niche topics in their own posts. You end up with a web of clustered topics all surrounding the same core topic.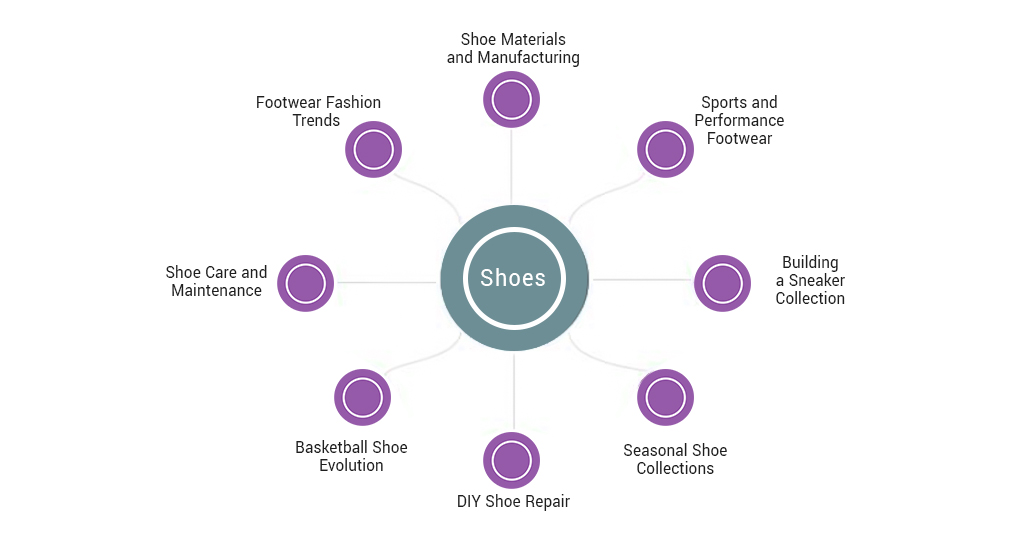 Topic clustering is great because it's an excellent way to use a ton of low-traffic, low-interest, long-tail keywords, all bringing in their small amounts of interest and traffic, funneling them to higher-level discussions until you've become a singular resource.
9: Popular Content Responses
Sometimes, you'll see useful keywords that would be great to cover, but you have pretty much no chance of ever ranking for them because there's a dominant piece of content already taking over the industry. One possible option is to use that keyword anyway but specifically acknowledge the content that already exists.
In fact, you can drum up more interest and traffic by making your content a direct response to the content that already exists. You're not just covering the same things; you're analyzing their content. You dig through it for the claims they make, test those claims, and judge them. You look for gaps in their logic, you take an opposite approach, and you try to refute them or point out their biases.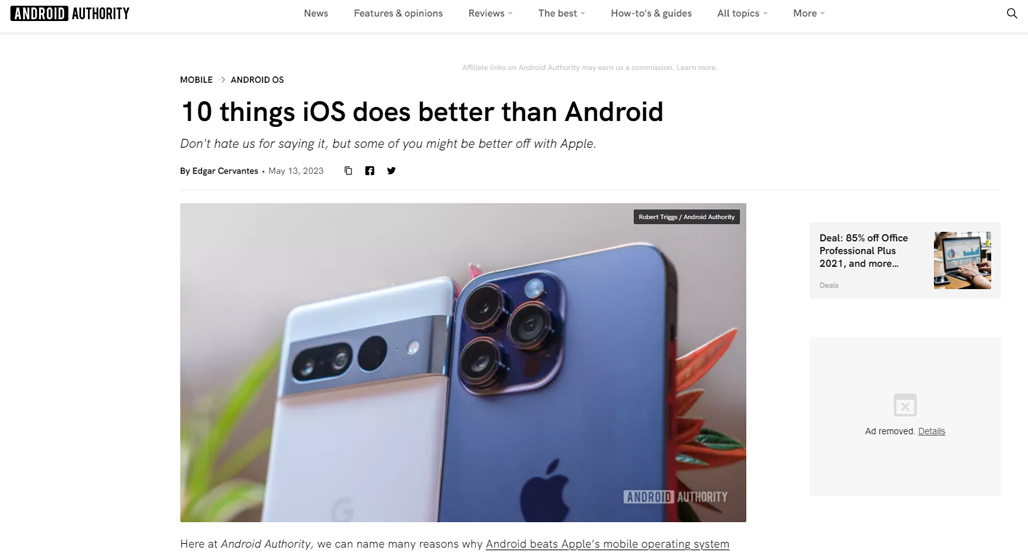 You can be supportive by the end or aggressive and confrontational, depending on how you want to position yourself. Either way, with the right tone and timing, you can get a lot of interest, traffic, and links simply by arguing. Plus, the topic and keyword are right there since they're the same!
10: Roundups and Other Piggybacking
Another way you can get more mileage out of keywords you normally wouldn't be able to rank for is to become more of an aggregator for those topics. You might not be able to rank normally with basic content, but if you turn your post into a roundup or use it as an excuse to quote a few dozen industry pros with their opinions on the topic, you can bank on their name recognition, the content they've made, and more.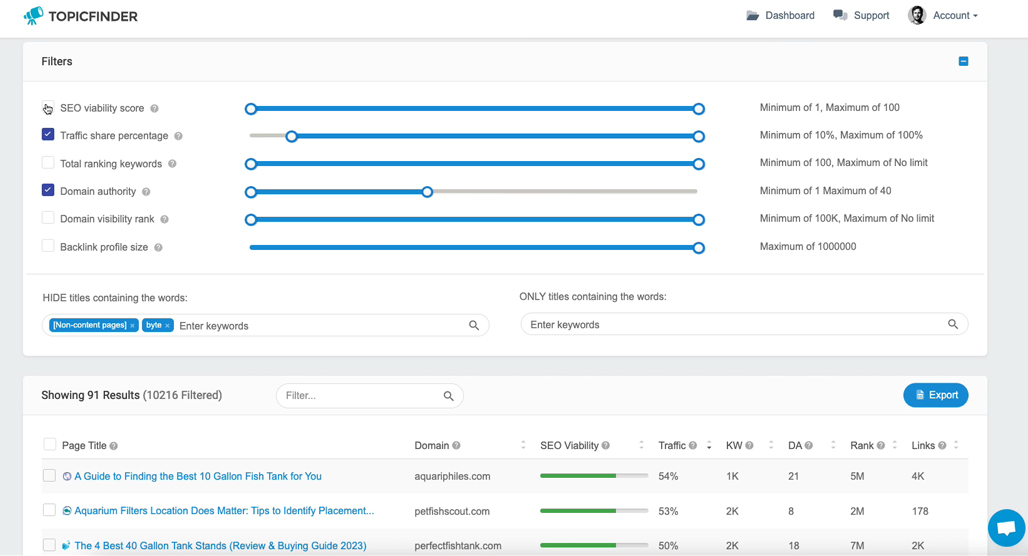 Now, I kind of wandered off track for some of these; they aren't so much keyword research as content ideas. Honestly, that's because there's so much overlap there, and when you're using a powerful tool like Topicfinder, you're going to have more keywords than you know what to do with. The hard part is figuring out which ones to use and how.
Fine-tuned for competitive creators
Topicfinder is designed by a content marketing agency that writes hundreds of longform articles every month and competes at the highest level. It's tailor-built for competitive content teams, marketers, and businesses.
Get Started