SpyFu vs Semrush: What's The Difference and Which is Better?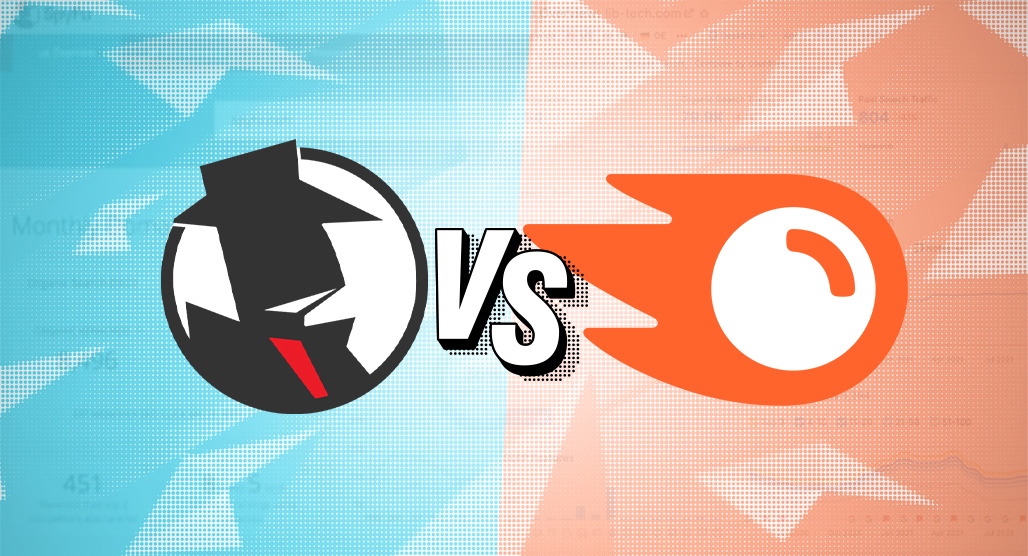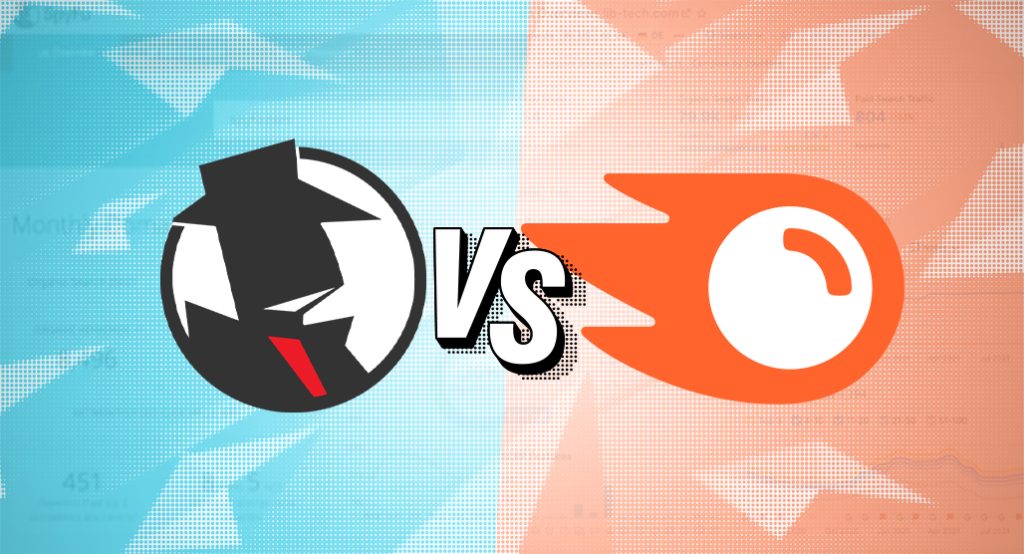 SpyFu and Semrush are both competitive analysis tools meant to help you learn what your competition is doing, how they're approaching your niche, and what gaps they may have left for you to use.
They aren't the only tools on the market, but they're very popular, so it's a reasonable question to wonder which one is better.
Let's talk about it!
The Power of Keyword Indexes
An important detail of any competitor analysis tool and, more specifically, any keyword analysis tool is the number of keywords they track in their index.
These tools work, essentially, by watching data from Google's searches and ads, tracking the top few hundred or so results for each and every one of those keywords, and building a massive index of data about the data they track.
Drill down, and you will find that the most important metric you can use to evaluate the power of these tools is the depth of their index. The smaller the index, the more likely the tool is to miss keywords that are important to you and your industry, even if they aren't mainstream keywords.
Given that a huge part of modern marketing is finding keywords to use that are perhaps niche in use but still valuable to the audience you're reaching, it can be important for these tools to track those keywords.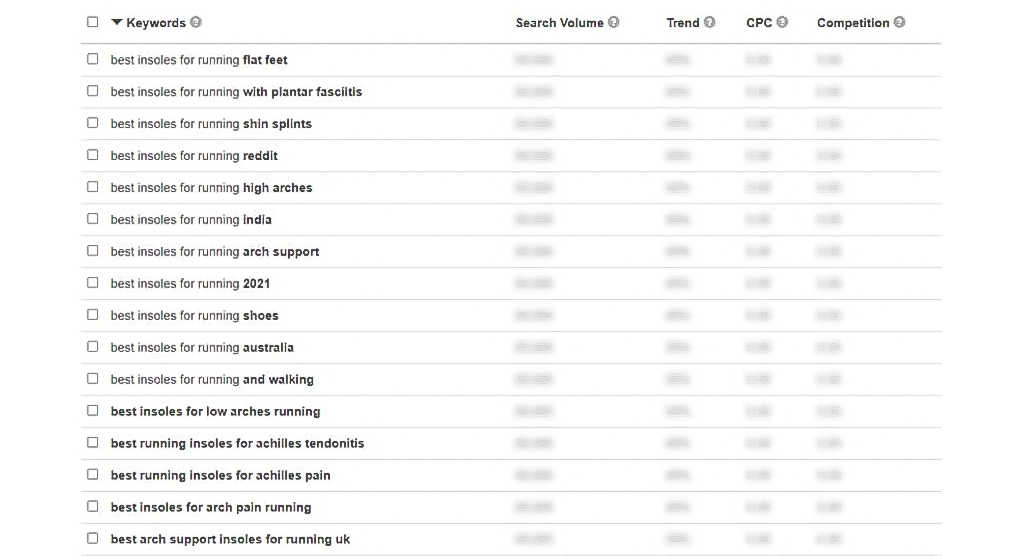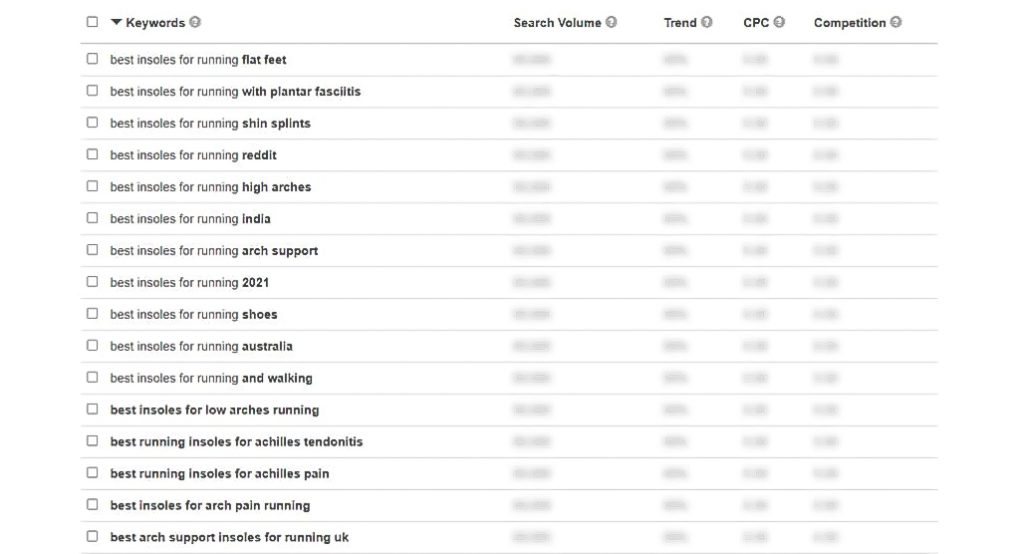 It is, of course, impossible for any tool to cover every single possible keyword. There are far too many variations of words in the English language, not to mention other languages and other searches.
Sooner or later, a tool will need to decide where to draw the line and try to offer more analytics instead of just more raw data.
The size of the index isn't the only factor, of course. How the data is handled and processed, how often it's updated, and how useful it is can all be factors as well. I will say that both SpyFu and Semrush do a great job of turning raw data into something useful, so you don't have to worry about that.
What is SpyFu and What Can It Do?
Website: https://www.spyfu.com/
SpyFu was created back in 2006 as a way to "turn your rivals into your best advisors." By watching what the competition does, you can learn a great deal, both about what you can do for successful marketing and what mistakes and missteps your competition might be making.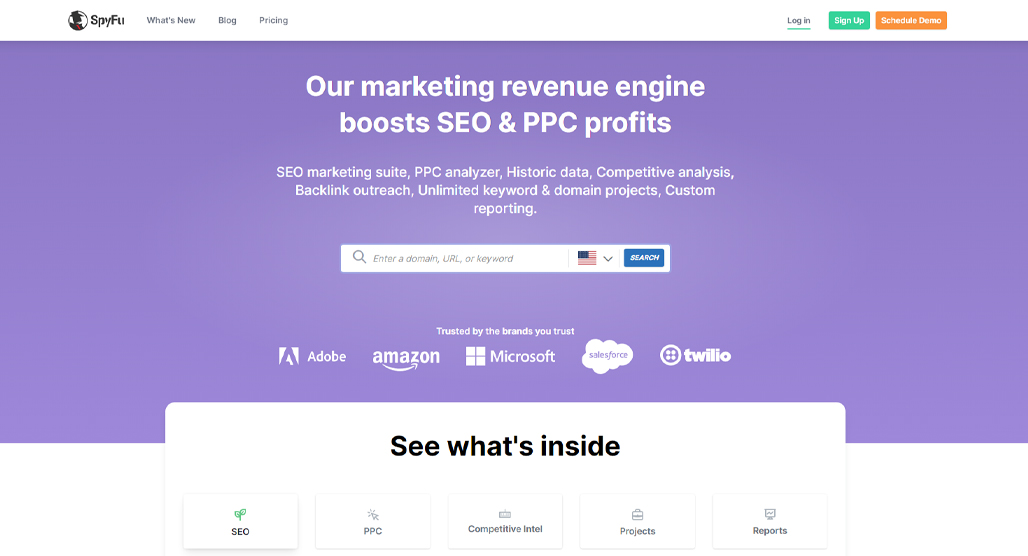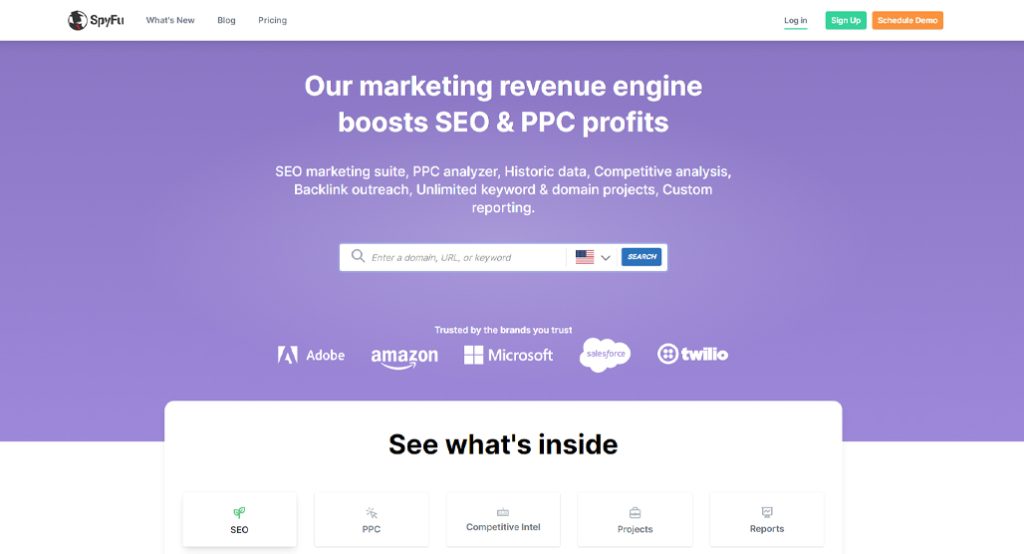 When you plug a domain name into the SpyFu tool, you are given a report with a lot of data in it. It covers all the bases:
A breakdown of how much of the site's traffic comes from organic results versus how much from paid ads.
What paid keywords they're targeting, if any.
The number of keywords they rank for and how many of them are gaining or losing position over time.
A list of their top competitors.
A list of their top keywords.
A list of their top pages.
A list of their top backlinks.
Each of these is presented in the overview. They also have a series of individual reports drilling deeper into the information presented in each one.
For example, their SEO Research report shows a much deeper dive into the various keywords a site ranks for, what competitors they have for those keywords, new keywords and established keywords, gains and losses, and a ton more.
There are sub-reports for top pages, top keywords, and the option to add specific other competitors to "kombat" for comparative analytics.
All of this is relatively limited with a free report you can run at any time.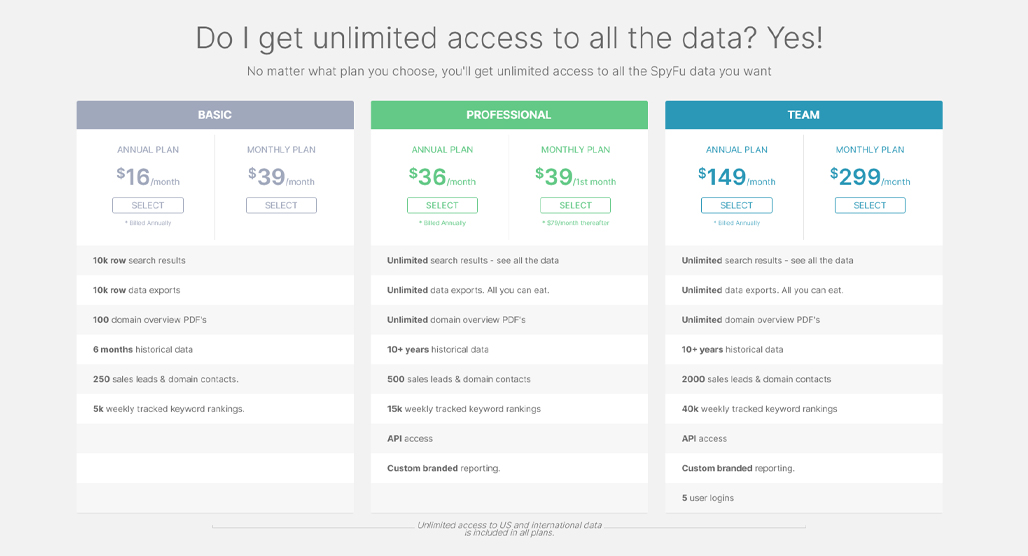 SpyFu has three plans for paid versions with higher limitations and more data.
$39/month for Basic, with 10,000 rows of search results, six months of historical data, and up to 5,000 tracked keyword rankings.
$79/month for Professional, with unlimited search results, ten years of historical data, up to 15,000 tracked keyword rankings, and more. This also gets you API access and white-label reports.
$299/month for Team, with five user logins, a lot of additional data, and higher limits of everything that isn't already unlimited.
So, are there any drawbacks to SpyFu? All of the above looks pretty good, after all.
The first major drawback is the limitations on SEO reports. Custom domain reports can only be run for small domains with under a thousand keywords on the Basic plan; the Professional plan can run them on medium-sized domains with up to 30k keywords, and only the Team plan can run them on larger domains.
This is their primary incentive for making larger businesses pay more for the service; they won't generate reports for industry-leading competition when you're that large.
There's a ton of information on their pricing page, as well, if you want a granular breakdown of everything they offer and all their limitations at different price points.
What Are the Pros and Cons of SpyFu?
SpyFu is what I tend to call a focused tool. It's all about the keyword analysis, for your domain, and for your competitors. Their higher-tier plans having unlimited search results and keyword lists are great, but the limitation on the domains they'll scan is pretty irritating sometimes since you might be surprised at what sites can rank for a ton of keywords.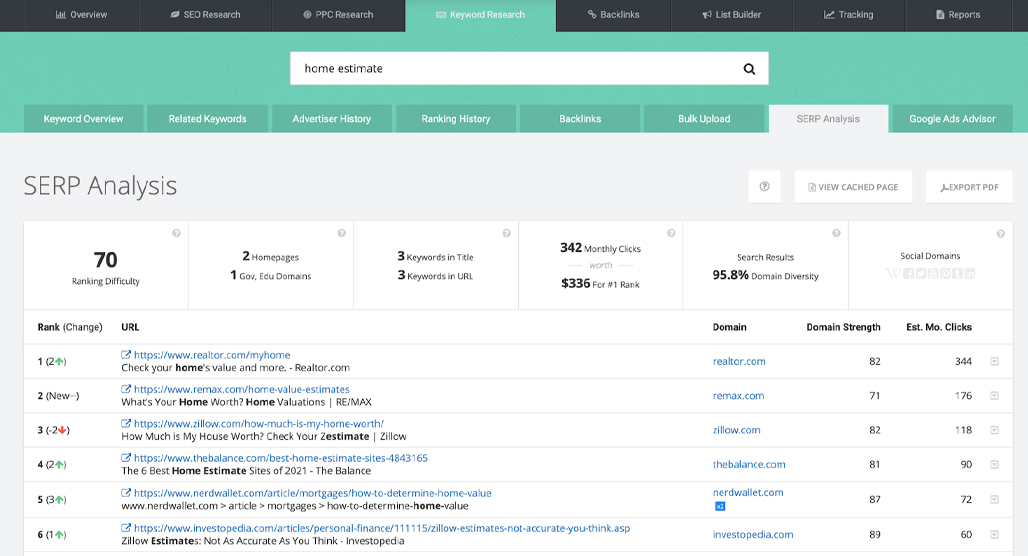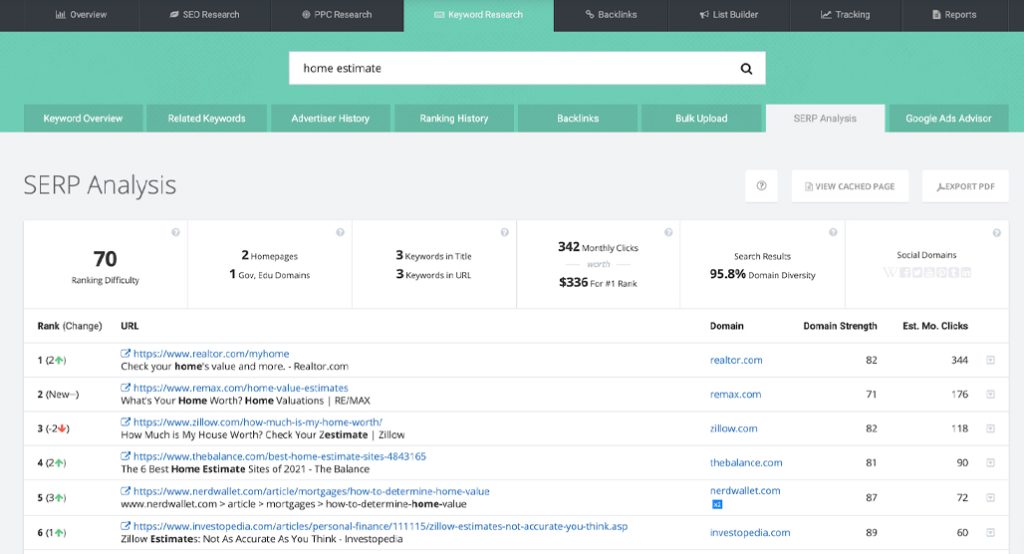 The other big drawback to SpyFu – and something I'll talk about a bit more later – is that their database of tracked keywords is somewhat smaller than what Semrush offers.
Don't get me wrong – it's still immense – but it's small enough that some niches can find it chafes.
What is Semrush and What Can it Do?
Website: https://www.semrush.com/
Semrush was created in 2007 under a different name and rebranded to its current name in 2008. Despite being slightly younger than SpyFu, though, it has expanded by leaps and bounds beyond what SpyFu offers. More on that later, though.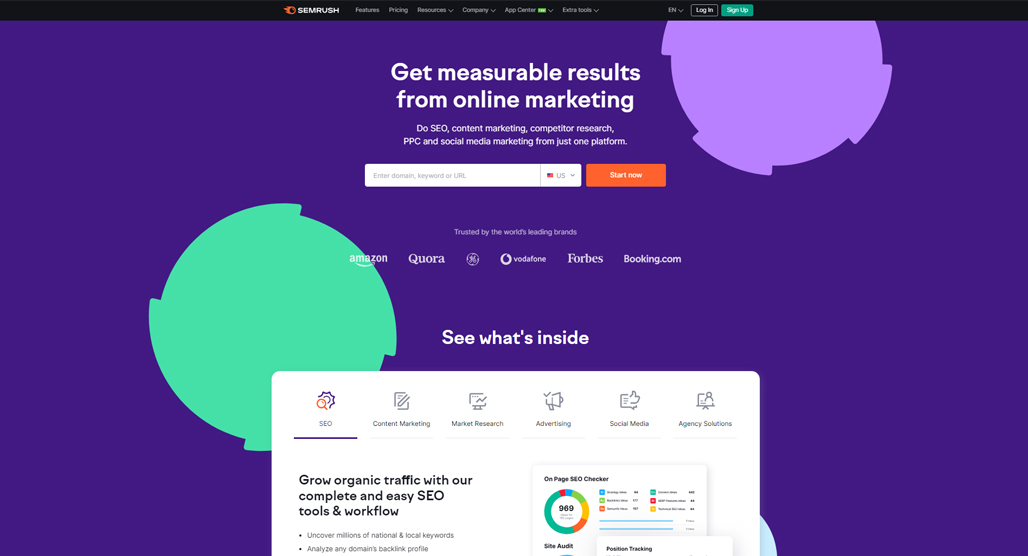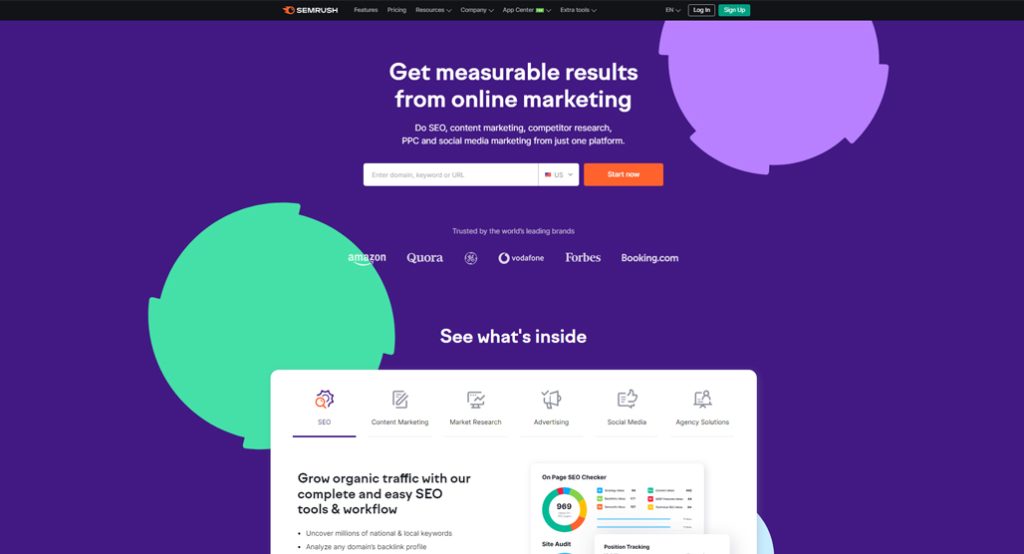 What does Semrush offer? A whole host of specialized tools for a variety of interrelated SEO and marketing tasks.
Six different keyword research tools for keyword overviews, organic keyword research, keyword gap identification, organic insights, and more.
Three tools for on-page SEO analysis.
Three tools for competitive analysis.
Four content marketing tools.
Five link-building tools.
Five social media management tools.
Three rank tracking tools.
They also have an app center specifically for third-party apps that link into their API, like BuzzGuru, Content Shake, and Media Monitoring.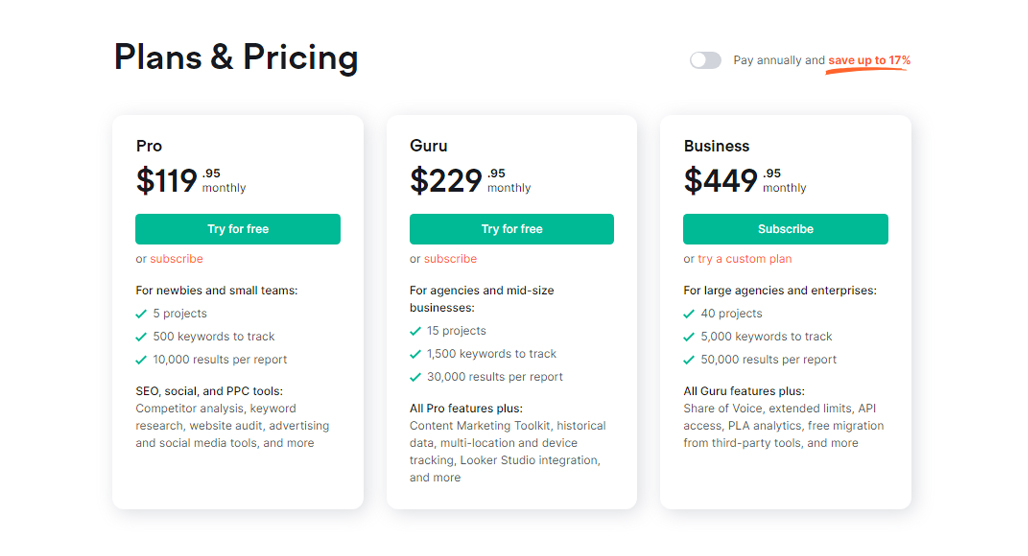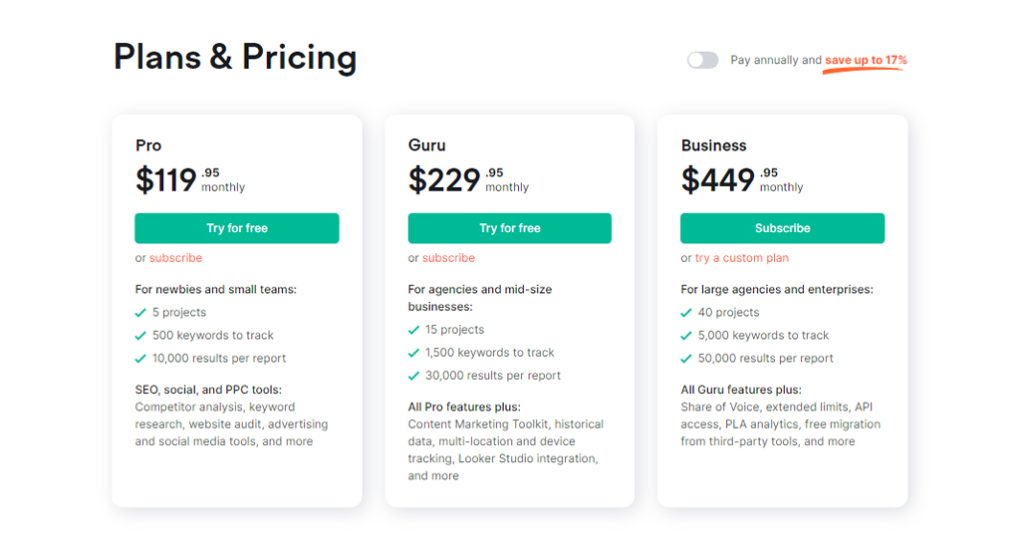 With a wide range of additional features, you would expect Semrush to be more expensive than SpyFu, and you'd be right.
$120/month gets you the Pro plan, which tracks up to 500 keywords and gives you 10,000 results per report. It gives you access to some of their SEO, Social, and PPC tools, but not everything in their library.
$230/month for Guru, which bumps those limits to 1,500 keywords and 30,000 results and gives you a handful of additional tools like historical data, the content marketing toolkit, and multi-location integration.
$450/month for Business, which gives you 5,000 tracked keywords and 50,000 results per report and access to the rest of the tools they offer. API access is only available on this highest-tier plan, as well.
The biggest drawback of Semrush is the sheer expense of it all. The tools are first-class, and the variety of features they offer make it a platform suitable for practically anything, but you're very much paying for it.
What Are the Pros and Cons of Semrush?
Semrush is an industry-leading tool for a reason. It has a huge array of functionality, a deep index of tracked keywords, and a significant amount of historical data. It can do a little of everything, and if it can't do it, it can link to other tools that do and provide data to use.
The biggest drawback is simply the price. A lot of big companies out there aren't going to bat an eye at $500 a month, but smaller businesses – the ones most concerned with competitive analysis – are going to struggle to pay that bill.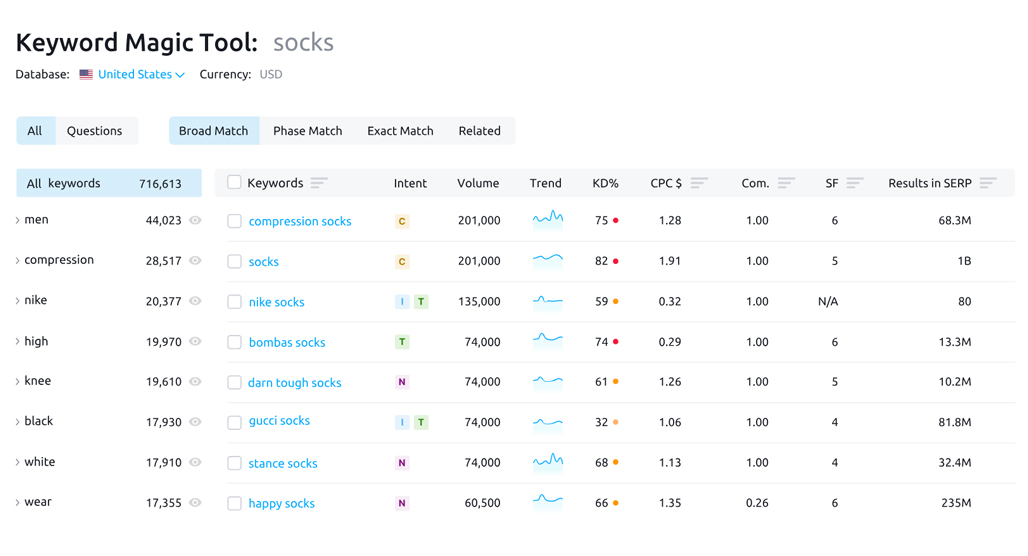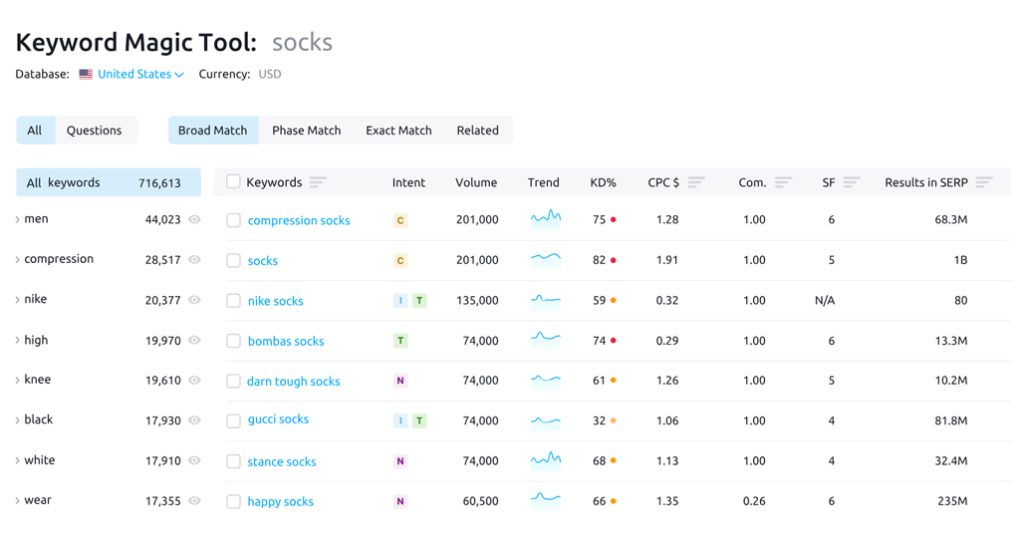 Semrush also limits your queries and tracked keywords, even on their highest tier plan. There's no truly unlimited plan like what SpyFu offers.
If I had one significant gripe with it beyond the price, though, it would be that all of the different tools often feel disjointed or disconnected or that they're complex enough that you often feel like you're using the wrong tool for the job, or you're not getting the most out of a tool that you're using.
Even if you're getting expert-level insights out of it, there's this nagging feeling of inefficiency.
Back to Indexes
Above, I mentioned the size of a keyword index is hugely important to the viability of a tool. Semrush and SpyFu have both been around, harvesting data, for well over a decade. In that time, they've built up significant indexes.
Unfortunately, SpyFu simply didn't grow to the same extent that Semrush did. Whether that was a lack of investment from the devs, a lack of foresight, or just being Good Enough for most people in tech and marketing niches, I couldn't tell you.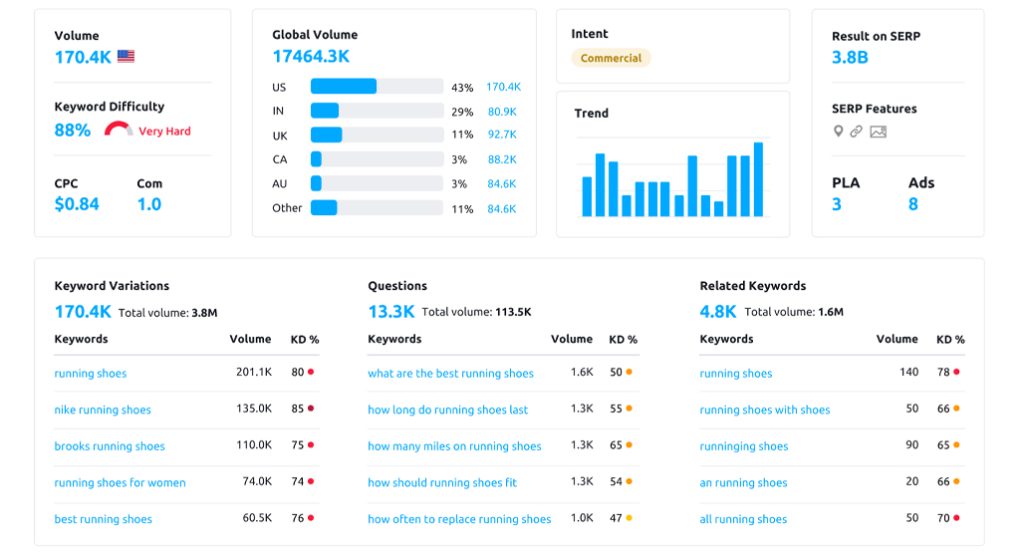 What I can tell you is that SpyFu is tangibly smaller, with less frequent updates, than Semrush. While the data they both contain is fine and "good enough" for many businesses out there, the more niche your business or topics, the harder it will be for you to effectively use the tools.
Semrush might cost a lot more, but they put that money to good use with the storage and processing power necessary to keep and maintain their huge index of keywords. It makes Semrush an altogether more impressive tool and more useful for most people who have experienced both.
Which Option Should You Pick?
If you're stuck and you have to pick between either SpyFu or Semrush, I would go with Semrush.
Yes, it's more expensive, but honestly, the wealth of data and tools they give you is well worth it. For most small businesses, you aren't buying their Business plan, either; you're buying their Pro plan, which is a lot more affordable.
Sure, you might occasionally run into limitations, but more likely, you're going to get lost in trying to figure out which tool to use.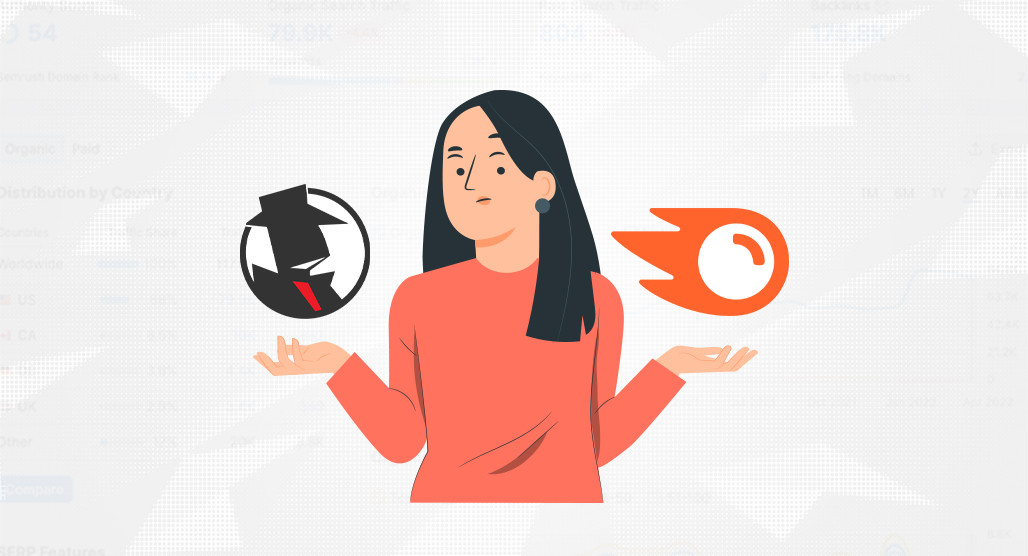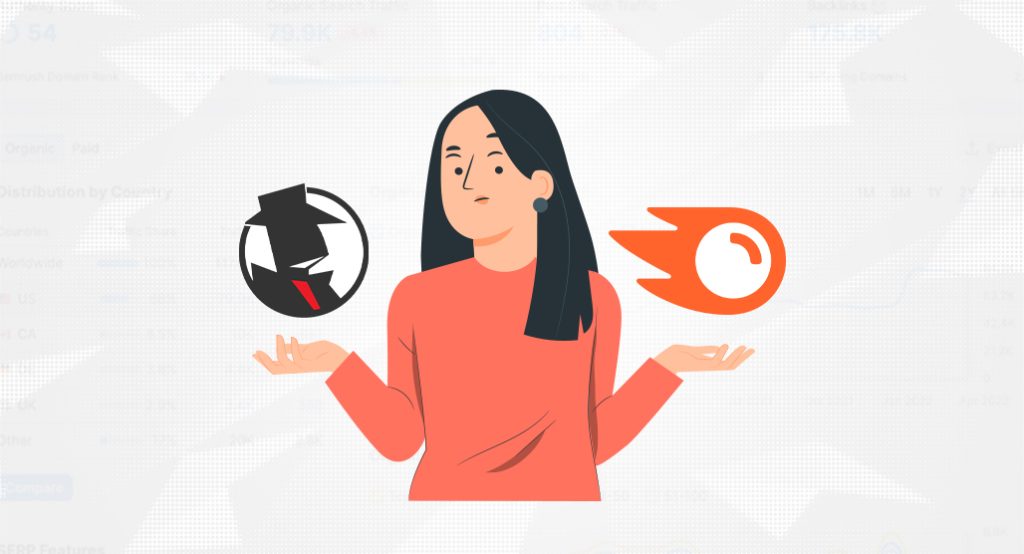 When it comes down to it, though, are you limited to just those two? I don't think so.
Semrush is great if you want a prestige tool that can do a little of everything and provide a ton of insights. SpyFu is fine if you want a more focused tool that does less, but does it with fewer distractions.
I have another option for you, though. Why not try Topicfinder?
One of the main reasons people use either of these tools is to find ideas for topics to cover on their site. That's why I built this tool: to be a simple, fast, and easy way to see what kinds of topics your competitors are ranking for and how you can cover similar, adjacent, or other topics to siphon off some of those rankings.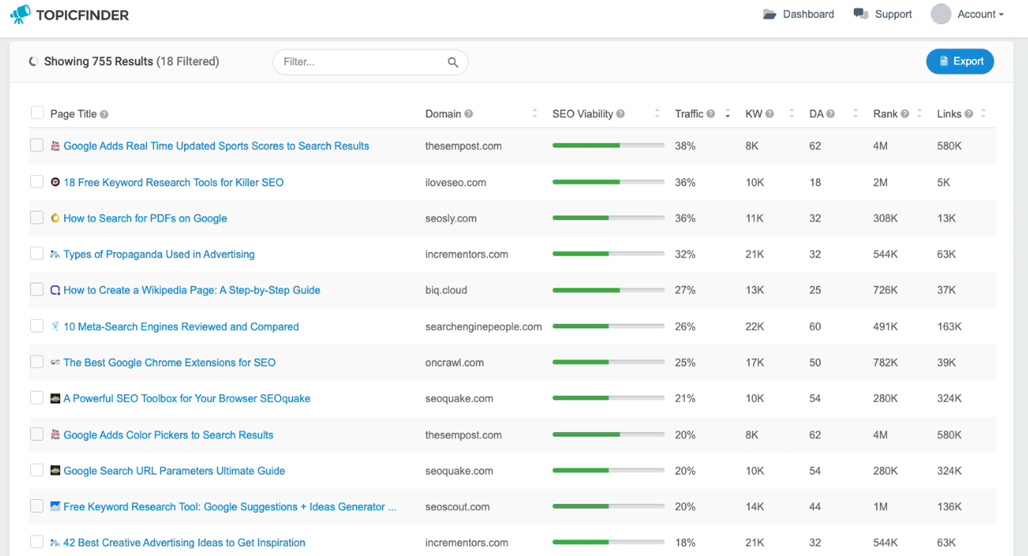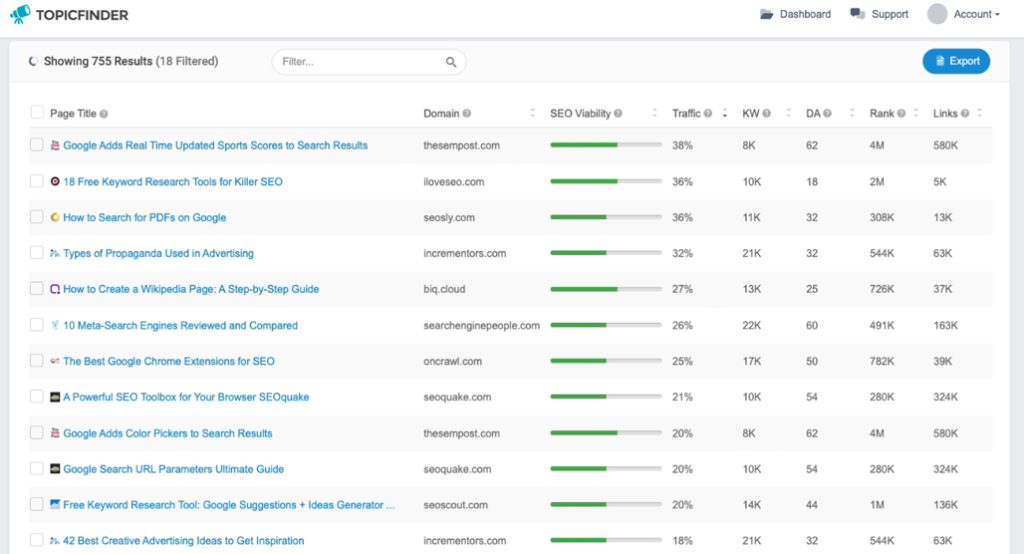 How does it work? First, you plug in your site, and we scan for competitors. We aim for competition around your site's level, so you're not pitting the local company baseball team up against the MLB. Each competitor is then scanned to identify the keywords and topics they rank for. These aren't just their top topics; it's the ones you're most well-positioned to overtake. From there, your content marketing efforts can surpass theirs, you can grow beyond their sites, and you can run another report for the next step up the ladder.
The best part is, pricing plans start at just $49/month. Tools like Semrush start at $120/mo and Ahref at $99/mo, so it's not only a better and faster option for topic research, it's more affordable.
I've been a content marketer helping big brands dominate their markets for a decade now, and I've put all of my experience into making this a tool that does what I need and find most useful. I've used it internally for a while now, and it's finally time to share it with the world. I hope you'll give it a shot!
If you have any questions, please feel free to drop me a line! I'd be more than happy to help you out however I can.
Fine-tuned for competitive creators
Topicfinder is designed by a content marketing agency that writes hundreds of longform articles every month and competes at the highest level. It's tailor-built for competitive content teams, marketers, and businesses.
Get Started