How to Find Instant Approval Guest Blog Websites

If you've read a bunch of the posts on this site, you should know by now that the hardest part of guest posting is not finding sites to guest post on, nor is it actually writing the guest post. Instead, the absolute hardest part is simply writing a pitch that will get noticed by an editor and picked up. Sites receive so many unsolicited guest post pitches, so many of them spam, that it's easy to ignore just one more in the pile if they don't know who you are.
What if I told you there was a way around the problem? In fact, there is. There are actually quite a few sites out there that accept guest posts largely without filtering. You send in a pitch, or a whole article, and they'll have it published within the week, or sometimes even the same day.
The Benefits of Instant Approval
There are a few benefits to instant approval guest blogging. The largest one, of course, is simply that you bypass the time, energy, and effort required to write a top-tier pitch and go through the back-and-forth with an editor once it's accepted. You simply write something and have it posted quickly and easily.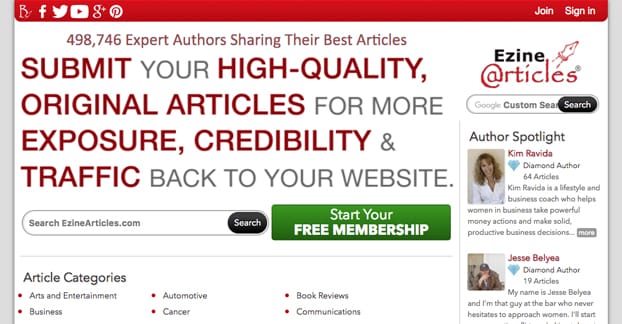 Instant approval sites are also good for getting a bunch of awareness out about some pressing matter. If you want to get public awareness on your new product, an instant approval site can be a good place to throw a press release or similar article. Do this on enough sites and suddenly you have a lot of citations on Google you can use to get better content published elsewhere, as well as potential media attention.
You might also be able to get some links from these kinds of sites, though there's a problem with that, which you'll see in a moment.
The Problem With Instant Approval
You know that feeling you had when I said you could bypass the pitch process and get right to publication? That giddy elation, that urge to praise me and shower me with riches, all of that? Well, first of all, go right ahead. I've put out a collection pan for the riches.
Secondly, it's what basically everyone has when they hear the news. That means there are hundreds if not thousands of people clamoring at the gates to get their content published on these sites. These people range from small bloggers looking to try out this guest posting thing to agencies selling guest blogging services and then putting content with links up on these pages.
If you've spent any time at all with marketing, you already can smell the problem here. These instant approval sites attract a ton of posts from a ton of different genres, so you have posts about fashion next to posts about food next to posts about the latest technological developments in the roto-rooter. All of the power of relevance and niche-matching sites is lost.
Even worse, most of these people recognize that SEO works on links, and they use these instant approval sites to add links to their sites. So you have linking domains with a ton of varied, low quality content, with links pointing all over the web to sites of all levels of quality.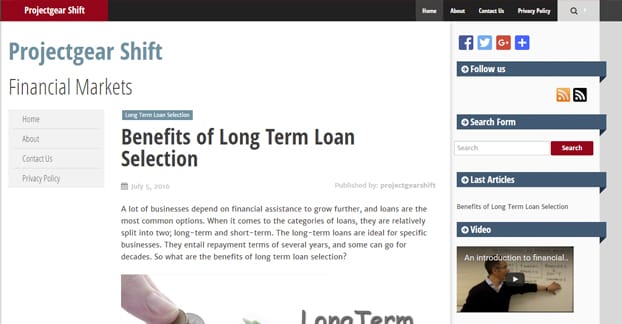 There are three possible outcomes here.
The links exist and remain followed, but work out to be very low quality, perhaps not even worth bothering to get.
The links exist and remain followed, and Google determines that the site is just giving away links in what are essentially user-created ways. Those links, combined with the spammy nature of the content and the low quality level of the site, mean the links and domain are devalued. In extreme scenarios, it can even be detrimental to put links on these sites.
The site knows about these problems and proactively makes sure every link on the site is nofollowed. This isn't good practice for growing a site, but it does prevent some of the worst possibilities from coming to pass.
In any case, the actual value you get from an instant approval site is going to come from other users, not from links or content value itself. Believe it or not, some of these sites actually do have legitimate readers, and those readers will grow brand awareness for you when you publish content. You can also use them as citations without explaining the context, and some people who just check for content rather than context will accept them at face value.
How does all this differ from simply creating a blog on some WordPress.com or blogger URL and using that for your "guest posts"? Well, two reasons. First, it's less obviously just a shadow blog for your own content; other people get a lot of content on the site, and you don't own it. Secondly, it already has some level of traffic and presence on the web, where it can do you some good, albeit not much. A shadow WordPress site isn't going to have that.
What I've done here is given you a selection of instant approval guest blogging sites you can use, along with a quick description. I haven't personally used any of them – my sources are at the end of the article – so make sure to do your investigation yourself.
Some Examples of Instant Approval Blogs
AbiLogic – You can sign in via Facebook or make an account to write here. The top writes are publicly showcased, based on volume more than anything; the top posters have over 1,200 articles to their names. Some of the recent articles have such compelling titles as "Trends in the automotive fabric market" and "research offers 10 year forecast on fire rated cables".
Medium – One of the best possible options on this list, Medium is essentially like an online newspaper anyone can contribute to right away. It's trivial to set up an account and you can have an article posted within minutes if you already have it written. It's also heavily curated, so excellent content floats to the top and bad content is suppressed. If you're only going to use one site on this list, use Medium.
Fonolive – This is a strange combination of article directory, job posting board, classified ad depot, and service hub. Think Craigslist and Medium had a baby and implemented a voting system for article rating. You can expect posts on topics like car loans, vitamins, job interviews, and basically anything else.
ArticlesBase – If you read the entry for AbiLogic, you've basically read the one for this site too, only they have an additional feature to add in specific categories of content, including news, videos, and polls. They have content like a "quick buying guide to chairs", "amazing facts about palm sander" and "top 10 website design elements and principles." It's amazing what people think will gather interest online, isn't it?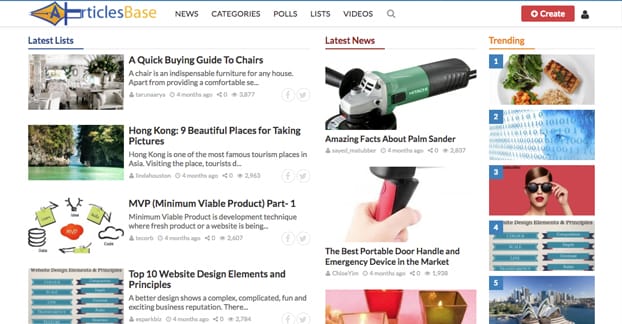 EduBlogs – This is actually a pretty high quality site, much like Medium, with a heavier topic focus. You use this site to create a sub-blog on the site and write whatever you want. Trending and high quality content gets featured in their directory, in their community, and on their front page. The catch? It's highly focused on education, generally on a grade school level.
Techniblogic – I don't actually know if these guys accept everything that comes their way or not, but you can at least submit content quickly and easily. Stick to their primary niche, which is technology and blogging. Be aware that they don't allow backlinks of any sort.
HubPages – This is one of the premier, original article dumping grounds. Content has grown in quality over the years as social pressure has driven away some people, and top writers can actually earn some money from the site, albeit very little. Writers brag about earning $7,000 over the course of four years, which doesn't seem like much, but hey. If you want to use it and make a few bucks on the side, go for it.
Easy-Articles – An article directory and distribution platform by the easy media network. The vast majority of their articles are on topics like business, computers, and finances, though they have categories for everything from accounting to food. Articles can be submitted for free, but if you want premium positioning on the site to get as much traffic as possible, you need to pay for a sponsored article.
Ezine Articles – One of the first article directories and consequently one of the oldest, Ezine Articles has something of a reputation amongst marketers and freelance writers. It can be useful, it does have users, and it has categories ranging from arts to shopping to finances. Articles are not necessarily approved instantly, but they can be expedited by a premium membership, which also gives some other potentially useful features.
Amazines – Not related to Amazon, but this site is actually kind of amazing. The site design looks like something I might have made in grade school. They're covered with affiliate links for garbage and the contributor profile picks range from a strange Polaroid to a greasy man to stolen stock photos. Topics, of course, range from a guide to IVF to the projects of a specific township to which food items should be refrigerated. It's really the wild west out there.
ArticlesWrap – The articles on this site are all over the place. I see content about celebrating Easter, content about earning your MBA, and content about reading your 2012 horoscope. Hey, if this whole article submission thing doesn't work out, maybe you can contact this guy to get you a bit of assistance using his black magic.
Newsvine – This is a submission-based aggregator where some people can submit content, but a lot of content is sourced from other sites, like Politico or the Hollywood Reporter. Better get your submissions in quick, though; they're shutting down in October. Having an account does get you access to today.com, NBCNews.com, and MSNBC.com, though.
SooperArticles – If someone tasked me to create an article directory that was itself a parody of other article directories, what I come up with would probably look a lot like this site. It has everything! The logo just has a clip-art pencil next to it. It covers every possible category of content. The featured authors have bios with clips like "my ambition is to see the poor masses of USA living a normal live" and "adam is from USA." It's like if you ran a bunch of directory sites through Google's deep dream.
No-Nerd – This blog seems to be about fashion but has categories all over the board. At this point I'm scraping the bottom of the barrel here guys, I mean, this site has an article titled "A Quick History of Sewing" written by one "mark zukeberg". It has no line breaks, it's just a giant wall of text.
Sources
These are the sites I pulled a lot of these links from. Be sure to check them out if I haven't driven you away with tales of low quality; there are hundreds more sites where these came from.
List of Top Free Instant Approval Article Submission Sites from SEOHeights
Top Free Instant Approval Article Submission Sites 2017 from Techniblogic
90% Instant Approval Guest Posting Sites List Free 2017 from blogpostingsiteslist.com
Getting Real
Okay, I mixed in a few good examples into the list above, like Medium and HubPages, but for the most part this list is meant as a gigantic example of what you should not do if you want to consider serious marketing. Not only will these sites never help you out, they will hurt your reputation. If I Google your name and find your content on a site like this, you can bet I'm pretty unlikely to let you post on my site. Just write the pitches, okay? It is well worth the effort.
Fine-tuned for competitive creators
Topicfinder is designed by a content marketing agency that writes hundreds of longform articles every month and competes at the highest level. It's tailor-built for competitive content teams, marketers, and businesses.
Get Started