5 Steps to Submit a Guest Blog Post to Yahoo News

Yahoo is such a strange site. They've tried to do just about everything at one point or another, and they never quite seem to live up to the ideal they want to achieve. They made a search engine to compete with Google, but have come in a firm third place. They made Yahoo Answers, which ended up riddled with trolls and was replaced by Quora. They made an instant messenger to compete with – and lose to – MSN messenger, AIM, and more recent options. They have email, playing second fiddle to Gmail. The list goes on.
The slow decline of Yahoo culminated with their purchase by Verizon in mid 2016. These days, Yahoo, AOL, and the Huffington Post are all operating as a fragment of Verizon, specifically under the banner of Oath, Inc.
Yahoo News still exists and still operates under the Yahoo brand name, even if they're owned by other companies owned by other companies owned by yet more companies. The news site is largely an aggregator, pulling in news stories from a wide variety of sources. Such sources include the Huffington Post, the Associated Press, ABC News, Reuters, and more. They also have their own contributors, appearing as content from Yahoo News directly. Every post on the news site has a source, and there are dozens of sources.
With an average audience in the hundreds of thousands per day, Yahoo News seems like a great place to be. Users are already used to their content sending them to all manner of other sites, so click through rates are naturally a bit higher than average. The question is, how can you get on the site?
Step 1: Decide What to Write
The first thing you need to do with any guest post plan is figure out what you want to write. Yahoo News is no different. While Yahoo News is a broad site with a lot of coverage, the majority of their coverage comes from third party contributors.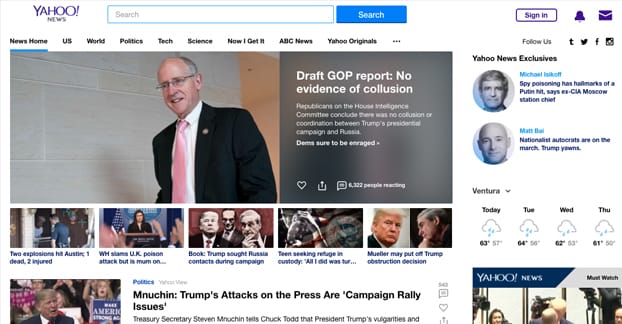 Very little content is actually published directly on Yahoo News, and what is, is generally written directly by the editors or executives in charge of Yahoo News itself. If you search their homepage for contributions from Yahoo News itself, you'll find content written by people like these:
Michael Isikoff, the chief investigative correspondent for Yahoo News, as well as their editor at large.
Matt Bai, the Yahoo News national political correspondent with credentials like New York Times correspondent and bestselling author.
David Knowles, one of the Yahoo News editors formerly working for Bloomberg, The Daily, and AOL.
One thing you will recognize about this list of authors is that all of them are highly credentialed, highly connected, and writing almost entirely about politics. In the case of Isikoff, he creates their ongoing podcast, Skullduggery, about political corruption.
So, I'm going to be honest here; chances are you're not going to write directly for Yahoo News. It's actually very rare that anyone writes for the site directly ever since they shut down their contributor network back in 2014 or so. If you really want to try to go for it, I'll give you some ideas on how, but in all likelihood you'll want to skip to step five.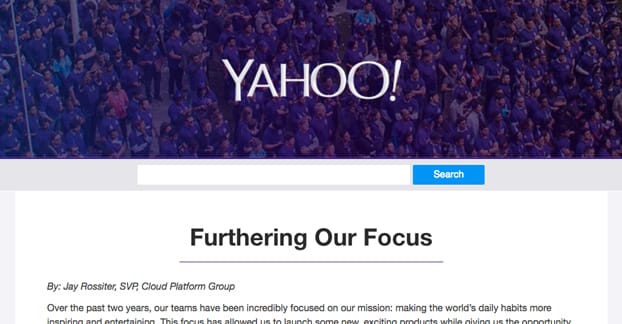 If you still want to proceed with trying to write directly for Yahoo News, chances are you're going to have to write about current politics. Given that the other contributors are all political analysis with a lot of knowledge, a lot of credentials, and a lot of experience, you have some stiff competition. You basically need to have a very unique angle; either you get an exclusive interview with someone of import, or you approach things from a completely different perspective.
It's generally a good idea if you can pull off writing an interview with someone of importance, even if it's someone local. Yahoo tends to cover national and global news more than local, relying on their affiliate stations to cover local news. A local post might not work for Yahoo News itself, but will probably be easier to pitch to a local news station that affiliates with Yahoo.
Step 2: Research and Write a Post
Step two here is pretty generic, all things considered. You need to research and write your post. If you're trying to write for Yahoo News through a subsidiary or aggregate source, you're able to write on a variety of different topics. Here are the niches that Yahoo News covers as their broad news topics:
US News, World News, Politics, Tech, Science, Entertainment, Sports, Celebrity News, Health, Nature, the NFL, Space Exploration, the US Military, the Gun Control Debate… and much more. They full list of categories is here, but it's really just a feed of tags that have been used on the site, which means it's an infinite-scroll page with hundreds if not thousands of entries.
So, basically, write what you feel like writing. There's just one guideline you absolutely have to follow, and it's simple: it has to be news. You're not going to be able to write a beginner's guide to guest posting, a tutorial for learning to ski, or an upgrade guide for your favorite video game; that's not newsworthy content, and it's not content Yahoo News is going to publish.
I also highly recommend looking through the content published on Yahoo News. There are a lot of different sources, so you can't really get any one style guide to follow. What you can do, however, is look for trends in topics and positions. Do posts tend to take a pro- or anti- gun control position? Do they skew liberal or conservative? Are there topics they seem to avoid, or that they cover rarely?
I can't really help you with this one. My tip is this: think about how your industry news can apply on a national or global scale. Very few people are going to care about a new product launch in the SEO niche, comparatively. A new marketing strategy promoted by a new SEO company, though, could be spun as the marketing wave of the future. "Is traditional PPC advertising dying?" A provocative title can draw attention and can be applicable to a wide audience, even if your end conclusion is "not really, but here's something neat you can try."
Step 3: Submit Post to Yahoo on Tumblr
If you really want to submit your content to Yahoo News directly, you're basically out of luck. There aren't really ways you can do that. I've compiled a few means you can try to get your content in front of someone at Yahoo, but I make to claim to say any of them actually work. It might be worth trying, it might not; only time will tell if you give it a shot.
The first option is to go to Yahoo's Tumblr account and use the submission feature. Yahoo owns Tumblr, which means Oath owns Tumblr, which means Verizon owns Tumblr. To get your content in front of whoever monitors the Yahoo Tumblr account, you can use this form to send them something. You don't have to have a Tumblr account, but it's strongly recommended, because I would venture to guess anonymous submissions are largely ignored.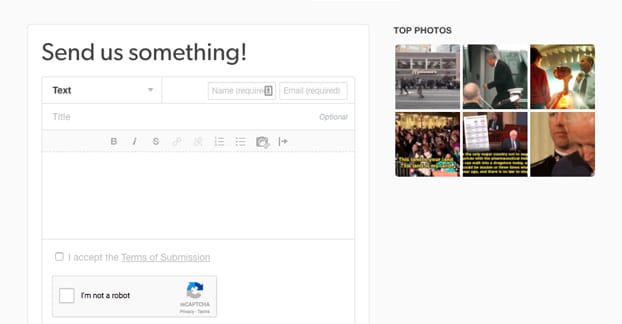 This is a bit of a long shot; the Yahoo Tumblr account hasn't posted anything since the start of 2017. I would pretty much assume that it's more or less abandoned and won't be monitoring incoming messages.
A second potential option is to become one of the Yahoo Yodelers. The Yodelers are a group of people tasked with making decisions about Yahoo products and services. Essentially, you'd be part of a focus group Yahoo uses to determine the direction of their content, their services, their products, and what they're doing with the site. This is sort of an extension of the old Yahoo Voices program, but is a more private community. It's also not likely to help you get content of your own published. It might help you influence what sites are published, though, to help with step five.
You might also want to submit your content to Yahoo directly. This form is essentially just the "submit a site to Google" form for Yahoo. It makes sure your site and the specific content you want to promote is in the Yahoo search index, though in all honesty that isn't likely to be a problem. Yahoo and Bing use the same search index, and it has pretty good coverage comparable to Google.
As a final, last-ditch option, you can always try to go through someone else. People like this guy claim to have the ability to publish content directly on Yahoo News, and will do it for you for the low low price of $700. I doubt the placement is worth that much, but hey, if you have the money to burn and want to give it to this guy, go for it.
Step 4: Track Down Oath and Yahoo Executives
As with many things in life, Yahoo News often ends up being more about who you know than about what you know. Great content isn't picked up on a whim; curators and editors manage the content flow on the site. All of the aggregation sources means Yahoo has a near-infinite supply of content to pick through, so anything that gets featured has to stand out in some way. Usually, that means catching the eye of an editor.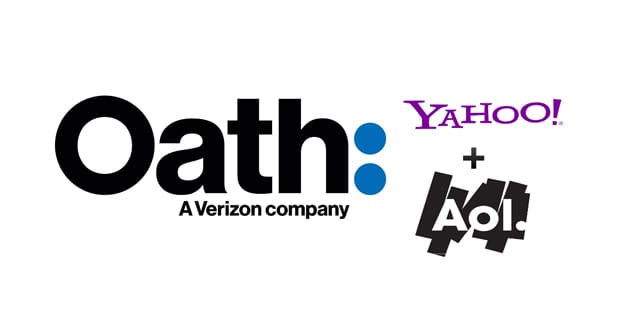 Yahoo doesn't make it easy to see who the editors are for their various sections, if indeed there even are individual section editors. Whoever curates the content does so largely behind the scenes. Nevertheless, you can track down a few people, which I've done for you.
Below is a list of Twitter accounts for people who currently work for some aspect of Yahoo News. If they're in your niche, they're interested in your content, and they're active, you may be able to network with them and get some kind of preferential placement or a shout-out in the content they produce. I wouldn't count on a guest post appearing on the front page of Yahoo News, but you might get a mention worked into some piece of content.
You can try to network with these people and get an in, though I imagine they're very popular for exactly that purpose.
Step 5: Find Other Sites to Submit To
The final option is, frankly, going to the best bet for the vast majority of you. Yahoo News publishes 99% of their content as curated content from sites in their network. They own some of those sites, but many of them come from affiliate curation relationships. You'll want to try to write directly for those sites, and try to get published in a way that will get your content featured on Yahoo as well.
There is quite a list of sites you can pick through. I've written guides in the past for some of them, like the Huffington Post, so it might be worthwhile to see if you can find a site that's easier to write for. The Guardian is another option I've covered before. There are dozens of potential sites, though, so find one that fits what you're trying to do.
Fine-tuned for competitive creators
Topicfinder is designed by a content marketing agency that writes hundreds of longform articles every month and competes at the highest level. It's tailor-built for competitive content teams, marketers, and businesses.
Get Started