How to Check the Size and Popularity of a Blog

One thing you often want to do when you're guest posting is determine how popular your target blog actually is. We all know the industry giants, of course. You know a link from Neil Patel, from Moz, or from Forbes is going to be pretty valuable. What about the smaller sites, though? The ones that are more likely to give you a link, but whose links aren't as valuable? There's no real way to tell just from looking at the site how popular it is. You need to dig into some analytics. Thankfully, there are a lot of free tools available to help you do just that.
This site looks like something straight out of 2005, but it's a relatively functional little website analyzer. Plug in the URL of a site and it will come back with a handful of metrics you might want to know. It tells you Alexa Rank, PageRank, number of backlinks, Moz Rank/DA/PA, an estimate of pageviews, and an estimate of site worth.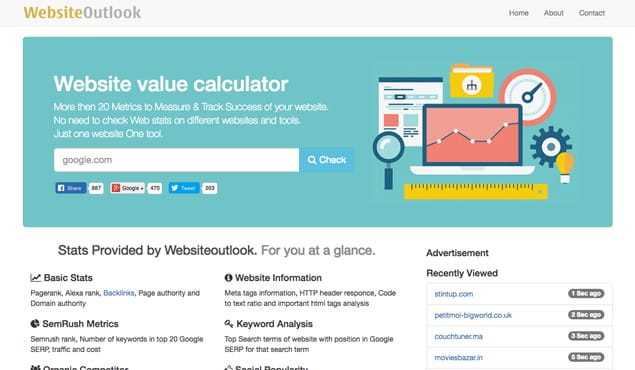 Before we continue, I want to point out that several of these metrics are inaccurate and should only be used as a broad estimate. The worth of a domain can't be easily estimated, nor can the pageviews, and the backlink check is not as robust as some of the other items on this list. Also, PageRank is a valueless metric; there is no current way to check it publicly, so it will be 0 for most recently-created sites and any actual number there will be at least two years old.
Down lower on the page, you get some more technical information that may interest you. There's a DNS report, an IP address report, and a WHOIS query, if you wanted to know that information as well.
This is one of the more in-depth analyses you can get, and is a good first place to check if you want anything more than the absolute superficial stats as checked by the site above. It will tell you the domain authority, page authority, recorded linking domains, and spam score of the site in question. Higher numbers are better for all of those except spam score, obviously. Their backlink checker works best for more established sites, and falls a little flat for newer sites.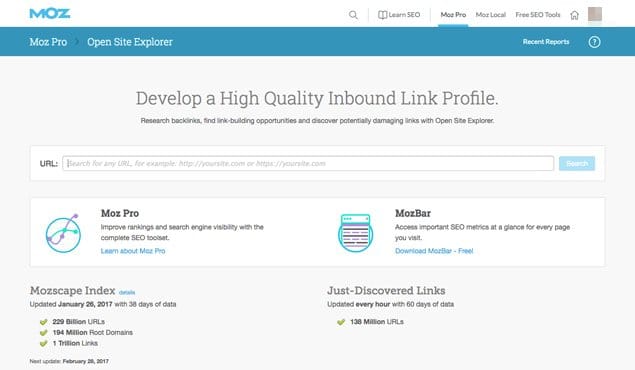 Using the categories on the left, you can learn more about individual aspects of the site. You can see the most recently discovered backlinks and the top performing pages on the site in question. You can see the linking domains and the anchor text for the links. A lot of the data you can see is limited, however, and they want you to pay for a pro account to access it all. It's worth doing, particularly for analyzing your own site, but it works for site research as well.
Metrics tend to look worse than they actually are with small sites. This is certainly untrue, but Moz doesn't have a hugely robust index of the internet the same way Google does. So, be aware of that; Moz metrics are likely to look upon a site more harshly than it may deserve.
On this page, scroll down to the bottom, and on the right side you will see a "browse top sites or lookup site" box. Plug in your desired URL here and look up the Alexa information for that site.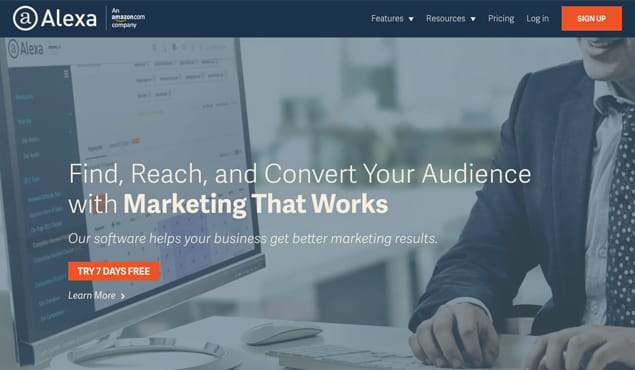 Alexa used to be a pretty inaccurate analytics platform, primarily because it relied on reporting from people who used the toolbar, which was a skewed audience. It has gotten much better in recent years, however, and can provide some interesting data. In this case, you're going to see a ranking for the site both globally and in the USA. You can see the geographic concentration of traffic sources, an estimate of bounce rate, pageviews per visitor, and time spent on site.
As with many of these analytics programs, you get more information for larger sites and less for smaller sites. You also end up with more information if you choose to pay for an account. Alexa's paid accounts are actually decently useful these days, so I recommend checking them out.
For the most part, you can simply do a three point comparison to figure out where a site stands. Take your site and plug in it; that's point one. Take an industry giant like Moz and plug it in; that point two. Then take the site you're looking to post on and plug in it. That's point three, and it tells you where on the scale that site is in comparison to both your site and to the high-end industry influencers.
This is an exceedingly simple site that just gives an estimate of the amount of traffic a site gets in the last 30 days.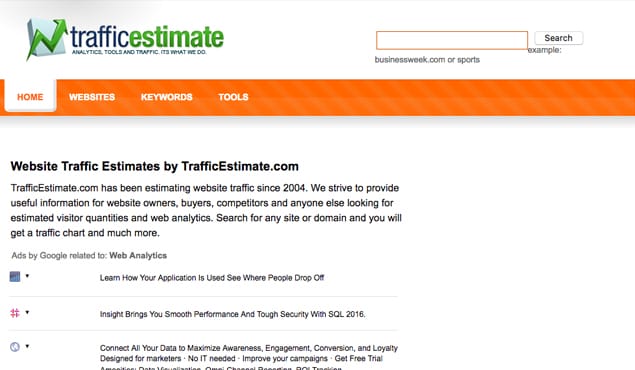 Since it can't access their analytics directly, all it does is grabs Alexa rank and a traffic estimate based on a few hidden factors. You don't get much out of it, but if you want to compare your site and a target site, you can certainly do so.
Majestic is probably the number one source of link analysis data on the internet. As with most broad analytics suites, it works best on older domains with a lot of history, and some of its data is hidden or limited unless you pay for a pro account. I do like their service and recommend it, but it's overkill for simple guest post target analysis, so I wouldn't pay for it just for that.
Majestic is why I say all of the above sites have somewhat inaccurate linking data. Where Moz finds a grand total of three or four links to some sites, Majestic may find over 350, from 107 different domains. Their archive is perhaps one of the most robust outside of Google, and their focus on link analysis is top notch.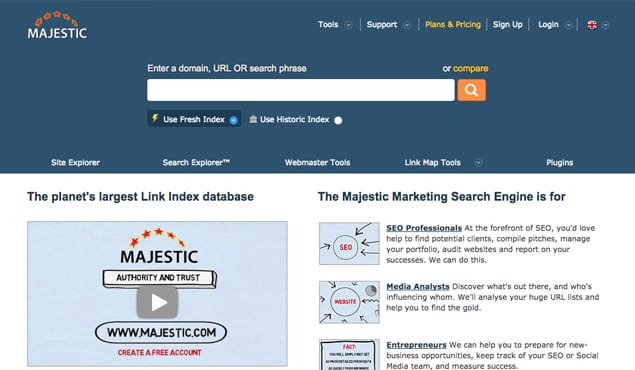 What you're mostly looking for is going to be the graph on the side of the screen, with all the fancy purple dots. This shows both Trust Flow and Citation Flow, unique metrics from Majestic. These are measurements of the amount of trust and value that moves from domain to domain. You can read a more detailed explanation about what they are and how they work over here.
The more and the higher quality the links coming in to your target site, the better that site is as a target for your guest posting. A site with a piddly graph – or one that skews heavily vertical or horizontal, that indicates some artificial form of link building – might make you want to think twice. Keep in mind, though, that new sites aren't going to have a great graph, and that older sites will probably have a better graph than they might deserve, so keep in mind that links are just one element to a robust analysis.
SEMRush is one of the larger tools for general SEO performance. I've left it for nearly last on the list simply because it eclipses a lot of the other options, and if I front-loaded it, you'd be disappointed with the rest of the options on the list.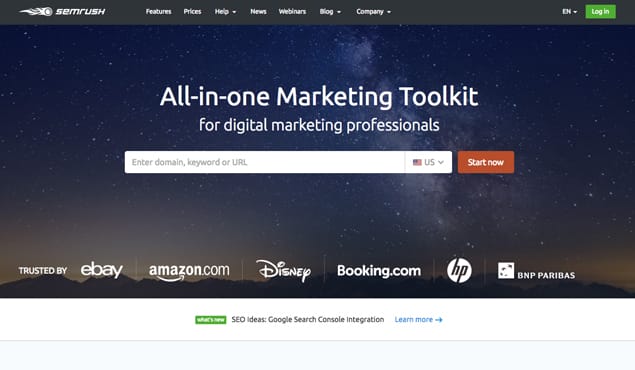 Just on the homepage, you can see all kinds of information. They divide up traffic estimates between organic search and paid search, complete with keyword estimates and ranking within their own index. They show a backlink analysis that isn't as good as Majestic's, but that's not hugely important. They show geographic locations for keyword data, a nice graph about rankings, and the top keywords linking to the site. On top of this, they allow you to toggle between desktop data and mobile data with a click.
Then you have all of the columns on the left. In addition to the overview, you have:
The organic research tab, with information about positions in Google ranking for various keywords, changes in position over time, competitors in the niche ranking for similar keywords, information about pages, subdomains, and the URL itself.
The backlinks tab, with information about the number and variety of backlinks, the linking domains, the anchor text, whether the links are followed or not, and so on.
The advertising research tab, which contains information primarily about paid advertising the site is running or has been running historically.
The PLA research tab, with information about Google product listing ads, if the site uses them for anything.
The video advertising tab, with information about videos the site has posted or hosted.
Other primary categories, including one focused entirely on keyword research and one focused on lead generation, though these are less useful for guest post target analysis.
The only downside is that you can't click around all that much without encountering the SEMRush rate filter, which cuts you off after something like 5 or 10 "requests", which can be tabbing between two sections and back a couple of times. You can fill out their free account to get 10 extra requests per nebulous period, or you can shell out for one of their subscriptions. I don't mind their subscription service, but again, it's overkill for what you need when researching targets.
What SEMRush is for SEO, BuzzSumo is for social. It's the ultimate in quick social media analytics. Plug in the URL for the site and it will bring forth a list of the top performing content on the site, as ranked by sheer number of social media shares. It doesn't preference one type of share over another, so one article getting a bunch more Twitter retweets than another can push that one over the top. However, it does show you a great deal of information.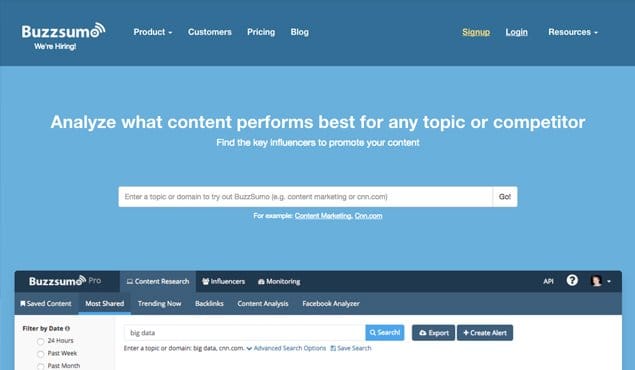 The easiest takeaway from this site is just the scale. How many total social shares is the site getting? Something like Forbes gets 400,000 shares on a top-tier post. Moz gets 10,000 or so for their top posts. A new site that is still growing may only get 50-100. Beyond that, you can use it to get an idea of what kinds of content perform the best on the target site, so you can try to reach the same kind of content with your guest post. The more closely you can reach their audience, the better your post will perform, to the benefit of all involved.
You can apply a bunch of different filters to the list as well. You can show only data from the past day, week, month, half-year, or year, or even a specific date range. You can show only content in specific languages, from specific countries, or from specific domains. You can even filter by specific types of content, like article, infographic, and interview.
Obviously, there are a lot of additional features here, most of which are either not important for your purposes or are hidden behind the paywall. As with the other tools above, it's overkill for the task of simple research, but can be exceedingly useful in all sorts of content outreach. A BuzzSumo Pro account runs $80 per month for the cheapest package, though, so it's not necessarily worth it unless you know what you're getting and know how to use it.
Native Engagement
One final metric you can check to see how large or robust the site in question is, is their own native engagement. By this, I primarily mean their blog comments. What comments system do they run, or do they hide their comments? Do they get comments, and if so, how well moderated are they? Do they frequently respond, or do they only respond to a few choice comments, or do they not respond at all? Are the comments left insightful, or are they the kind of generic garbage you view as simple filler?
You can learn a lot about a site by the comments they get, and by the volume and the moderation thereof. More comments and more moderation indicates a larger site.
Fine-tuned for competitive creators
Topicfinder is designed by a content marketing agency that writes hundreds of longform articles every month and competes at the highest level. It's tailor-built for competitive content teams, marketers, and businesses.
Get Started