The Difference Between Guest Posts and Sponsored Posts

The world of the blogger is filled with specific terms, niches, and high-caliber strategies geared toward increasing readership.
Some bloggers approach it casually. They are experts in a field and put up article after article, week after week, and gain attention for their depth of insight and online personality.
Others are much more calculated in their growth. Neil Patel comes to mind — he didn't blog casually about his experience in internet marketing, he took the niche by the throat and vaulted his way to the top.
While the two approaches are very different, both have a high chance of success if you're consistent and have something unique to say.
At a certain point every successful blogger will see a spike in traffic, readership, and search rankings in Google. This inexorably leads to an influx of emails from salivating parties who want in on the band-wagon.
These emails typically come in one of two categories:
Guest pitches and post requests: Emails from other bloggers, famous or upstart, that want to post their words on your blog.
Sponsored Posts: Emails from companies asking if you can sponsor a product, a change in the company, a press release, or some other piece of content.
Any blogger will feel at first gratified by these emails. It means you've started to turn the tide on your little blog and get recognition.
Then, after a few weeks of that, you'll get a sinking pit in you stomach as you wake up to more and more requests in your inbox. The sinking feeling might not happen for the hyper-aware bloggers like Neil Patel, but for most people it will bring on some confusion.
The questions start to pop up:
How many guest posts should I accept?
What are my standards for accepting them?
Do I charge for guest posts?
Do I take the risk and follow links, or abide by Google's guidelines?
What is a sponsored post?
Do I have ethics to maintain?
Do I charge for sponsored posts?
My goal is to address each of these below by getting specific about the difference between guest posts and sponsored posts.
What is a Guest Post?
Let's start with the simplest question, and the one you'll have to address first: What is a guest post?
A guest post is any article you publish on your blog that you did not write.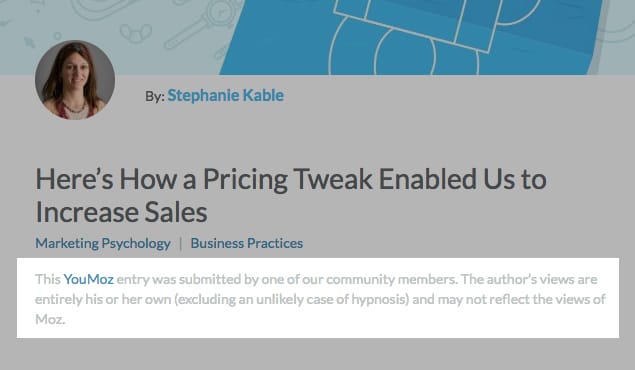 Typically you get an email from an interested party who has their own blog or product, asking if you would accept one (or many) pitch ideas, which will turn into articles, to be posted on your blog. You then review their credentials, their traffic, their writing style, and their topic to make a decision.
The first major aspect you'll want to consider is if you want guest posts on your blog. It's entirely up to you — there's no need to accept authors because they've emailed you.
However, you'll quickly learn in the blogging world that guest posting is one of the more common practices and, when done correctly, it can significantly boost your own site and authority in a given niche.
The boost I'm talking about comes on many levels, especially for the author of the guest blog, but because this is about guest posts you're accepting (rather than writing), I'll focus on that aspect.
1. Free Content
Deciding to accept guest post authors essentially frees up your publishing schedule while providing your readers with excellent content.
Yes, it will take time to coordinate with the author and publish the article, but you don't have to write it, which can save a ton of time.
Likewise, the goal of accepting a guest post is that the author of said post has more experience in a particular area of your niche than you do.
In the best scenarios the guest post article has revolutionary information that comes straight from the source — a scientist with a new study, for example — that you get to share with your audience in a direct way.
2. Broadens Your Blog
The second major benefit to allowing guest posts on your site is that it increases the scope, both for yourself and your audience.
When you introduce a dedicated audience to new, awesome people, they are forever grateful. You become a magnate for new information, and while it may draw a dribble of traffic away from you, your audience will most likely thank you for it.
There's also the fact that allowing guest posts on your blog greatly increases your connections in the industry.
In the beginning you'll probably get guest post requests from blogs that are smaller than yours, but as you rise in the ranks you can find some big fish that want to rise to the top together.
Rubbing shoulders with these folks will secure your blog's place in search rankings, which only means more readers.
What is a Sponsored Post?
Now that you have a basic idea of the guest post and its potential benefits, it's time to expose all the secret facets of the sponsored post.
This is a inherently murky subject because it deals with money and corporate entities, two components that are necessary in the blogging world, but can seriously complicate an otherwise easy and friendly past time.
As your blog grows you will find more and more emails from companies with products or a point of view that want to either get reviewed by you, interviewed by you, or post some sort of content on your behalf.
You should know right off the bat — this will always help the company.
They are looking for the obvious press, but more importantly they are looking for a backlink. I'll get into the specifics of this below, but know that the underbelly of the sponsored post beast (and the guest post) is the backlink.
Why Should You Allow Sponsored Posts?
The answers to this are very different from the similar guest post question.
In short, allow sponsored posts if you want money. This means, of course, you'll need to be charging for the sponsored posts.
So, yes, I'm an advocate for charging a fee for sponsored posts, otherwise it's a guest post for a corporation, which is not what you want.
Sponsored posts are sponsored for a reason — you are allowing a company to highlight a key feature or product in exchange for … well, if it's not money, what is it exactly?
Have they written the best article on the planet? Probably not.
Have they given you heaps of free stuff? Some would view that as compensation, and that could be your game plan, but a dozen high-end products is simply not the same thing as money in your bank account.
Are they using you for your audience? Yes, and if you don't get paid for it, you're seriously missing out. (Also, you're lowering the bar for the rest of the internet space.)
It's hard to justify other reasons a sponsored post would be allowed on your blog.
Now that you've got a handle on the basics of each type of post, I'm going to highlight key differences and similarities. Basically, a nice long list of aspects that haven't been covered yet and how they compare.
Note that different people have different opinions, so while this is my opinion and how I function, there are certainly other bloggers in the field that won't agree.
Backlinks
Backlinks are the most important aspect of any post, be it sponsored or guest.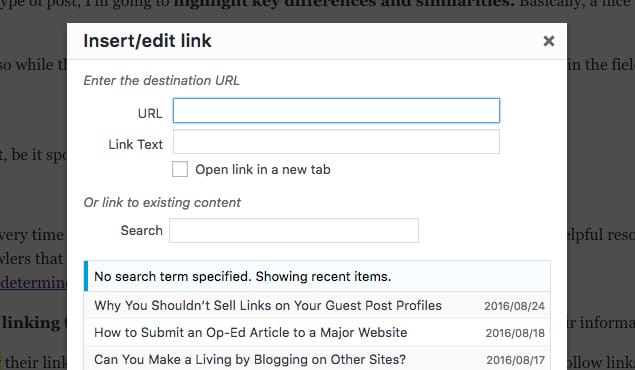 A backlink is any hyperlinked text in your article. Every time you link out to a different article, product, or company you provide a helpful resource for your reader, but more importantly it's a direct signal to search engine crawlers that you support the site you're linking to.
This means "juice" gets passed on, which is used to determine search engine rankings.
You also want to be conscious of who you're linking to, as every link is personal vouch which tells Google that you place their information at a high value.
If you're sponsoring a post, make sure you nofollow their link to remain compliant with Google's Webmaster Guidelines. Selling dofollow links can land your website a penalty if you're caught, and will most likely hurt your rankings.
Backlinks in Guest Posts
For guest posts, every person emailing you is secretly looking (and maybe directly asking) for a backlink to their website. They are writing you an article in order to get their link on your website, thereby increasing their search rank.
This is the non-monetary exchange that happens between bloggers all the time, and is standard in the industry.
If you start to accept guest posts, make a clear decision on whether or not you will allow "dofollow" backlinks — or backlinks that search engines can use.
If you don't want to allow them, you have to be very clear with your guest posters that they will not get a backlink from you.
Backlinks in Sponsored Posts
Press and exposure to your audience is one thing, but companies want that backlink more than anything.
It's a double-whammy for sponsored posts because you are not only recommending a product, but helping to secure that company's position on search engines.
Because the company is a company — rather than an individual with a blog — it only makes sense that they need to cough up more for that backlink. This can be money, or it can be something else you want.
Paying for Guest Posts
Guest posts are typically written and posted for free. You do not owe them anything beyond the byline and a dofollow backlink (unless otherwise discussed). This is industry standard.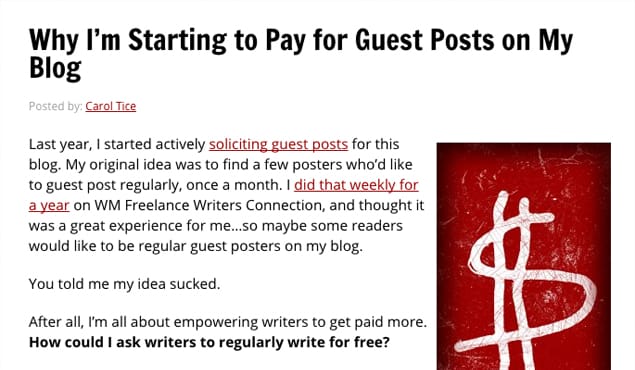 While it is industry standard, there are still plenty of websites that offer $25-100 for a guest post article. If you have the traffic and resources to offer that, by all means go for it. It will increase the quality of articles you are able to publish, but also massively increase the quantity, not all of which will be good.
Paying for Sponsored Posts
Sponsored posts are typically written for a fee. A corporation is directly asking you to endorse a product (if not review it completely), include a backlink to the corporation, and share it with your community. This is a tall order, one that typically requires cash to swallow.
You have to think of the sponsored post like a marketing firm. What would a vacuum company pay NBC to air an ad for their newest model? Money, right? Not a set of vacuums.
These companies have contacted you because you have a following, and because your website gives excellent backlink juice to other sites — you're trusted, so everyone under your umbrella is trusted.
If you're struggling with how much to charge, check out this article by Sue Ann Dunlevie at Successful Bloggers — it has price brackets and goes into great depth.
Label Your Content
This step has more similarities than differences when it comes to guest posts and sponsored posts. It's about making sure your audience knows that the content they're reading is a guest post, a sponsored post, or a post by you and you alone.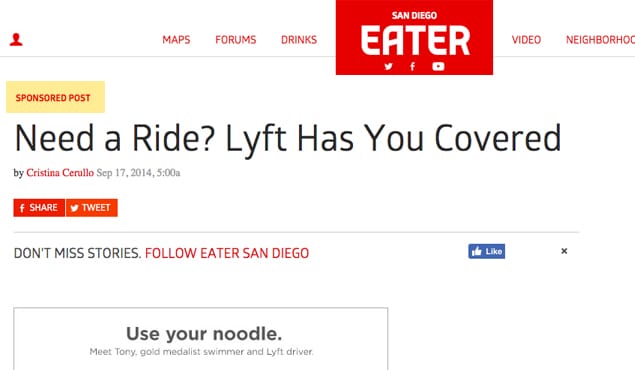 Guest Posts

For guest posts this is pretty easy — you include the byline of the other author on your website, either above the main article, below it, both, or in an offset author area. This all depends on your blog style.
Beyond the author byline you'll want to either denote the fact that it's a guest post in the title of the article, or the tags and categories.
Some bloggers also put a small introduction to the post and author at the beginning of the article, then offset it so readers know when they've started reading another writer's words.
Sponsored Posts

Denoting that a post is sponsored is critical, especially when you've received money or any other form of compensation for the post. This is actually law in the U.S. — you have to let readers know if you've received anything from the company you are featuring.
Many bloggers make it very clear that it's a sponsored post by putting it in the title, and then including an italicized waiver at the bottom of the article.
Who Writes It?
The question of who writes the sponsored post is up for debate.
Some bloggers feel a corporate writer will be devoid of personality and won't know their audience, so they write it themselves.
While this may fit more in the style of your blog, I'm only a fan of this if the agreement with the company is that part of your compensation (which can be increased) is for the writing of the article. This takes your time, your expertise, and contracts it out for their purposes.
The second main scenario is that the company provides you with an article that you can make significant edits to, and then publish under their name. At the bottom (or in the byline) you can put "Sponsored" and say the article was written by "Company Name."
This makes it very clear you did not write the article.
Set Your Standards
The last aspect of this whole process is to set your standards early on and make changes when appropriate.
You should have a clear response to guest post and sponsored post requests — know what you're willing to accept, what you offer, your deadlines, and what you're not willing to do. This includes knowing the amount of money you'll ask for, if you need images, who the author of the post will be, etc.
Including this content in a media kit or your Guidelines page on your blog will greatly cut down on time spent sorting through emails, and greatly increase the quality of your content.
Remember to adjust rates and get more selective as your blog grows — you are being leveraged for your traffic and hard work, so make it worth your while.
Fine-tuned for competitive creators
Topicfinder is designed by a content marketing agency that writes hundreds of longform articles every month and competes at the highest level. It's tailor-built for competitive content teams, marketers, and businesses.
Get Started