10 Places to Outsource Your Guest Post Articles

"Writer for Hire" is a legitimate job description these days. With the sheer amount of content that's needed to power corporate blogs, individual blogs, niche blogs, news organizations, fake news organizations, clickbait social phenomena, and top 10 lists about movies from the '90s, it's very clear that this is the age of the writer.
If you own a business you've probably considered outsourcing your online content. Most people don't even have the cash to hire an in-house copywriter for their newsletters and website, let alone a blog or guest posts on other websites.
Yet that blog and those guest posts are a necessary piece of growing your business.
If getting an in-house content producer is not in your budget you can outsource it. "Outsource" may have a negative connotation for some people, as if you were going to hire young children from a foreign country to write articles on niche topics.
But that's not how it works in the guest post world — well, it could exist that way, but your articles wouldn't be very good or make much sense. There are a number of excellent organizations that have pools of writers for hire to do exactly the job you need, whether it's writing original blog articles for your site, or guest posts for other sites.
Here are the top 10.
Textbroker is one of the leading content services out there. It has multiple levels of text quality for purchase, a streamlined system for buying the types of content you need, and is available in multiple languages.
The registration on both the business side and writer side is free, so either can sign up with Textbroker, browse around, and see if something fits their needs.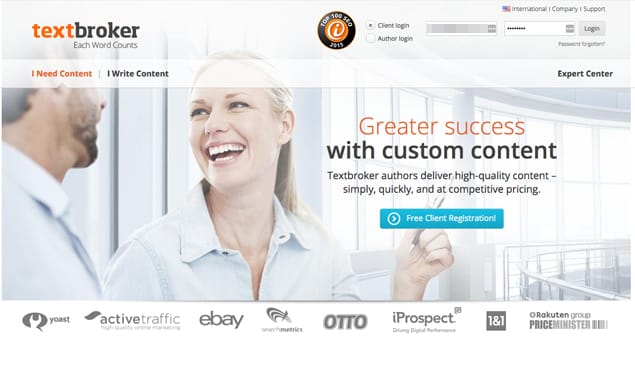 As a business, after signing up, you will create your order. This is where you list how much you want to spend, what quality of text you need, what the project is, and any other qualifying factors.
Note that you'll need to have a solid idea of what you want here. For a guest post this likely includes the headline and topic, where you hope it will be posted, and the style of the piece. The less you include the more the writer will have to come up with, which will end up costing you more.
You can create an OpenOrder, a DirectOrder, or a TeamOrder.
An OpenOrder allows any writer that fits the qualifications of your order apply to the job and write the article.
A DirectOrder allows you to pick a specific writer, which will either take previous knowledge of said writer or time browsing the website. But this allows for a more custom fit for your article, especially if you have a writer in mind.
A TeamOrder is for those that need a lot of content regularly and want to create a custom team of writers. This will take more work on your part, but once it's done it's almost like having a whole in-house crew working for you.
After you create the Order and find an author, you will agree on the quality of article and price. Then it's just a matter of time before the article is done.
Quality is key to excellent content, and Textbroker has a five-star system for levels of quality. Five stars are journalistic quality text, two stars is much lower quality. The reality is that some businesses don't need the best words on the planet. With Textbroker, you just have to pay for the quality you want.
Textbroker rates the author's qualities beforehand based on examples of work they submit, so they are the ones who determine who writes well or not.
All the above is for Self Service, where you create the orders and pick the writers yourself. Managed Services is where Textbroker does this for you. It costs more, but will have better, more comprehensive results.
Upwork is not just for writers — it's a digital batch of freelancers for nearly every job type. That said, writers, especially blog content writers, are all over the website and can be hired easily.
Upwork allows its users to set their own prices. Basically each person is an individual freelancer who has posted their resume and availability into one place, and you can browse the site to find a writer you like.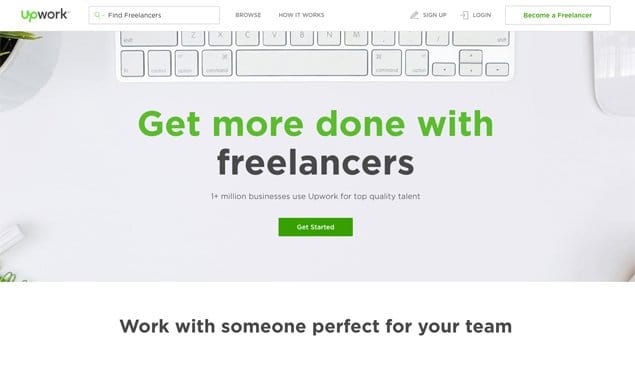 The way Upwork functions is much like Yelp — freelancers get starred for their work, including comments from past jobs secured through Upwork. This creates an automatic way of verifying people's work and capabilities, which is critical because, unlike Textbroker, Upwork itself does not verify the work of a writer.
However, Upwork does have the writer go through a test process in which they have to complete writing-oriented tasks. You can see their scores on these, but it's hard to make an accurate assessment through this.
You can reach out on Upwork, through their platform, to a number of writers for different projects. You can chat with them about the work before agreeing to anything and get a feel for them that way.
You'll want to find someone that has a quick turnaround with guest posts, and can assume whatever tone and expertise you're looking for.
Upwork features certain people that have a high success rate, and lists writers by their dollar per hour cost. This is negotiable for some, and all depends on the size of your project.
Freelancer.com is another website that hosts a ton of different types of jobs. More known for tech-driven freelance work, its writer section is specifically bent towards "Article Writers", which is just up the alley of a business that needs to outsource guest post articles.
Freelancer.com lets you, the business, post a job. Within seconds (or minutes or hours or days) you'll get a number of bids on your project from different freelancers on the site.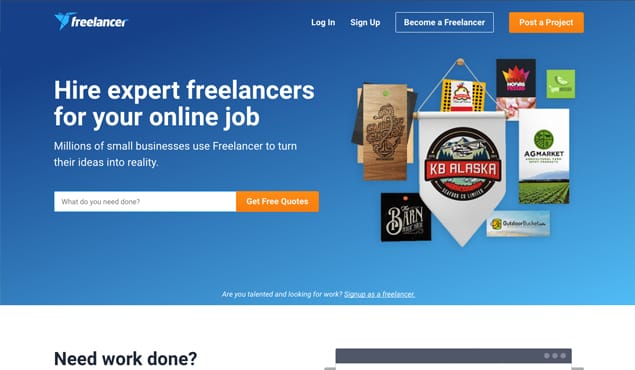 You can see their general hourly rate, their starred ratings from past clients, and what their expertise is.
It's very similar to Upwork.
Freelancer also has Certifications, which are tested levels of competence in various fields. This will directly correspond to the cost of the freelancer — a higher level English writer has the ability to charge more (if they want).
All of your payment, job platform, and communication is done through their website.
CrowdContent is a platform meant specifically for those who need written words, whether it's white papers, newsletters, guest posts, or even social media posts.
It only focuses on content, and therefore is dialed into that market.
As a business you create a project on CrowdContent, and then the site matches you with a writer that it thinks will suit your needs. You'll need to be specific with the order, including keywords, tone, and purpose. Then CrowdContent will allow a writer to claim the work, as long as their experience matches.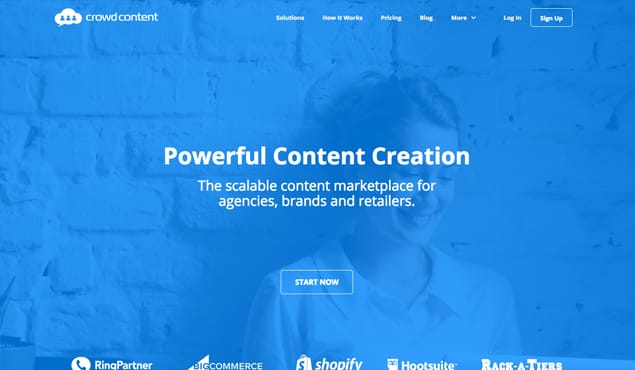 You can contact the writer through their platform, ask for revisions, and get feedback.
Instead of rating writers itself, CrowdContent leaves each writer rating up to the clients who have used the writers. The better the ratings, the higher the writer moves up the ladder. The lower the ratings, the further down they move, until eventually they are not allowed to write anymore.
This system is highly dependent on feedback from businesses, and you should strive to be honest in your feedback.
A writer can be one star, two stars, three stars, or four stars, each of which corresponds to a cents per word pay rate.
In your project proposal you list how much you're looking to spend, and this determines the quality of writer you'll get.
That said, CrowdContact does test writers seriously before allowing them to work with the platform. Only 15% of writers that apply pass the test and move on to write for the platform.
When it comes to a classic marketplace, Craigslist should be your first stop. You can find pretty much anything here, from free kittens to casual encounters to used cars.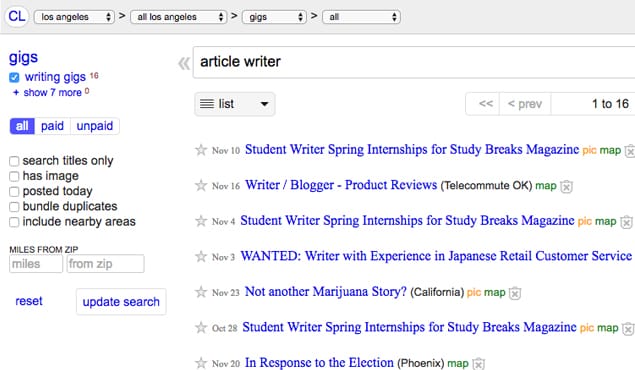 For those interested in scooping up some local (or national) writing talent, Craigslist an excellent, basic place to start. As a business you would create a job post in the writing/editing community of a given location and then wait for people to apply.
Rather than a streamlined, verified approach like many others on this list, Craigslist is an open gate. You'll likely get resumes of people that have never written a professional word in their life, but you'll also get very qualified writers.
Often freelancers don't use the speciality sites because those sites take a cut of the payment — Craigslist does not. A writer signs up with your business as a truly independent contractor and writes for you in whatever terms you two determine.
If you're having trouble working with a specialized service, Craigslist is a good place to post your job needs.
WrtierAccess is another specific platform for businesses seeking written work. They also specialize in content strategizing, translators, and editors, but the bulk of the work on the site is actual writing of articles, newsletters, etc.
The platform allows for a self service option, in which you browse for the type of writing you need and specific writers for the job, then post a job, then get your content.
You can also sign up for Plus, which requires a deposit of $2,500 and gives you access to professional help from WriterAccess.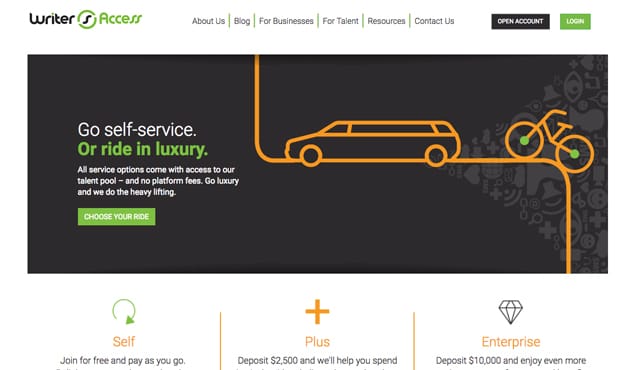 Most people will use the self service, find the writer they want to work with, and get the work done.
Unlike many of these services, WriterAccess does not charge any platform use fees for the business or the writer. This allows for a clearer exchange of money, and neither side feels like they're getting the short end of the stick.
Like many of these systems, WriterAccess has stars for its writers — up to six. The higher the star the higher the pay rate per word or hour, and the more professional the content will be.
You can also see comments by previous clients to get a sense of the writers.
While many of these services has its own costs that are usually negotiated with the writer, I will note that WriterAccess has fairly inexpensive writer fees. A 6-star writer, their highest bracket, gets seven cents per word, which is a lower than some other services by a number of cents.
This doesn't mean the quality will be worse than those services, so you may end up spending less for perfectly good content.
That said, if you want an editor or content strategist, both of which can be found on this site, you'll find a fairly high hourly rate.
If you're looking for a service to get content out quickly, iWriter is worth looking at. They are very similar to a lot of these: a 4 star review system on writers at different price brackets; many types of content including articles, newsletters, blog posts, etc.; and the ability the reject the content if you don't like it.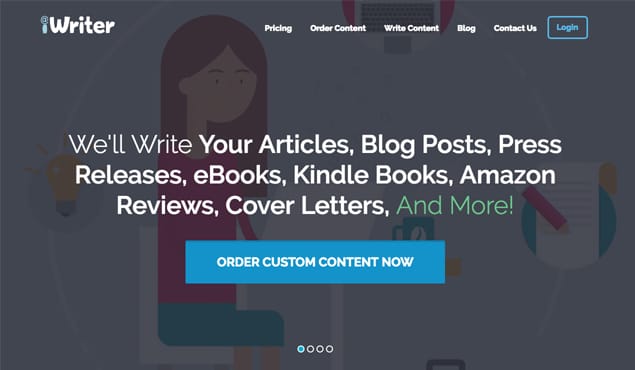 The site is streamlined, though, so that you can create a profile and job request and have the content done in a few days, depending on the size of the project.
You can see examples of the work done by iWriter writers, too, to see how they turn out before making any decisions.
The account is free, and you'll need one to check out writers on the service.
Constant Content is another content specific service that is perfect for businesses that need a quick stream of guest post articles. You're essentially buying premade content.
Like many of the companies on this list you can request custom content to be produced for your specific topic — you do this by filling out a basic job proposal, researching writers in a given field, and agreeing on a price.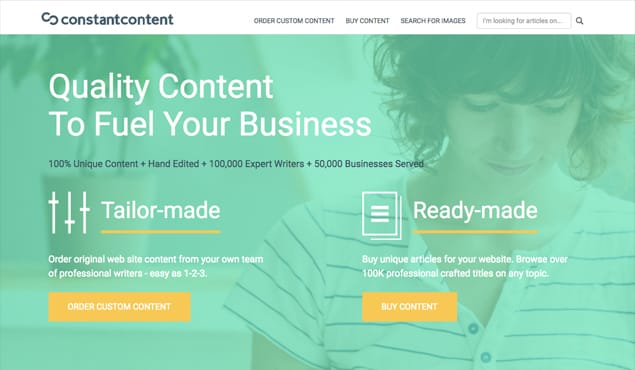 However, unlike the others on this list, Constant Content also lets you search and buy a huge selection of pre-written articles. These are on a number of topics, which can be searched easily, and are less money than custom content.
If you want to go this route realize that there is a decline in quality. Something that is pre-written just won't have the same touch as custom content — including a specific tone, point of view, and information about your business.
However, for a guest post, this may work out. The pre-written articles are general enough that they can usually apply. Remember, though, that wherever you guest post likely wants to publish quality content, and may be concerned if you're using content that was up for sale like this.
Constant Content also has a huge database of images for you to purchase if needed. Metrics have shown that any content without images does worse in terms of traffic.
You can, in essence, use Constant Content as your one-stop-shop for a fully loaded article, either custom or pre-written, and get images to go along with it.
You can't do this at other websites and it makes Constant Content a great resource for those who want more frequent access to more generic content.
Zerys bills itself as a "Content Success Platform," which is more than just a content generation platform.
Yes, like many of the sites on this list you can hire freelance writers to create custom content for your site, including guest posts.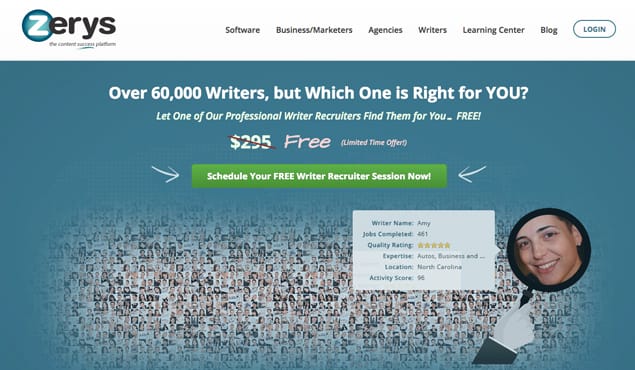 However, Zerys is more geared toward an entire content plan. The Content Success Platform is a free DIY service that you can sign up for. It includes the Zerys application, which starts by helping you to create a content strategy; an editorial calendar for titles, topics, and publication dates; and finally a database of writers.
The process continues to the point where you are assigning articles to writers (either in-house or through the Zerys platform, which has over 60,000 writers), and then publishing them on your site, or as guest posts on other sites.
The Zerys platform has integration with leading CRMs, including HubSpot and WordPress, and is really useful as an entire content solution.
If you need help generating content from the ground up, Zerys is a great place to start.
Much like Upwork, Fiverr is an online freelance hub. There are tons of different freelance positions on the website — writing is just one of them, and blog/article writing is a specific sub-section of the site.
When you navigate to this section you'll see a ton of profiles (it's endless, really). You'll see a picture of the writer, their minimum cost, and a short blurb about what kind of articles they write, and how many words.
You'll notice immediately that the initial Fiverr search results are much cheaper than many of the other rates listed in this list. You can find someone who will write a 400 word article for $5.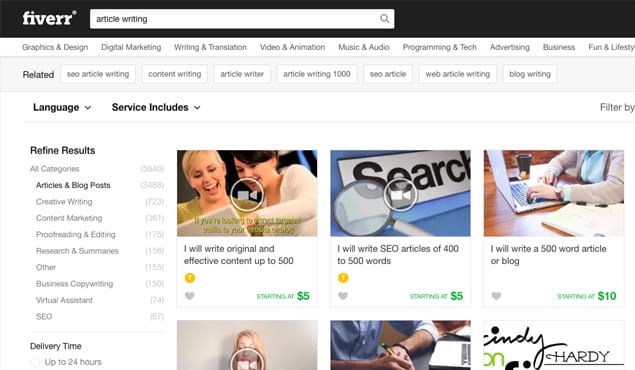 This may be right up your alley — if it is, be sure to contact the person, be professional, and get a sample of their previous work before agreeing.
However, note that the lack of cost usually comes with a lack of quality. With so many resources out there for writers to get seen, the people who do it for very cheap will not always produce the best stuff.
But you don't need the best stuff…at least, not necessarily. As a writer myself, I recommend going for quality above quantity, especially when it's a guest post. You don't want to submit an outsourced, poorly written article to a website unless you're sure they won't care.
Fiverr is an option for those looking to dip their toes into this process but not quite ready to invest a solid amount of money.
However, when it comes to content, you should spend as much as you can comfortably afford.
These 10 resources should get you whatever level of guest post you need. Outsourcing is one of the more popular methods of generating content today because businesses don't have the overhead or time to manage in-house writers.
With the huge range of options available, I'm positive you can find a writer who will fit your needs!
Fine-tuned for competitive creators
Topicfinder is designed by a content marketing agency that writes hundreds of longform articles every month and competes at the highest level. It's tailor-built for competitive content teams, marketers, and businesses.
Get Started