iSpionage vs KeywordSpy: The Pros and Cons of Both in 2023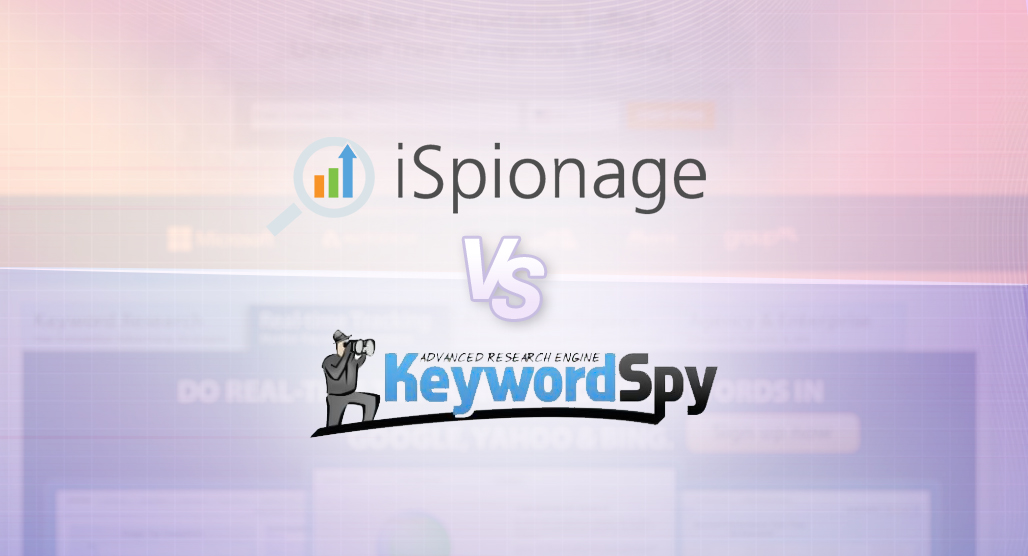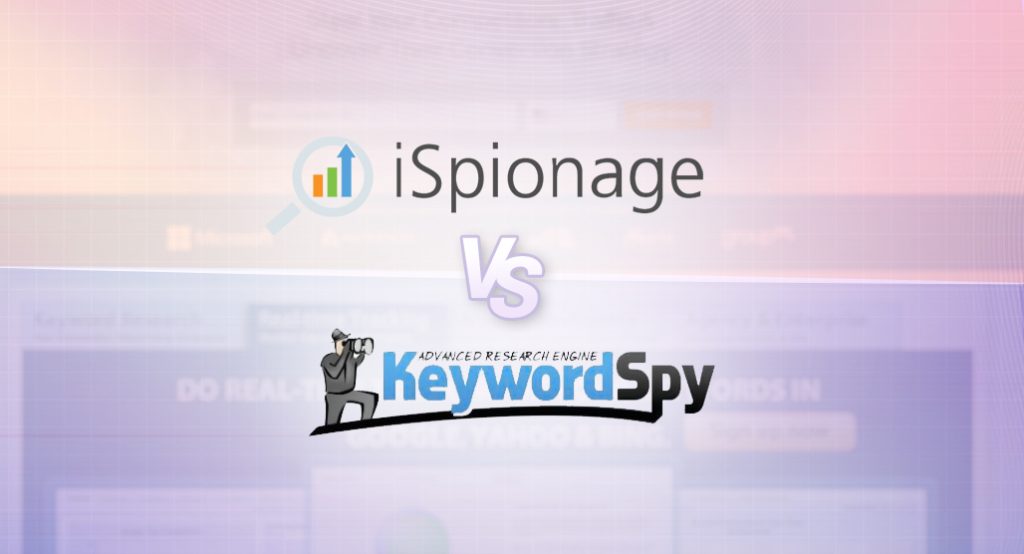 There are many, many tools available for keyword research out there on the internet at large. They all provide the same basic service, with a variety of different value-add features and additional options, price points, and other details. The question is, are any of them worth using in 2023?
Sometimes, it seems like even paying attention to keywords is a fool's errand. Google uses semantic indexing and makes heavy use of synonyms, such that without massaging a query, you can get results for a search that doesn't use the keywords you typed in anywhere on the page.
On the other hand, keyword research is important to make sure you have some awareness of what people are searching for and can better align your content, perspectives, and discussions to what they want, not just your interpretation of the topic.
Two of the more prominent tools for keyword research available today are iSpionage and KeywordSpy. How do they differ, what do they do, and are either of them worth using? Read on for my impressions.
All About iSpionage
Website: https://www.ispionage.com/
First up, iSpionage. This platform is a keyword research tool focused primarily on scraping the keyword information from a particular URL. You plug in a competitor's domain name, and the tool scans that domain (or their index of it) and gives you information about their keyword usage.
Shows you the keywords they target with PPC ads on monitored platforms.
Shows you the actual ads they currently have running.
Shows you the organic keywords they rank for in Google, Bing, and other search engines.
Shows you who their primary competitors are.
Allows you to compare two or more domains against one another directly.
There's a lot of interesting data available, like the number of keywords they rank for on the first page of Google and Bing, the estimated monetary value of their organic traffic, and even high-position rankings over time. They can also show you specific top-rated content on a given site and the keywords that that content ranks for.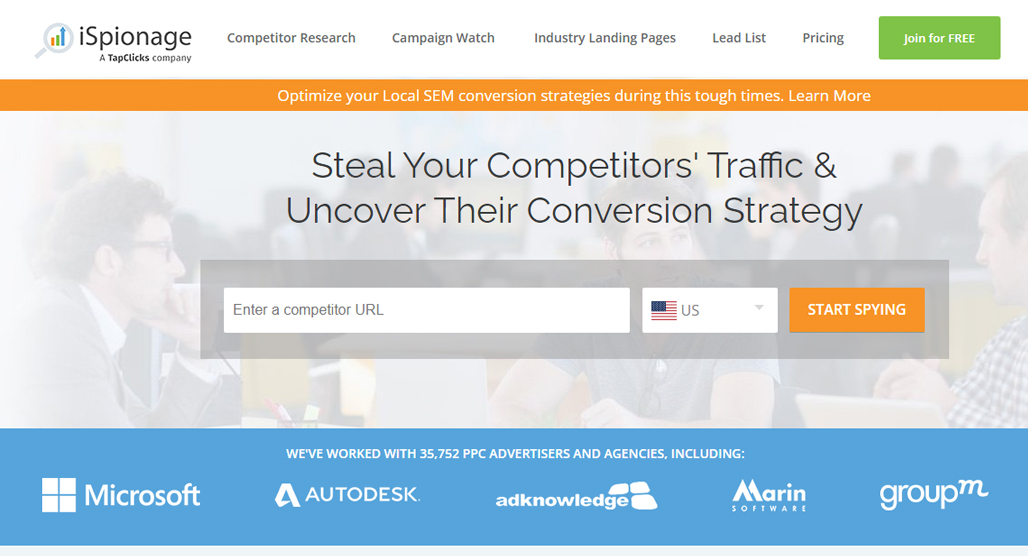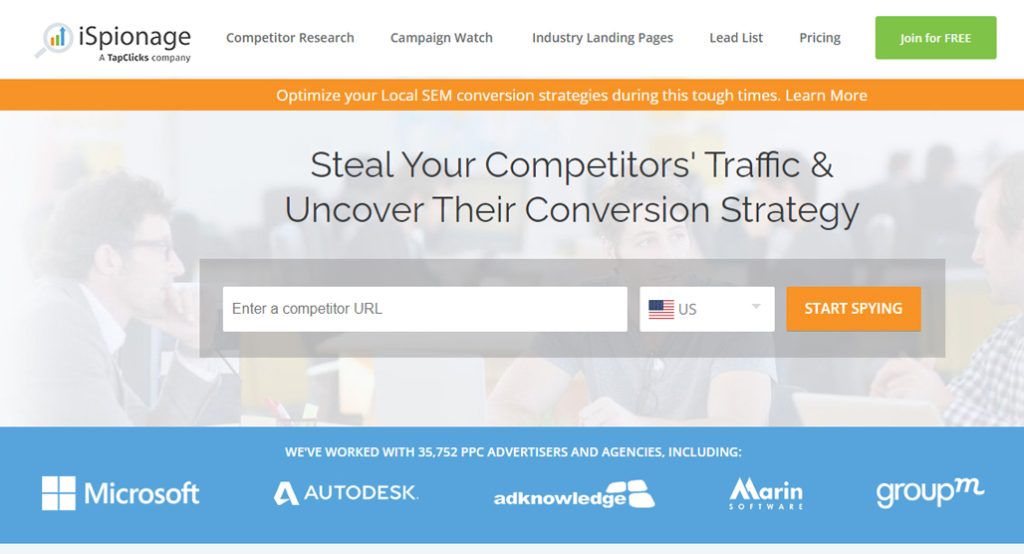 Using iSpionage is free if all you want is a minor overview and a taste of the data they have on offer, but to get access to most of it, you need to register an account. The free account is slightly less restrictive but still hides most of the best data.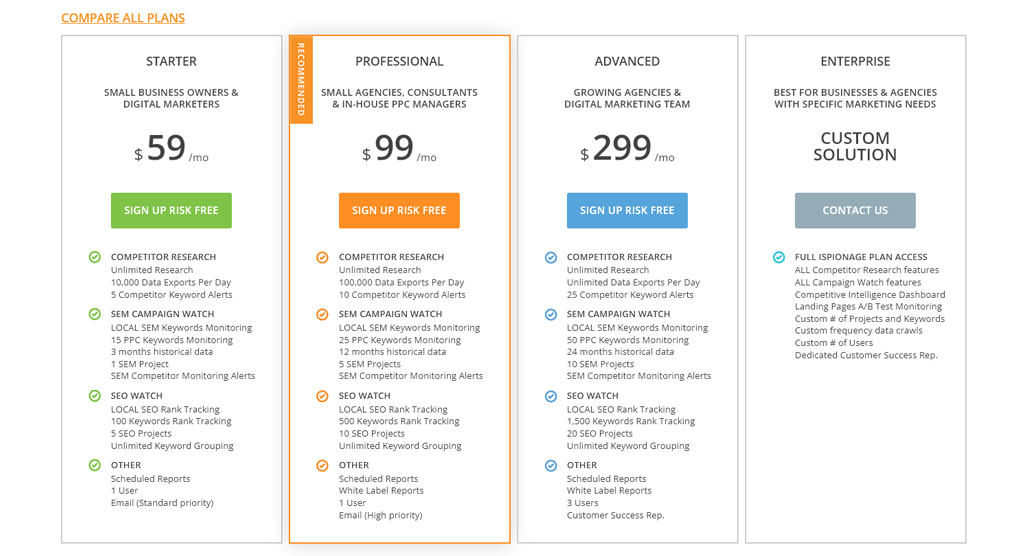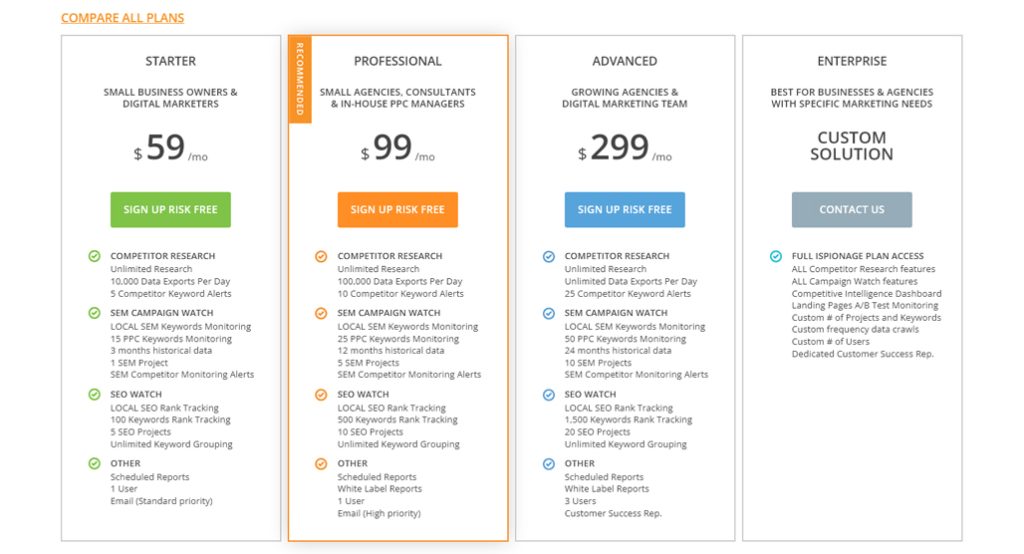 Here's their pricing.
$59/month for Starter, which caps you at 10,000 data exports a day, 5 ongoing alerts, twice weekly data crawls and updates, up to 15 PPC keywords for monitoring, 3 months of historical data, and so on.
$99/month for Professional, which bumps up the caps and adds a few additional features, like higher priority support.
$299/month for Advanced, with further bumped-up caps, three users on your team, a dedicated account rep, and setup assistance for your accounts.
Scaling pricing for Enterprise, which is the only one with daily data refreshes, landing page split testing, a competitive intelligence dashboard, and detailed training.
All in all, iSpionage is a well-regarded tool for keyword information and competitive intelligence. It has some fantastic reviews from high-profile marketers and founders of marketing tools, and it has positioned itself as one of the top tools in the industry.
The Pros and Cons of iSpionage
The benefits of iSpionage are clear from the outset, which is both a blessing and a curse.
You get a ton of useful information at a glance when you search for a domain and pull the report.
There are some neat features, like the ability to see landing pages and benchmark your site against your competition.
The organic keyword data can be pretty interesting and can catch tertiary keywords you might not notice without help.
When I say a blessing and a curse, though, I mean it.
There's not a ton of depth to the data; what you see is largely what you get.
It's pretty limited in terms of the countries you can search, primarily to the anglosphere. You're out of luck if you want data from most of Europe or the global south.
Enterprise-level pricing only includes mid-level agency-tier features.
If you're looking for a keyword tool in general, I doubt I'd go with iSpionage.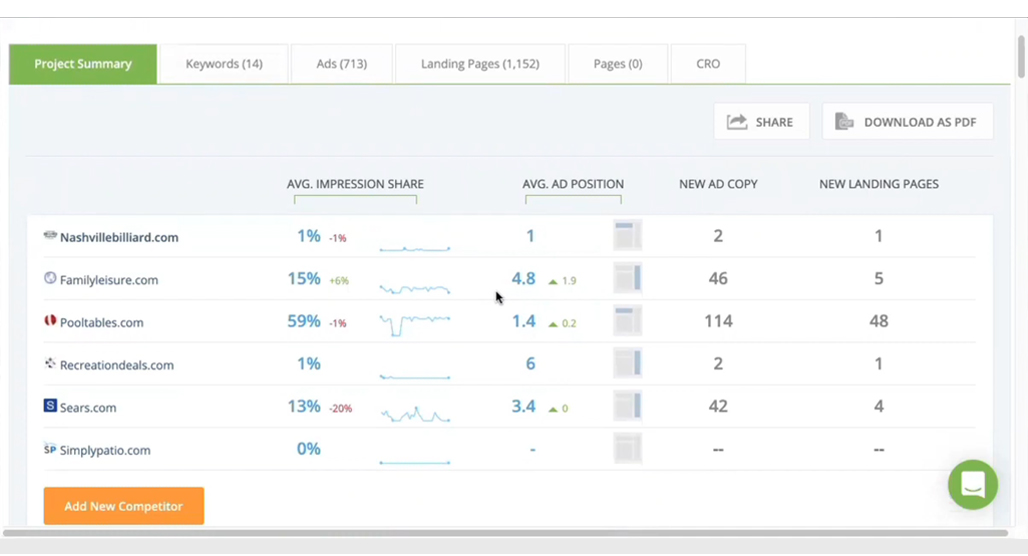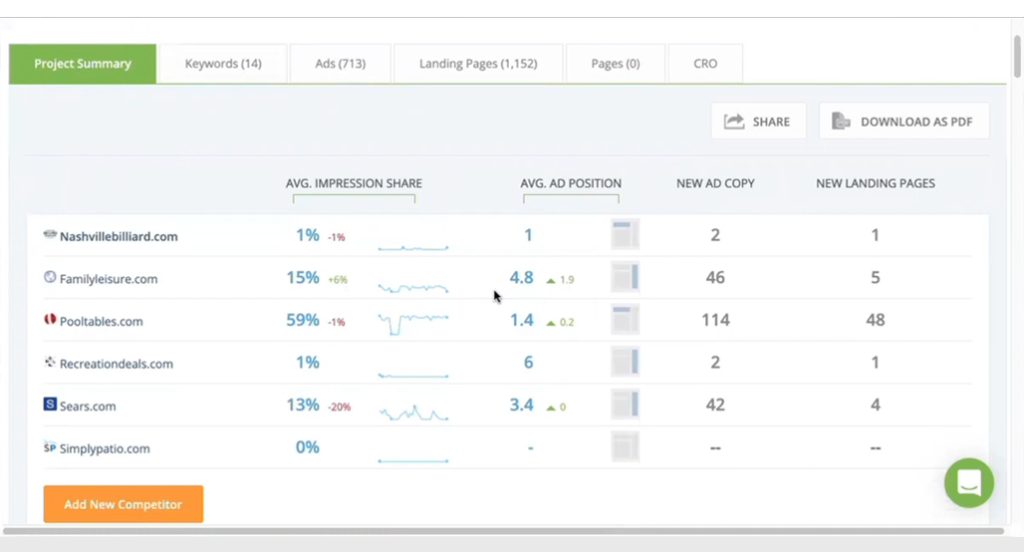 It's probably in the top five tools, but when SpyFu, Semrush, and similar tools exist, there's not much reason to go with iSpionage. If you're just limited between iSpionage and KeywordSpy, though, for some reason, I'd probably pick iSpionage.
All About KeywordSpy
Website: https://www.keywordspy.com/
KeywordSpy is another competitive intelligence platform, also billed as a way to spy on your competition and steal their secrets to success. They boast a variety of high-level clients, including companies like Toyota, IBM, and American Express.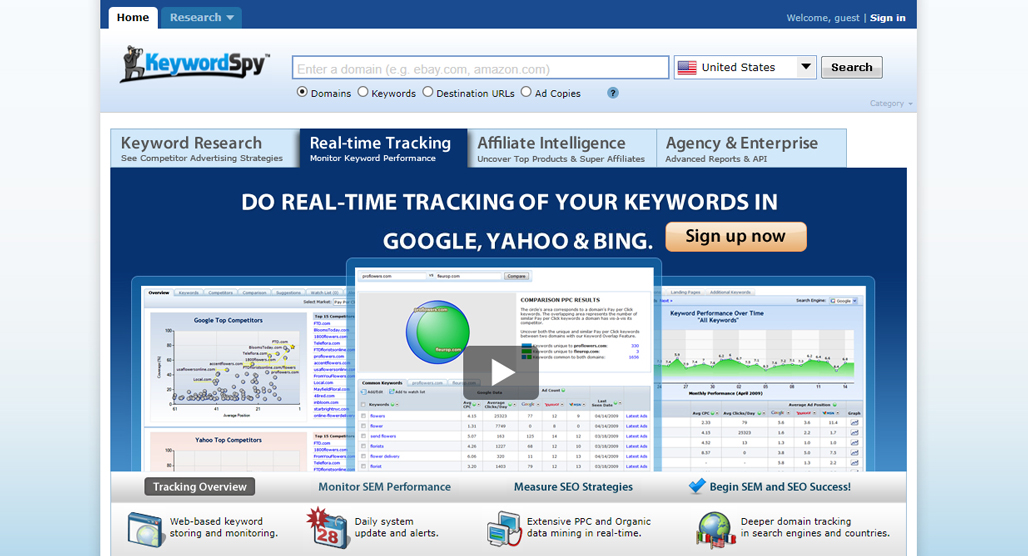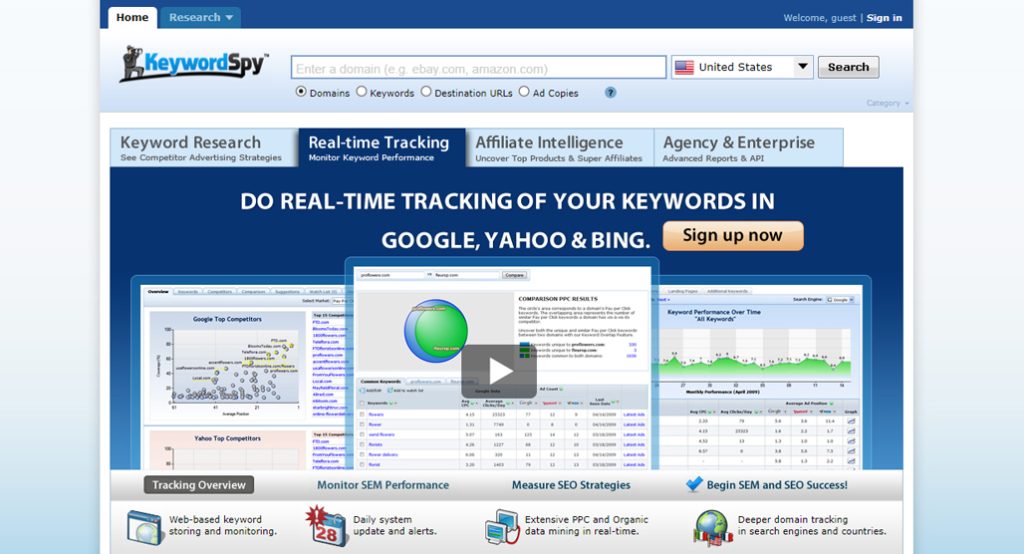 Here's what they give you:
An overview page with data on ads, ad positions, daily clicks, number of keywords, and top competitors.
An ads page with more specific information on ads, their copy, and their keywords.
A PPC keywords readout with information on those keywords and the ads attached to them.
An organic keywords page with organic SEO information.
A list of competitors for the domain you're searching.
Affiliate marketing tracking so you can see what offers your competitors are promoting.
All of this is presented in more or less the same way as iSpionage. The service has a lifetime free trial, but most of the information is hidden behind paid accounts, which can range from $90 to $1,000 per month.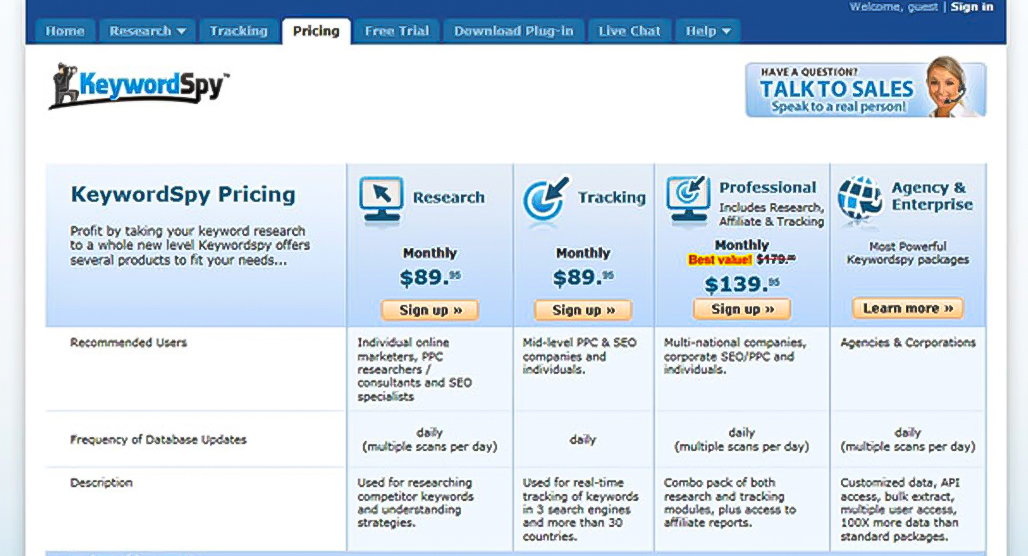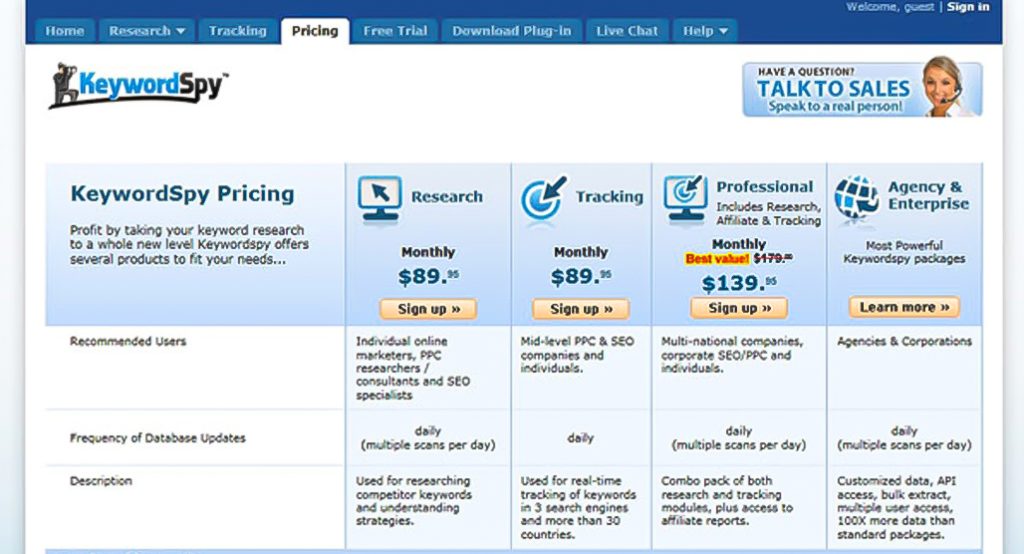 As an aside, one of my gripes with this service is their homepage. The design of their main page is dated, and it's not responsive, and their mobile design is poorly constructed with tiny page elements. Also, at least one of their testimonials is from a business that either no longer exists or never existed. If you don't have an account, your attempts to search will be stopped by a captcha, which is an added hassle. You don't have that issue once you register, but it means trying out the site isn't very convenient.
Side note: There's another tool out there also called Keyword Spy, but the URL is trykeywordspy.com instead. This is a somewhat newer, smaller business claiming to leverage AI to steal data from Google's AI systems (while listing things that aren't AI as Google AI). That service is one I'm ignoring, both because it's much more expensive and because it's very much just trying to scrape name recognition from an older service to sell a thin AI product.
The Pros and Cons of KeywordSpy
Despite my gripes, KeywordSpy has a few benefits that make it a viable tool to use even today in 2023.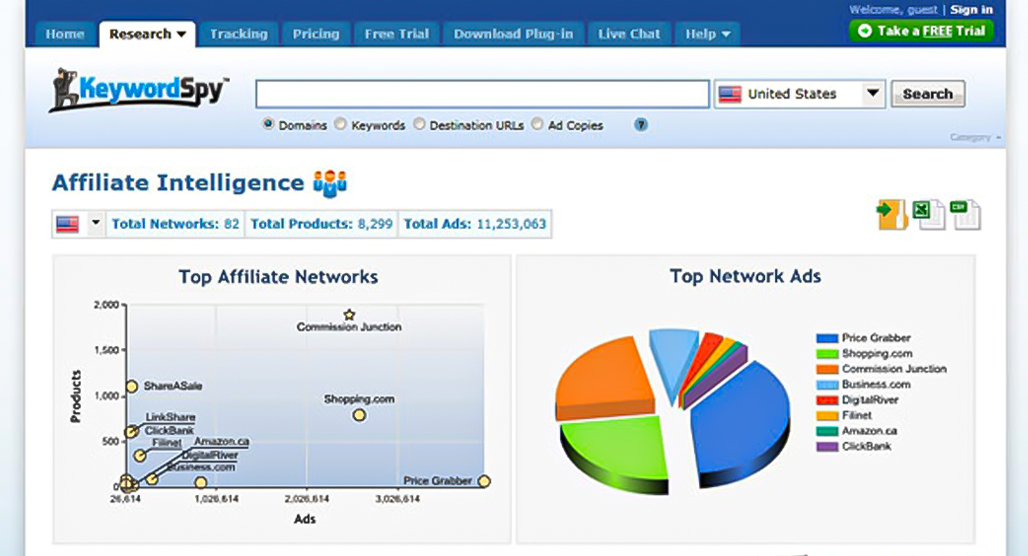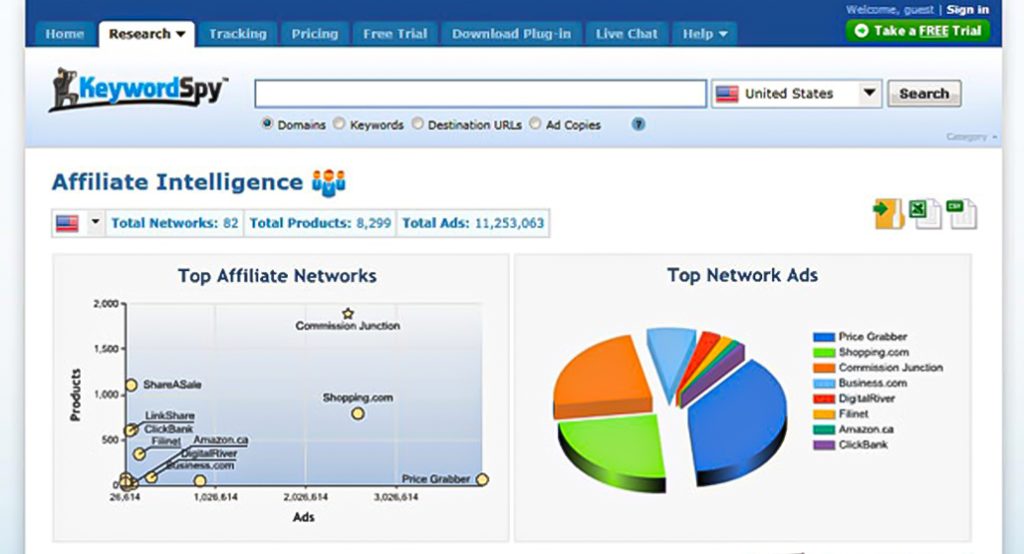 These benefits include:
It maintains international data very well and allows you to search through a bunch of countries that aren't normally represented in these kinds of tools, including Brazil, Spain, Greece, Italy, Poland, and Singapore.
They offer real-time tracking in their higher-tier plans. This delays loading the data slightly but means it's the freshest possible data you can get, unlike iSpionage's daily-at-best updates.
The affiliate intelligence system is pretty neat and very useful for the people running affiliate marketing sites, though it's not valuable if you aren't competing in that space.
On the other hand, there are a few drawbacks to using KeywordSpy.
There's no comparison between organic and paid keywords; if you want to find that overlap, you need to export and massage the data yourself. The more expensive plans do offer this, but they're really expensive for most small and mid-sized businesses.
As mentioned, the site design and the reports they generate all feel a little dated. I'm used to slick interfaces and data that can easily be exported, and this feels like it's solidly a mid-2000s site.
So, is KeywordSpy worth using? I give it a solid "eh, maybe." It's fine, but I probably wouldn't choose it as my first option for keyword research, especially in a world where tools like SpyFu, Moz, Semrush, and others all exist. If you're limited between iSpionage and KeywordSpy, though, it might be a viable option.
Do You Even Need a Keyword Research Tool?
It's 2023. Search engines are increasingly focused on latent semantics, voice search, and AI-driven results. How valuable is keyword research today?
Truthfully, it's still pretty important. In fact, I would argue that with the increasing use of AI in search results filtering, it's critical.
AI generators run primarily on keywords because that's all they are: a mathematical model of which words are the most important parts of a sentence and how they relate to other words. Search results today are going to show you the most related and relevant pages for a given keyword, even with AI filtering it for you.
I have a prediction about how AI is going to affect search, and it's this: Long-form content is going to be more important than ever before.
If you've used Google recently, you've probably noticed that the search results are starting to feel decidedly 2010. There are tons of thin and low-value pages using AI-generated content to rank for keywords they have no business ranking for, including sites that are abjectly useless for their topics.
To outdo these sites, you need to be better than they are, but when they're focusing purely on the mechanics of backlinks and keyword spam, it's tough. Long-form content is going to be the way to do it. The biggest reason is that the longer the content, the more AI content generators struggle with it. Longer content is harder because AI doesn't put thought into it. It can repeat content, it can make up facts and produce contradictory statements, and there's no flow or authority to what it produces.
When you can provide all of those things – the consistency, accuracy, factual authority – you'll eventually filter to the top of the results. I also believe that an anti-AI Panda 2.0 is coming, and the sites that invest more in long-form content today are probably going to fare better.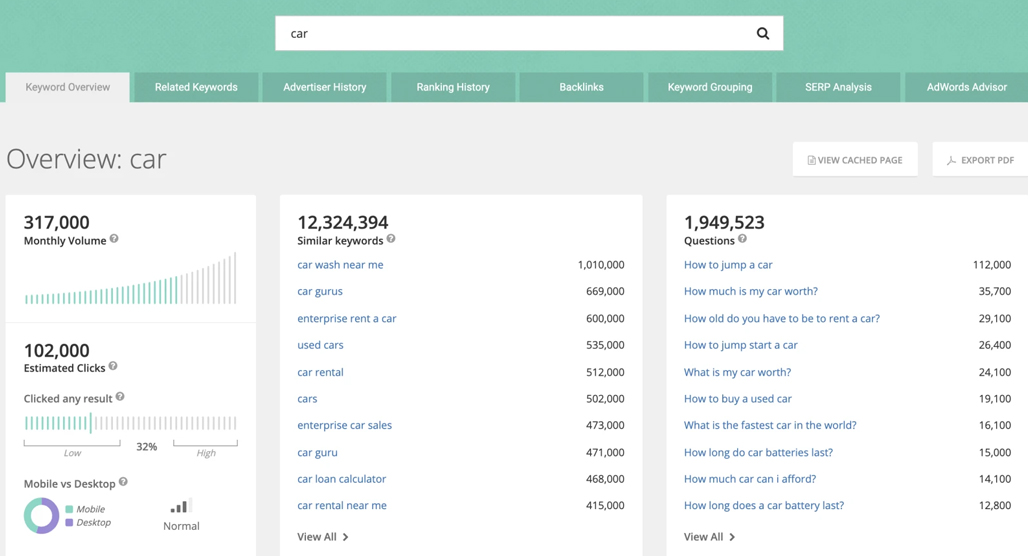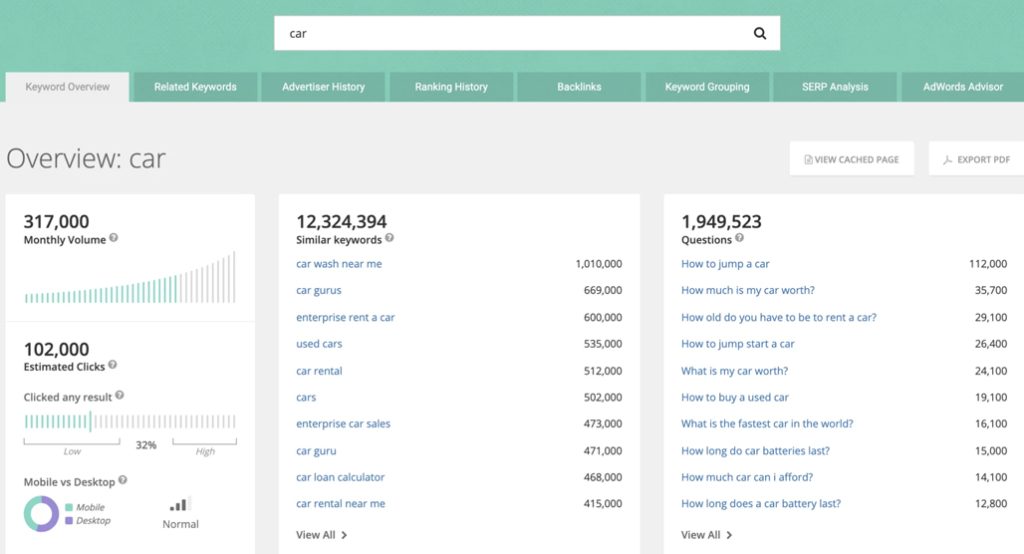 What does all of this have to do with keyword research? Well, you're increasingly going to need to optimize your long-form content for a wide variety of keywords. The current "spam" or near-spam content that works is relatively short and thin and may look authoritative at first glance, but it isn't actually valuable.
You need to provide that value. But, in order to provide value to users, you need to know specifically what they're looking for. That means knowing what keywords they're using, what the search intent is behind those keywords, and how to satisfy that intent with a subsection of a larger piece of content while maintaining a consistent whole for the content across the board.
This is going to be tricky, and it's going to be a paradigm shift for some marketers. I expect a lot of growing pains, a lot of shuffling throughout the rankings, and a lot of agony for the people most used to doing the bare minimum.
Are There Alternatives to iSpionage and KeywordSpy?
Of course.
I've mentioned a couple already: Semrush and SpyFu. Semrush is broadly considered the industry leader, and I would wholly recommend it to anyone who can afford it. Unfortunately, that price tag makes it a bit much for a lot of small businesses and marketers. SpyFu is a lot more affordable, with basic plans starting at just $16 per month, so it's a lot more accessible to individual marketers and SMBs.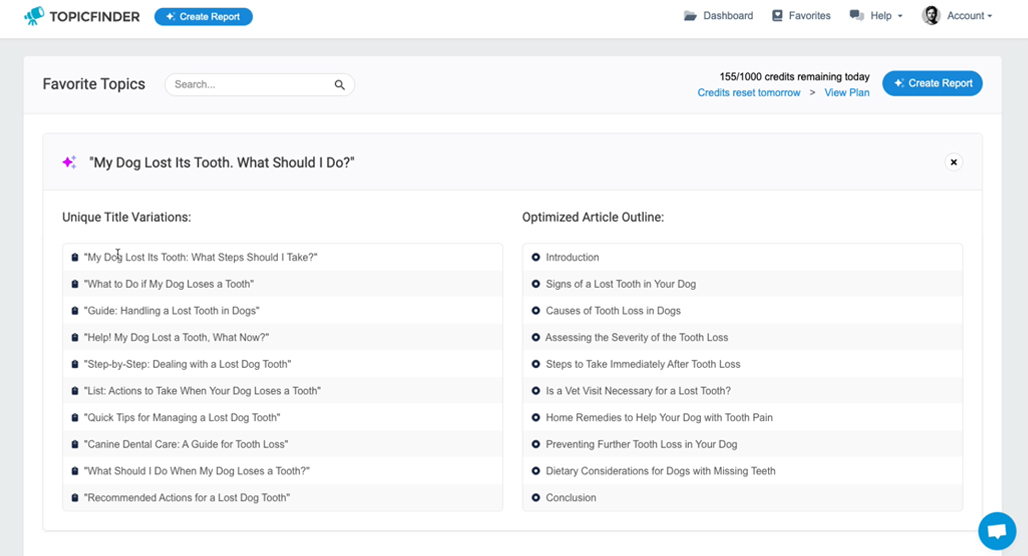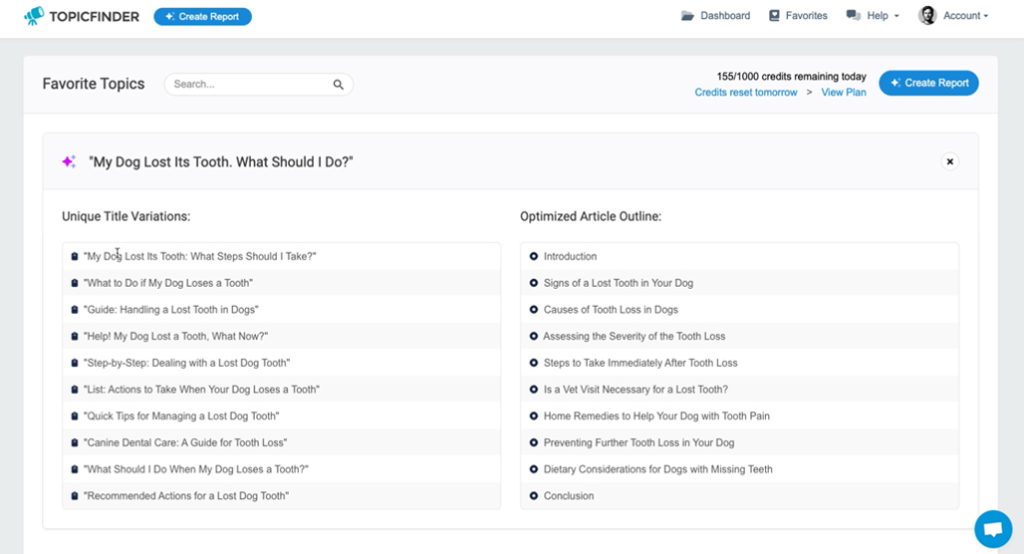 Another option is this very site you're on right now: Topicfinder. Topicfinder is a unique blend of traditional keyword research and techniques I've developed in my decade-long career as a content marketer. It's the tool I've developed to help myself grow my clients, with a proven track record. 
It's also currently available for an introductory price as I launch it for new customers, so give it a look!
If you ever have any questions about either iSpionage, KeywordSpy, Topicfinder, or anything else I mentioned in this article, be sure to let me know! I'd be more than happy to get a conversation going and answer any questions you may have.
Fine-tuned for competitive creators
Topicfinder is designed by a content marketing agency that writes hundreds of longform articles every month and competes at the highest level. It's tailor-built for competitive content teams, marketers, and businesses.
Get Started