How Can I Submit a Guest Post to Mashable.com?

Writing for Mashable sounds pretty awesome, right? A major blog with tons of content and thousands of readers would be the perfect platform to solidify your identity as a writer. You could schmooze with the staff and get the insider scoop on new tech, new startups, new everything.
Maybe, just maybe, if you're good enough, they'll ask you for seconds, and thirds, and soon you're a regular.
The above scenario is theoretically possible, but we also thought Google+'s rise to prominence over Facebook was inevitable. Anything can happen in this world.
I don't mean to be a naysayer or a dream breaker but the reality is that writing for Mashable is not easy. It takes more than skill, timing, and an incredible topic. It takes such a massive confluence of things that I'm tempted to call it "luck", though that's not really fair to the editorial staff over at Mashable.
The competition is very high, which is why it's so hard to write for them. You might think you have a new perspective on a hot topic that hasn't been penned, but their team is probably sifting through four of the exact same articles, already in their inbox, some of which will be better than yours and from a more respectable author.
In order to combat the sheer number of guest posts Mashable receives you need to have a few components:
1. A Really Excellent Topic with a Unique Perspective
Mashable is a classic blog in that it's about current trends. If you go to their home page you'll find trending, what's hot, and all the latest from a wide range of topics. Note that Mashable isn't just a tech site; they have legitimate news breakdowns, too. Most of their articles are unique twists on very popular topics.
When considering pitching a story to Mashable your first order of business should be to have a topic that is right on the money. Then, whether it's news or tech or something silly, it needs to be unique in its delivery.
Your perspective is key, and how you frame the article is everything. Everyone is producing news about the U.S. election — that's the topic.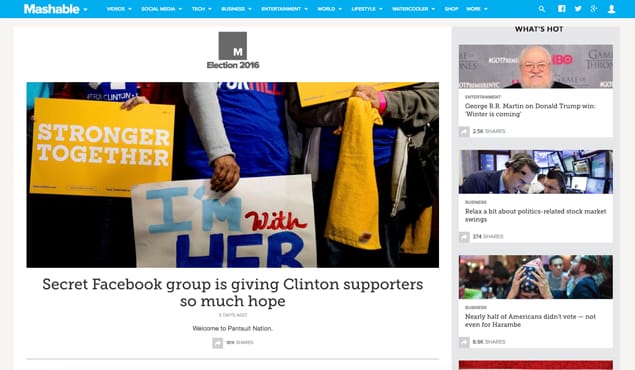 What are you going to say, and how are you going to frame it, that turns the topic on its head, offering something new and interesting?
2. An Authorial or Expert Reputation
In theory you could be a total newbie to the writing game and get published on Mashable with a simple guest post submission. In theory you could also be selected for NASA's Mars mission without any knowledge of space.
It's possible, but not likely.
One of the key factors in any successful guest post submission (to any site) has to do with who you are, and whether or not people will flock to what you say. You don't need to be a popular or public figure to guest post, but it definitely helps if you have over 100,000 followers on a social media platform and six years of backlogged content about the topic you're writing for.
Therefore it's best to submit a guest post to Mashable on a topic you truly know about, and are hopefully known for.
3. Timing
So much in life is about timing, and guest pitches are no different. The internet never sleeps, and a trending blog sleeps only three minutes a day, maximum.
If a piece of news breaks via the BBC app alert at 3 a.m., waking you with the triumphant blast of horns, you had better get up and write about it if it's a topic you can write about.
If you continue to sleep you'll wake up the following morning with a post already on the front page of Mashable — and every other site that covers said topic. The window of opportunity will be gone.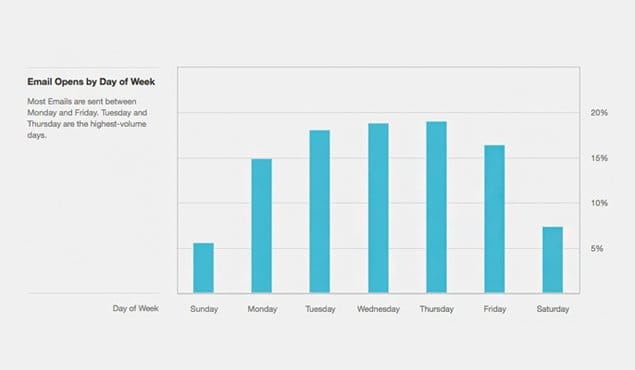 Timing really matters when submitting a guest post to a news- and trending-based website.
That said, if you wake up when news breaks, pen a great article, send it over, and have a decent background knowledge of the subject, the timing may work in your favor. Mashable has a reputation to uphold, and they don't want to be seen as lagging on an important trending event.
Following the Rules
Take the above to heart when deciding whether or not to submit. You can't get rejected unless you try, so I'm always in favor of contacting them on the chance you hit gold.
In order to hit that gold you'll need the above elements, but you'll also need to follow Mashable's general rules.
You're lucky because Mashable (surprisingly) doesn't have that many hard and fast rules. This is another reason they get tons of guest post pitches, so it both hurts and helps you.
Here are a list of rules, all of which you can glean from heading to their submission page, or their article on what not to do for guest post submissions:
1. Use the Form or news [at] mashable [dot] com
Mashable has a simple page that tells you exactly how they want you to pitch your content. This should always be the first place you head.
You can either use their form to submit, which lists certain fields, like your name and phone number, your email address, what your "scoop" is, and what the topic of submission is.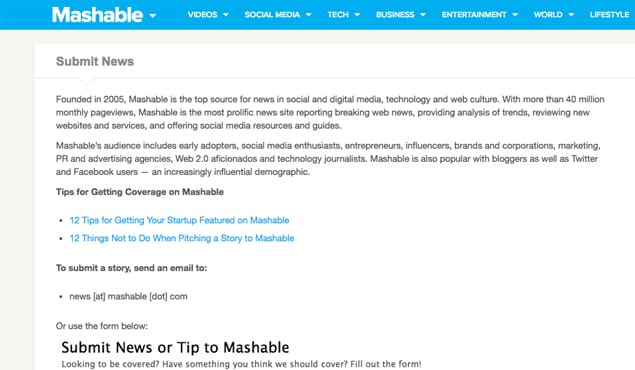 You can attach up to two files in this submission form, which could be a full guest post or images or some piece of evidence to support your article.
You can also send an email at the email address listed above (I'm not writing it out normally so bots can't use it). Typically it's smart to follow the same sort of outline for an email you send as what's on the form.
Use the Email Address
If I had to pick one of these formats I'd send a custom email to the address they list, as the formatting and design of the email is up to you. This way you can say exactly what you want in the way you want it.
Make sure to only submit up to two attachments to the email — again, sticking with the form submission process as a guideline.
Finally, know that the "submit news" page, as it's called, really means topics on any subject. It doesn't have to be a political post for you to use that channel — Mashable doesn't have another formal channel.
2. Use Their Real Names
The team at Mashable has real names, and they expect people to write them correctly. Especially when those people (you) are writers hoping to get published.
You can submit a "Dear Mashable" email if you want, but I don't recommend it. Be aware of the editors in a given category of content, or use the name of their primary editor, and spell it correctly.
This is also true if you are referencing authors or editors in your email somewhere. Attention to detail is incredibly important for all writers, and you're making a first impression here that needs to be solid.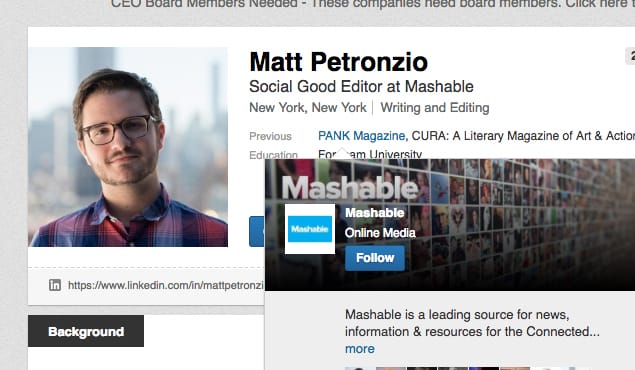 3. Don't Use CAPS IN THE SUBJECT LINE
Did my use of caps above piss you off? It should have. Don't ever use all-caps. It's a pet peeve of Mashable's editors, and is a sure fire way to get ignored.
4. Contacting Pete
Pete Cashmore is the founder of Mashable and, frankly, he doesn't have time for you. I'll discuss the possibility of contacting the organization outside of it's publicly posted methods, but contacting the actual CEO is a waste of time unless you're his personal friend.
It won't get you in trouble; the email or message will simply get lost to the void. Successful media folk don't respond to that kind of stuff, they just don't have the time.
5. Not Including a Link to Your Site
While the article I linked on the 12 Don'ts for Mashable specifically deals with startups, many of the steps apply to guest post pitches.
When you pitch it is common for you to provide a link to your website. You'll see that the submission form asks for this, though it doesn't require it. You should absolutely include a link to your blog, online resume, or portfolio.
It will be very hard to get published without some sort of reference to your previous work, so make sure you have previous work, and that you include it in your pitch.
How to Pitch
While the above rules and steps should give you a solid idea of how to pitch, I'd like to get a little more specific.
If you're going with the email format (which is what I recommend), make sure to include their name, your name, what your deal is, and then your article pitch.
With Mashable you can choose to include the actual guest post with the pitch, or not. If it's trending and news-worthy it's a good idea to include the article. That way they can make the call right then and there, rather than having to get back in touch with your the article.
The pitch for Mashable should include potential titles for the article, the topic, and your unique perspective on it. This last bit is the most key, and in your pitch you are trying to convince them that your perspective is more interesting and clickable than any other perspective on the internet (literally), and that's why they should publish you. You have to do this tactfully to not sound like you're bragging.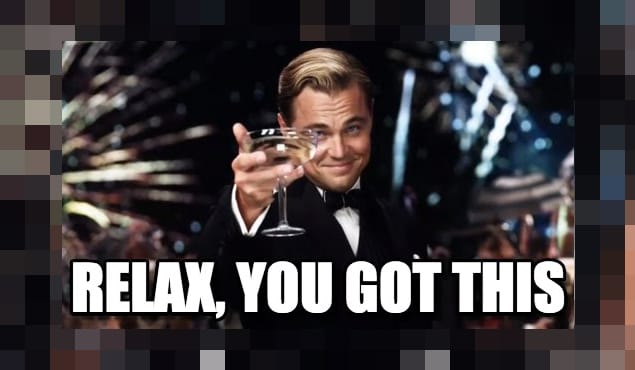 If the pitch includes this behind-the-scenes perspective, and the included article lives up to it, you may just land the gig.
Submitting Through Multiple Channels
With the written pitch out of the way it's time to submit. As I've said always start with their public facing email or form — but there's more you can do.
While the same list of 12 Don'ts says Mashable doesn't typically respond to backdoor or social media messages, that's only partly true.
Don't send your pitch via a Facebook message. That's tacky and will get lost, or you'll get this: "Hey! Thanks for the pitch. We have a specific place to pitch on our website, please go there."
Then you'll be left twiddling thumbs, knowing you already submitted there, and have wasted that social media intern's precious time.
The only realistic way to pitch in a different channel is through the actual email address of an editor. There are scattered ways to find this information, but if you do a good amount of sleuthing it shouldn't be too much of an issue.
Justify the Secondary Email
If you do go this route, know that it can be met poorly. The editor may not want to see your email in their private work inbox. As such, you'll want to justify it.
The way you do this is to say you have sent the normal email to the normal address, but wanted to make sure this editor saw it. Note that you know how many submissions Mashable receives, and felt this particular piece and the timeframe it needs to be published in was important enough to reach out directly.
To do this you'll also need to have the correct editor's email address. Namely, the one who works for the specific news category you're writing to.
If your article is excellent (it should be) the editor will likely see it as a positive, rather than an intrusion. Likewise, if you do this well and get published, it establishes a direct connection to that editor, instead of the general slush pile.
What Happens Next?
After you submit your guest post pitch you must wait. At least a couple days, though sometimes it can take a couple of weeks (after which point you should probably follow up). After this amount of time you are free to send a check-in. This check-in is why I prefer emailing Mashable in the first place (rather than a form); you can check in on the same email thread you started, therefore keeping everything in easy reach for them to get back to you.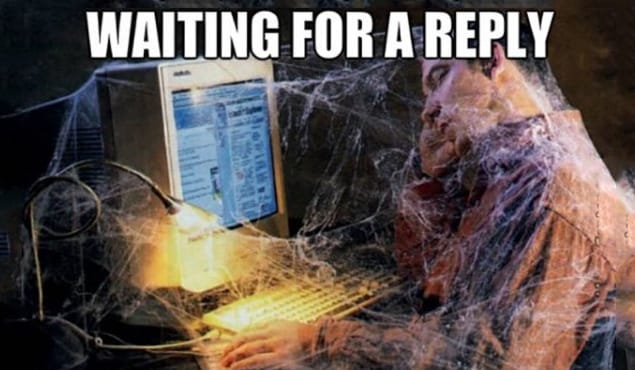 Remember that if you have a very time-specific news piece you can check in a day or two after sending. You want them to publish it, but if you already wrote the article you will want the freedom to send it other places, and they understand that.
Submit Often
The final part: submit often. No organization can knock you for trying, especially if each time you try very hard.
Don't get discouraged by a single rejection, or even a dozen. If publishing at Mashable is your goal you will get rejected, and you can only get published if you keep submitting. Make sure you always follow the above guidelines, and always produce excellent content.
Eventually something will give, and you'll be a guest author on a major blog!
Fine-tuned for competitive creators
Topicfinder is designed by a content marketing agency that writes hundreds of longform articles every month and competes at the highest level. It's tailor-built for competitive content teams, marketers, and businesses.
Get Started