Once you've created a new report in Topicfinder, you have the option to export the data to a spreadsheet for use in various applications, software, or business processes. Here's how to export your data:
Open the report and scroll down to the results table. Then, click the blue "Export" button to open the export dialog.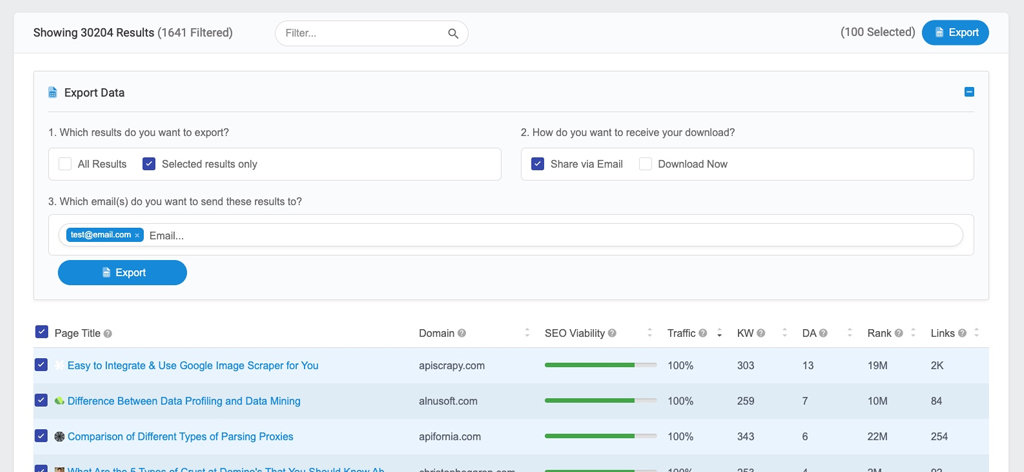 In step one, you'll find two options:
Selected Results: This allows you to download only the rows you have checked. You can select specific results, such as top results or those matching your filter parameters. The total number of selected rows will be displayed next to the export button.
All Results: This downloads all the pages found in the report into a large spreadsheet.
You can export data whenever needed and repeat the process multiple times.
In step two, you'll encounter two options:
Share via Email: This enables you to enter one or multiple email addresses (separated by commas) to send the report via email. The recipients don't need to be Topicfinder users to receive and download the report.
Download Now: This allows you to instantly download the report to your computer.
Note: To prevent abuse, there are limits on email sending. You can have a maximum of 5 email recipients per export. Abuse of this service may result in rate limiting or service disablement. Most regular users of Topicfinder won't encounter these limits.
Large Exports:
For reports exceeding 10,000 rows, exporting poses challenges due to file sizes and database queries. To address this, we divide the export file into chunks of 10,000 rows each. Additionally, we compress the file into a zip format to keep the size compact.
Note: Larger reports may take a bit longer to process. While smaller reports download instantly, massive reports (50,000-100,000+ rows) may take 5-10 seconds to compile before triggering the download or sending the report via email.
During this process, it's recommended to remain in the app until you receive a notification confirming the successful download or email delivery of your report.
With Topicfinder, reports are hosted on our server and are not attached directly to the email. Instead of including the report as an attachment, the email will provide a link or reference to the hosted report on our server. Recipients can access the report by following the link, ensuring that you can share comprehensive reports without any concerns about email attachment restrictions.