KeySearch Review: What Is It and How Well Does It Work?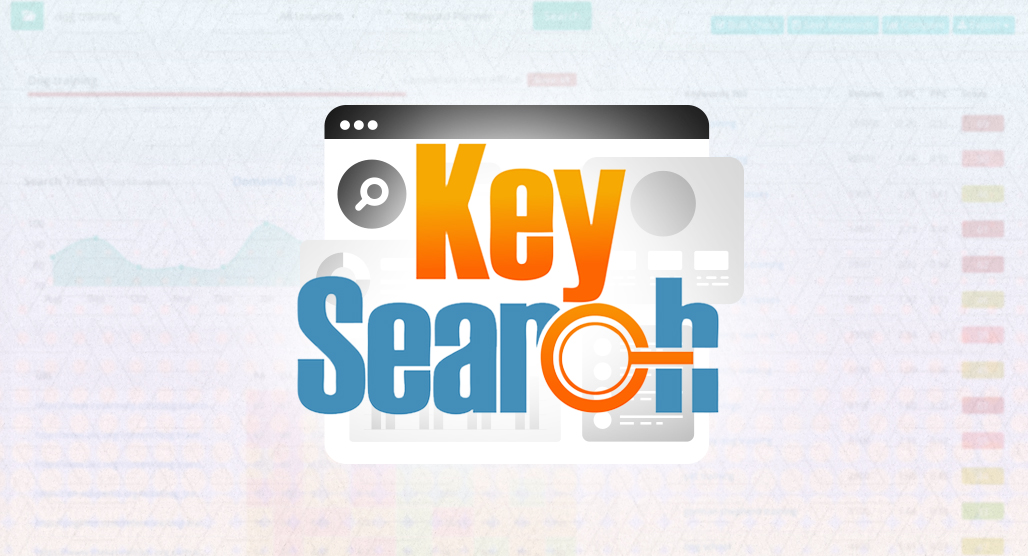 Have you ever heard the phrase "selling shovels in a gold rush"?
The idea is that, during a gold rush, tons of people head out to the area in hopes of finding gold. They have their own techniques, they have their own land, they have their own secrets, and they all hope to strike it rich. Some of them might! Many more will fail. More importantly, it's a gamble; it's not a sure thing.
Meanwhile, there are a few groups of people who are all but guaranteed to make a tidy profit. The people running the prospector bars, the people setting up accommodations, the bankers, and, of course, the people selling the shovels the prospectors need to dig.
Sometimes, it feels like marketing works the same way. There are millions of people starting and attempting to build websites in search of a profitable niche – the gold. They all have their own "land" and their own ideas and methods. But, if they want to have a chance at success, they need the tools to do the jobs: the website hosting, the site infrastructure, and the marketing tools used for research.
That's why businesses like WordPress, GoDaddy, and others are profitable. They're the ones selling the shovels.
Why do I bring all of this up?
KeySearch is another company selling shovels. They're a company providing a keyword research tool that makes some pretty big promises for a pretty low price point.
The question is, is this a high-quality shovel you can use to dig your way to gold, or is this one going to break long before you hit bedrock?
What is KeySearch and What Does it Do?
KeySearch is a portmanteau of Keyword and Research, and it does exactly what it says on the tin. It's a tool and platform that has been around in active development since 2015, and the owner – Dan Pfeffer – continually adds features to it when something strikes his fancy.
It's a web-based keyword research platform that allows you access to your research from anywhere you can log in.
It provides basic keyword research for core keywords and keyword suggestions.
It can perform a keyword difficulty analysis to help guide you to keywords that are easier to rank for than others.
It can perform a gap analysis between your website and a competitor to identify keywords they're targeting, but you aren't.
They offer additional features like rank tracking, backlink analysis, and site SEO auditing.
There are also a few unique features that KeySearch offers, but I don't usually see them on other research tools, especially those at a lower price point.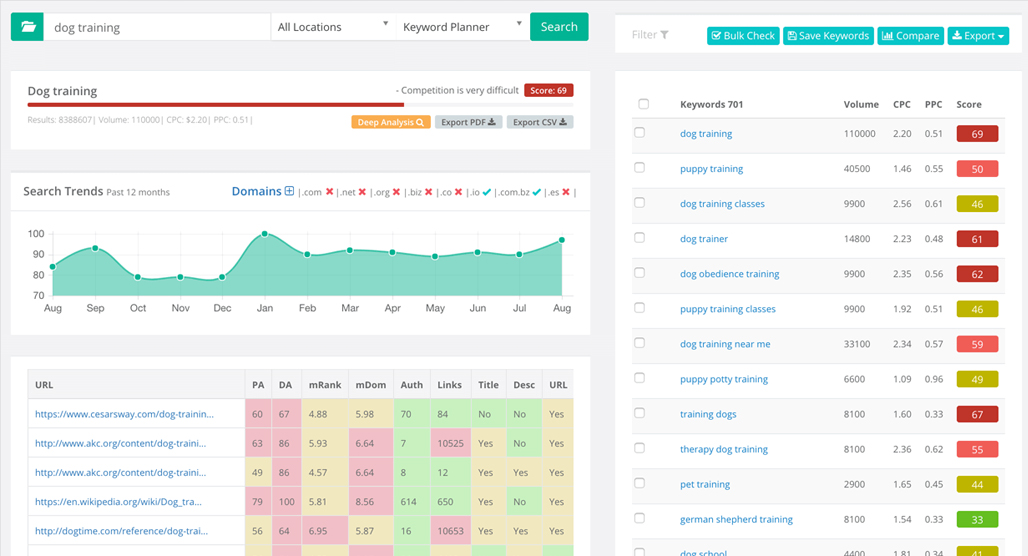 These features include:
YouTube keyword research. YouTube is very frequently a unique beast when it comes to marketing, and most YouTube or video SEO tools are firmly within their own niche; you don't often see crossover like this.
Content assistance. This is just generative AI. I'm not sure which LLM they use (Jasper, GPT, or something else), but it looks a lot like an attempt to recreate Jasper's guided AI generation, probably powered by GPT.
They also boast that their keyword difficulty analysis is industry-leading. I haven't tested it out enough to verify whether or not that's true, but keyword difficulty is a challenging metric to measure, and it's pretty hard to objectively analyze, so as long as it's accurate enough within their own ecosystem, that's good enough.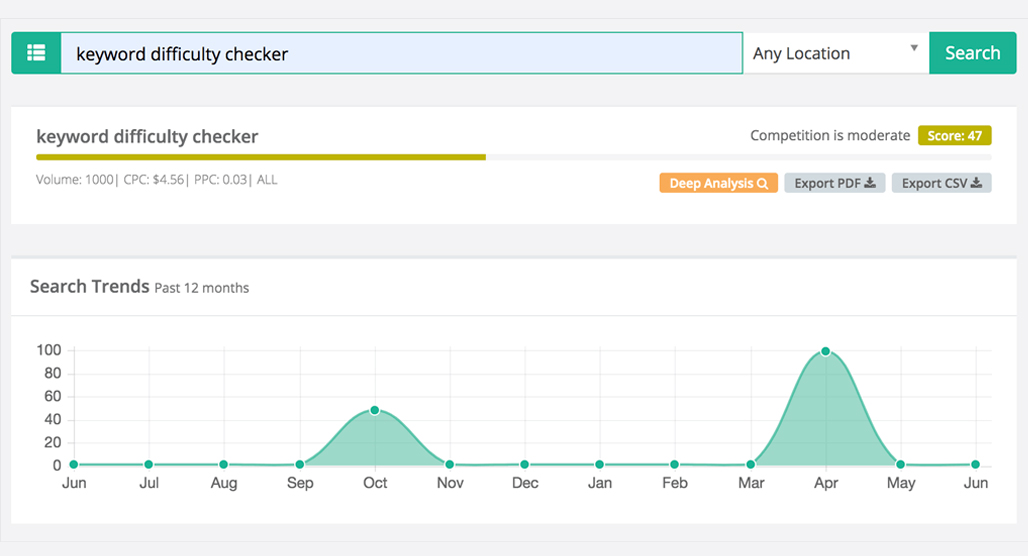 On top of all of this, KeySearch offers a free keyword difficulty checker and a page of free SEO tools, including:
A Niche Ideas Generator
A Rank Strength Checker
A Plagiarism Checker
An eBay Keyword Generator
An Amazon Keyword Tool
A Keyword Clustering Tool
An LSI Keyword Generator
A Keyword Density Checker
A Robots.txt Generator
An Etsy Keyword Tool
A Pinterest Keyword Tool
An SEO Content Editor
They round out their free offerings by providing 170+ lists of keywords based on top-level topics. Some of these are fairly common use, like Advertising and Gaming; others are a lot more niche, like Laundry Services and Physics keywords lists.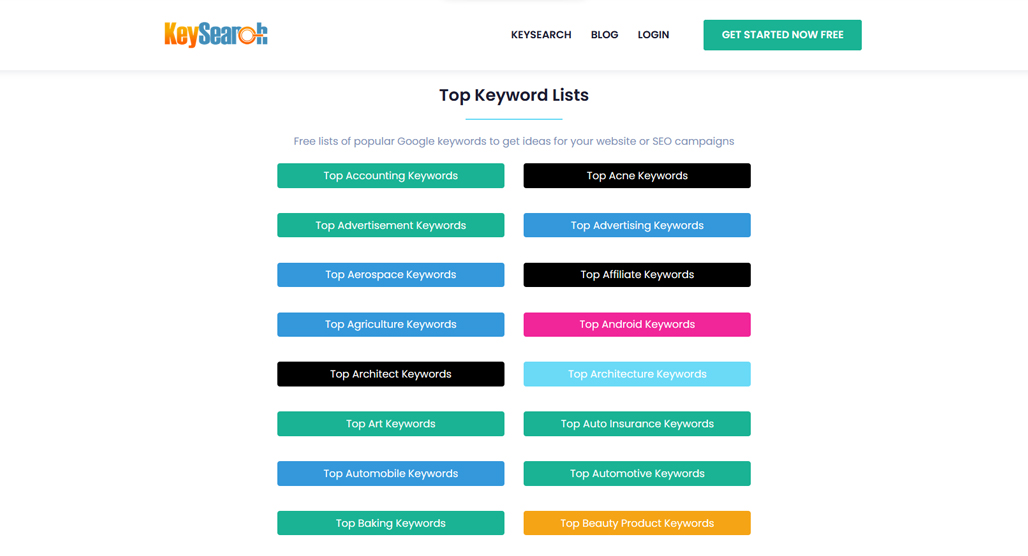 Not to toot my own horn too much, but these lists are kind of weak. For example, their Yoga Keywords List has 700 keywords on it. Many of them are also very generic keywords, like "Yoga Near Me" and "Hot Yoga." Meanwhile, my own Yoga Topic Ideas List has much more useful keyword ideas, like "The top 25 yoga blogs to follow in 2023" and "How many calories does Bikram Yoga burn?" More importantly, my list has over 21,000 of these to filter through and use.
So, as you can see, KeySearch is a fairly robust platform with a lot of different features, all centered around keyword generation and difficulty ranking.
Interestingly, they have a page for their API And API documentation, but they note that it's for internal use only. It's basically a makeshift way to add a data export for the reports you've already run on your account and not for any typical API use like resale or bulk research.
Another note: if you read older reviews of KeySearch, you may see references to other features that I didn't mention. For example, they used to have a browser add-on that would allow you to evaluate the keyword difficulty of a keyword when you're actively searching. At the moment, they've abandoned it and don't support it. It might work for now (I haven't tested it to find out), but it's not getting updates.
How Much Does KeySearch Cost?
KeySearch has three different plans you can pick from when you sign up.
The first is a free trial. This, obviously, costs you nothing, but it's limited to one month. It gives you five daily searches and keyword analysis reports as their core offering. Along with it, you get the YouTube research, the backlink checking and exploration, and access to (but no credits for) the AI content generator.
The second plan is the Starter plan. This one is $17 per month (or $169 per year paid annually), and it gives you access to all of their tools. You get up to 200 searches and analyses, the YouTube research tool, and can track up to 80 keywords in rank tracking. You get their competitive analysis tool and the backlink checker, of course, and access to the AI content generator, too. You get 5,000 AI credits (which are spent at a rate of 1 credit per word generated, so it can go quickly, especially if you're generating multiple versions of a given prompt.) You can also do a site SEO audit with up to 2,000 pages monthly.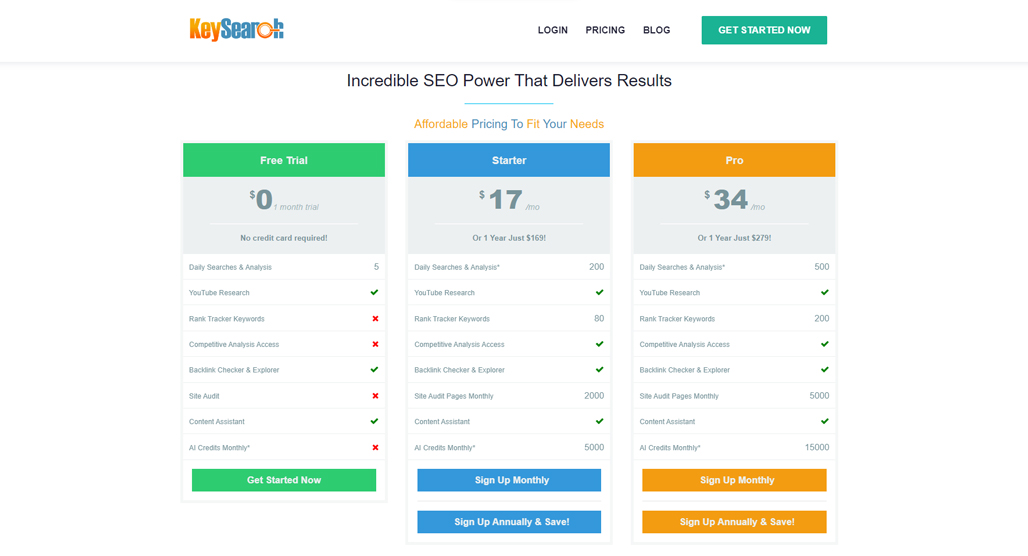 The third plan is their top-tier plan, Pro, which doubles the cost to $34 per month (or $279 annually.) It bumps up the limits: 500 daily search and analyses, 200 rank tracking keywords, 5,000 monthly SEO audit pages, and 15,000 AI generation credits.
There is one caveat here that they put in the fine print: using the backlink explorer tool uses five of your keyword search/analysis credits each use. If you're not careful, you can burn through your credits very quickly.
Personally, I have very mixed feelings about generative AI. Using AI output as-is will probably wreck a site in short order, and the more people who use it, the more it feeds back in on itself and degrades. Maybe in a few years, it'll be a much more impressive and usable tool, but for now, it's limited in utility. But it's just a tacked-on feature for KeySearch, so I'm not going to judge the whole platform based on it.
Is KeySearch Worth the Money?
Now we come to the real meat of the issue: is KeySearch any good, or is it a mediocre tool reselling the data from other tools for a cranked-up price?
Well, honestly, I don't think it's all that bad. The keyword suggestions aren't the most robust on the market – you have to do some work and/or know what you're doing ahead of time to get the nice long-tail and niche keywords you can really use – but once you get it down, it works pretty well.
Some of the other tools, like the rank tracker, the backlink explorer, and some of the social media keyword checkers, I don't really care much about, so I didn't dig much into them. I'm not big into Pinterest or Etsy, you know. Others, like the YouTube tool, seem a little more useful, but at the end of the day, it's kind of all the same data.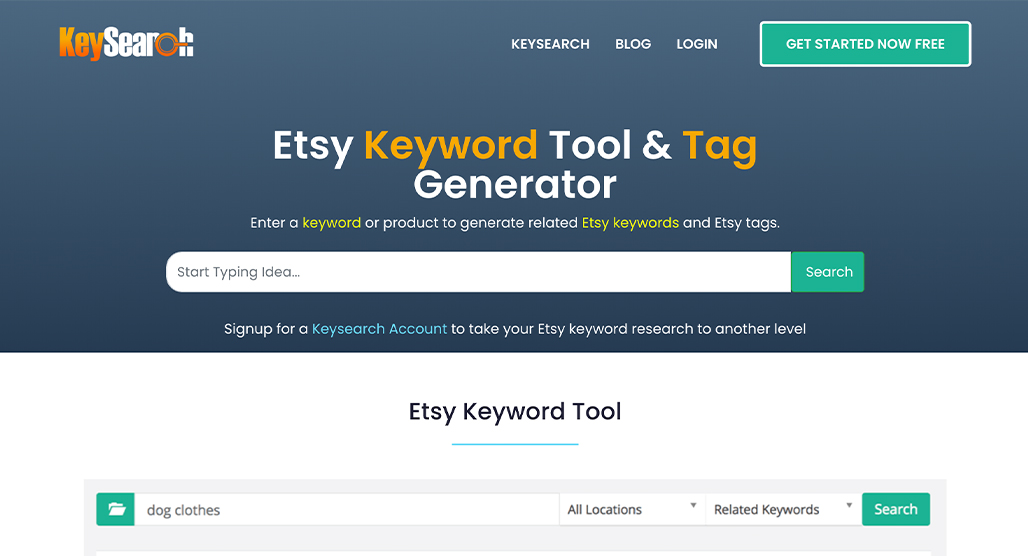 One of the biggest areas of interest to me is the keyword difficulty check. There are a handful of very good keyword difficulty ranking platforms out there, but keyword difficulty is very hard to evaluate. Why? Because it's contextual. A keyword that I could rank for easily might be very difficult for a smaller site… and a larger site would dominate the results for keywords I would struggle to rank.
KeySearch doesn't do any analysis of your site, so the keyword difficulty measurement isn't subjectively scaled to you. You have to have some idea of where you fall in the "power level" of SEO. KeySearch will assign a keyword a number between 1 and 100, with 100 being extremely difficult top-level keywords and 1 being almost empty keywords you can dominate just by existing.
My recommendation is to know what your site's top and average-performing keywords are and look them up.
That gives you an idea of the range of keywords you can target and rank for and their assigned difficulty levels, so you have an idea of what power level you have and can use to rank for other keywords on the same level.
That said, at least the tool seems pretty consistent. I didn't rigorously go through and test a bunch of different keywords to see how difficult they actually were, but based on my impressions from having been a content marketer and SEO specialist for over a decade, it all feels about right.
I will say that I think KeySearch adding in an AI content generator is kind of an indication of how the business works.
AI is the new hotness, and a lot of the now-free tools and fringe features outside of the core keyword research platform are similar; they're things that, sometime between 2015 and now, were a trending tool people wanted. Some were deprecated, and some just exist on the side. I personally don't feel like you gain anything by using the AI through KeySearch when you can just go buy a Jasper subscription or pay for GPT4, but to each their own. I guess I could say the same about some of the AI features in my app, Topicfinder (more on that in a second).
Final Verdict
I can't really say that KeySearch is the best keyword research tool on the market for two reasons.
The first is that I've been using things like Semrush and Ahrefs for years, and they are absolutely top-tier tools; comparing any tool to them will make the other tools look bad.
The second, of course, is that I'm biased; TopicFinder gives you much larger lists of keywords and content ideas with much more interesting long-tail results than what you can get from KeySearch. And, it does it faster, with better sorting and with an AI-powered content planner.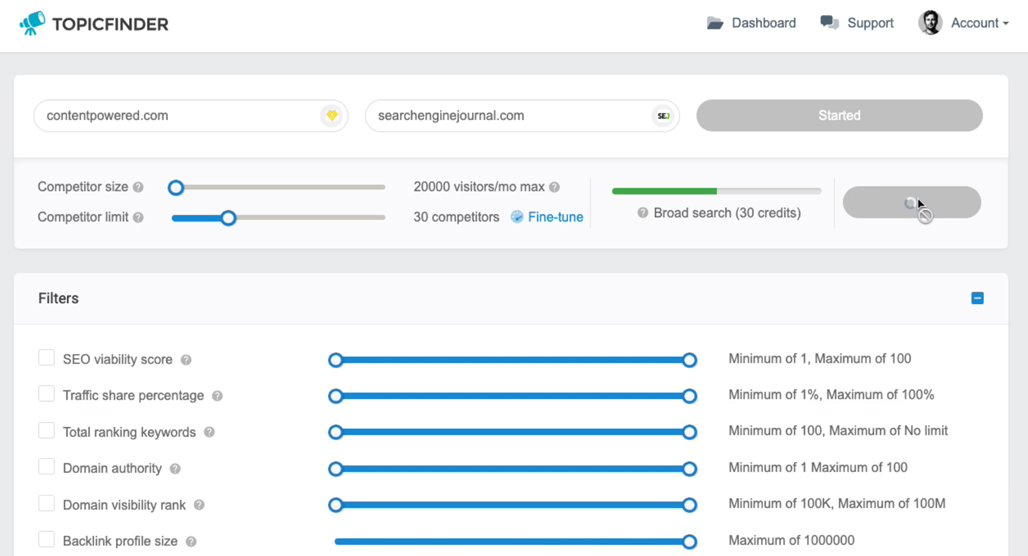 At the same time, KeySearch has one thing going for it: it's very cheap for what it does. $17 per month is not very much, given the breadth of the tools available to you. Even if you might run into unexpected usage limits due to the credits system being extra expensive for backlink checks, it's still a very low cost. For that reason alone, I think small businesses and blogs can probably get a decent amount of value out of it.
Would I recommend KeySearch to everyone? No, probably not. Small blogs looking to get some idea of how keyword difficulty works, small businesses who want to perform a gap analysis but don't want an overpriced super tool to do it, and people who really want to keep their budgets low can all benefit from it.
Once you reach a mid-sized or larger tier for your business, though, you probably aren't going to be getting enough value out of KeySearch to justify keeping it around.
In other words, it's a good starter tool before you get the income, traffic, and SEO power to use bigger and better tools.
Leave a Comment
Fine-tuned for competitive creators
Topicfinder is designed by a content marketing agency that writes hundreds of longform articles every month and competes at the highest level. It's tailor-built for competitive content teams, marketers, and businesses.
Get Started