How to Meet Other Guest Bloggers with Triberr

The one overarching truth to the blog world is that you have to connect. You have to reach across the digital aisle and make friends with your readers, of course, but that's actually not your greatest asset.
You have to connect with other bloggers in your space, and those other bloggers will be the gallons of gasoline on the bonfire of your blog.
If this sounds like fraternizing with the competition, it totally is. Blogging is all about wiping away that insular attitude about other businesses, or other blogs, and making lasting connections with them instead.
Triberr, a classically misspelled business name, is a social platform that connects bloggers to other bloggers. It was founded on this single principle of connection between bloggers, and everything it does serves as a conduit to make that connection more fertile.
In the realm of guest blogging this is, inherently, a place to meet, greet, and get to know. I'll get into the specifics of how to do that, but first, a bit more about Triberr (for those not yet in a tribe).
Join the Tribe
The site uses its name aptly — you can join or create tribes, which are groups that contain many bloggers in different fields. The tribes are primarily a place to share your content and read other people's content, then share those articles out to social media platforms like Twitter and Facebook.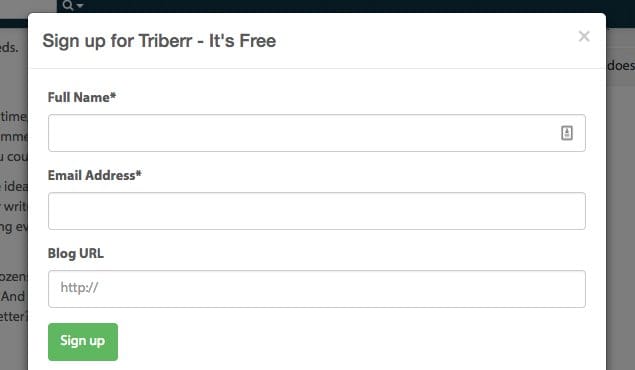 In short, Triberr is a place for a group of mass bloggers to like, comment, and share posts with their own network, thereby increasing everyone's social reach.
There are tons of tribes already on the website; some have thousand of members, others only a few. Each is run by the person that started the tribe, and that person can run their ship tight or loose. However, most successful tribes are those with very active leaders and users.
You can join many tribes, and your Triberr feed is modeled after Facebook (without the advertisements). Every time a member in one of your Tribes shares an article, it pops up in the feed. You can share their article to other sites, or comment on it within Triberr.
Tribes typically consist of three main concepts:
Content topic: Join these tribes based on what you blog about. Electronics, business, photography, etc. are all content topics and there are many tribes on them.
Location: Join tribes based on location. Great for local business and blogs that are physically based.
Content frequency: Join tribes based on how much content gets shared in that tribe. If you're a high volume poster, join a high frequency tribe.
Meeting Other Guest Bloggers on Triberr
Now that you've got the basics on the platform, it's necessary to understand how Triberr can boost your guest blogging abilities.
First, realize that any and all interaction with other bloggers will help you with guest blogging and, ultimately, the success of your own blog. That success is the reason you're guest blogging in the first place, so Triberr stands to help you immediately, no matter what.
Well, not quite no matter what. You do have to do something: participate.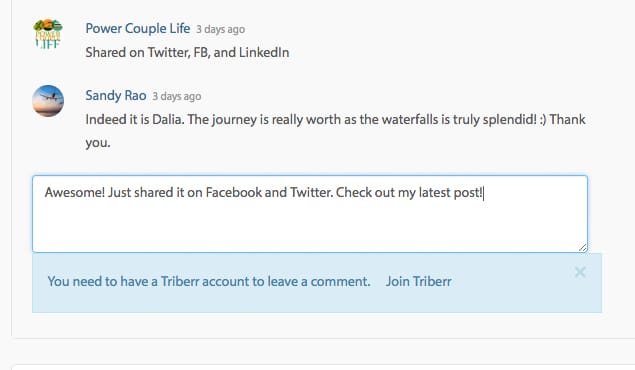 That connection I talked about earlier only happens when you decide to make it happen. Joining Triberr and a number of tribes is not enough — you need to participate in them in order to connect to bloggers.
That's the first real step of getting in with the guest blogging crowd, and getting high-level posts out there on new websites.
This connection happens through a number of distinct methods:
1. Commenting
You'll see in Triberr that every Tribe has a steady stream of content posted by its members. These content updates are blog posts written by members of the tribe, and they have put it in the tribe to get social shares on other networks.
If you really want to build inroads to bloggers on the platform it's best to start by commenting within the platform.
Read through their post, then comment about it on Triberr. You can say whatever you'd like, but the goal is connect in a positive, professional way that shows them you are active, supportive, and a solid voice in their industry.
Typically Triberr members are quite responsive to comments because it's a behind-the-scenes conversation, seen as a way for real encouragement or a place to improve technique.
Next, comment on the person's blog where the post was actually published.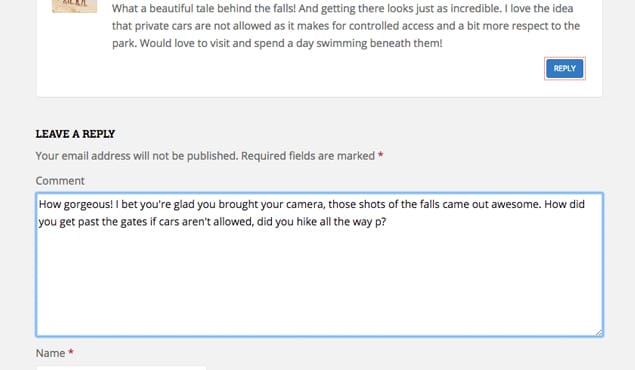 You've already read the article and commented on Triberr, but this extra step shows dedication and support in the public sphere. Comments on Triberr may bring you closer to the person, but an additional comment on their blog will help them get a bigger following over time.
By commenting on both platforms you become a clear person to the blogger, as well as the rest of the tribe, making it easy to ask for a hand or guest post opportunity in the future.
2. Sharing
As I said above, the ultimate goal of Triberr is to greatly increase the number of social shares on a given post. So, every time someone in your tribe posts content, read it, then share it on your social media platforms.
The theory is that if everyone in a tribe did this for every post, the boost would be monumental.
The site has a metric for each member called "Reach", which totals what it believes to be the maximum number of impressions they could have on the internet. It takes into account a member's social media followers from Twitter (though not yet other social networks). You'll see members with well over a million reach potential, which equates to individual eyeballs checking out your words.
You will have a reach number, which you want to increase over time. Regardless of your number, though, it's important to share other member's posts. This is the cornerstone of Triberr, and when coupled with comments will show dedication and teamwork on your part.
3. Posting
When you first join a tribe you won't always be able to post your own articles to the feed. There's an acceptance period for some tribes — the better ones, with more active members, typically don't let new users post their own articles immediately.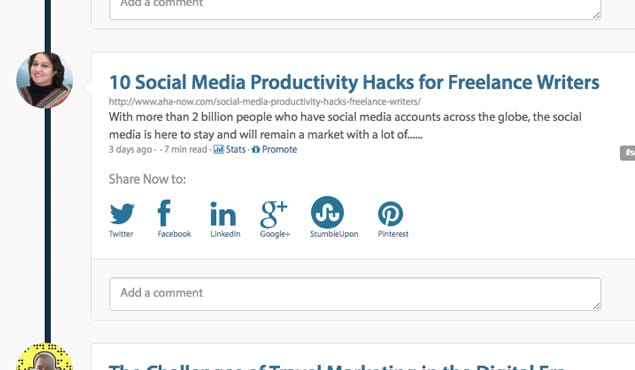 In order to get accepted as a tribe member (rather than simply follow a tribe), you'll need to get permission from the tribe leader. This is typically done through a show of commitment — commenting and sharing posts in the tribe until you get noticed.
When you begin to post in a tribe you are doing two major things in the realm of guest blog connections: showing people you put out content, and showing people how good of a writer you are.
Triberr is a huge community of bloggers, so everyone is a writer, everyone wants posts to be informative and go viral, and everyone encourages each other to make that happen.
The second you begin to post in a popular tribe you'll not only get an influx of attention on your own articles, but you begin to build the groundwork for future guest blogging opportunities.
Turning Connection Into Guest Blogging
If you actively connect in the three methods outlined above you will begin to gain notoriety on Triberr. This doesn't mean you're better than others, but it does mean your name and writing style will become familiar to other influential bloggers in your industry.
The leap from that to actually guest blogging becomes as simple as a comment or personalized message.
You could do this through Triberr: After showing your mettle, just ask one of the bloggers that is similar to you if they are interested in cross promotions through guest blogging. As long as the content is beneficial to readers, there's no reason this won't work.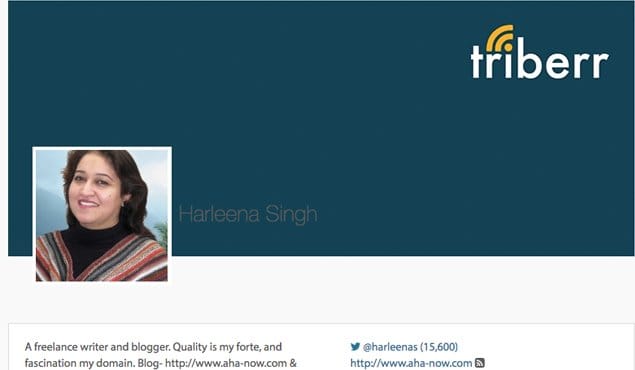 In fact, you may find bloggers are more than happy to trade posts — you write a guest blog for them, they write one for you. This further cements the connection and relationships you're making, gets you published to a wider audience, and increases your authority in the niche.
You can also connect with bloggers outside of Triberr, like on their blogs or through a traditional email. If you are aware of them on Triberr, but not quite big enough that they're aware of you, make sure to mention your involvement on the site in that email. You'll also want to interact with the on Triberr as much as possible so that you're a known quantity.
My only word of warning here: don't push it. Check their blogs to see if they accept guest posts before asking, and if they don't approach the conversation carefully. You always want to maintain the relationship, not push the envelope.
Some people don't engage in guest blogging — if that's the case with a major influencer on Triberr, know your boundaries. Continue to comment, share, and post your own articles in the hopes that they can support you in a different way.
Guest Blogging Tribes
If you want to get into the guest blogging realm more seriously, consider joining a tribe that's specifically about that. And, if you can't find one that suits your needs, create a tribe to get it done.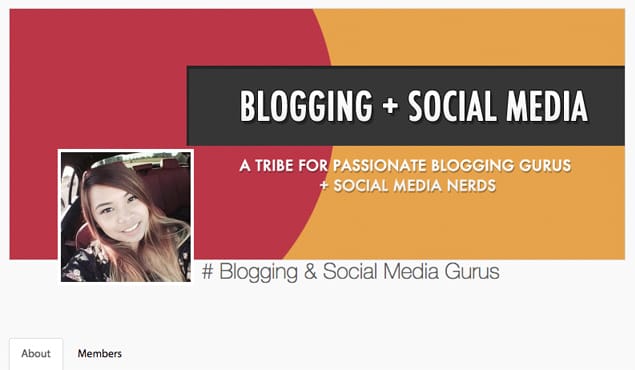 You do need to be careful here, as you don't want to get in trouble with Google's policies about link building through guest blogging. Just don't make people (or be forced to) include Dofollow links in the tribe you create, as that's not technically allowed on the internet.
That said, bloggers know what's up. If you've joined a tribe that supports guest blogging, backlinks, shout outs, audience sharing, and all the other goodies that come with a solid guest blog will develop naturally.
Just make sure to guest blog in your niche and expertise. You'll do this by sharing content (per usual) until people see what you're made of, then the exchanges will begin.
When two (or more) bloggers team up like this it's a win-win for everyone — consumers get more quality content, both bloggers get more activity, and the Triberr community will doubly support an effort that was created within its borders.
Influencer Marketing Campaign
The last major way to explore guest blogging opportunities is through Triberr's Influencer Marketing Campaign program. This, in essence, allows brands to create marketing campaigns and tap into the user-base at Triberr to create the content associated with the campaign.
Triberr claims that the brands are extremely high quality, and that writers will get paid for their work. This may be your chance to actually get paid to blog, or guest blog, depending on the nature of the campaign.
With that said, the campaign parameters are created entirely by the brand. The brand sets the rates and types of content, so you'll need to deliver on their timetable and desire, not your own.
This works for guest blogging if, for instance, the brand specifically wants industry leaders to guest post on their blog. You can sign up, get the product, and then create a post for their blog, all the while getting a byline, backlink (probably), and great recognition.
This may seem like a sellout to some of you — if that's how you feel, don't do it. Triberr members have full control over whether or not they want to join a campaign; there's no pressure to do so.
If you do join a campaign and do it well, you'll get solid contacts with a brand or company for the future, and you'll be seen as a professional writer within Triberr. The guest blogs will only increase from that point on.
Vibe the Tribe
Triberr has done an amazing job of bringing bloggers together.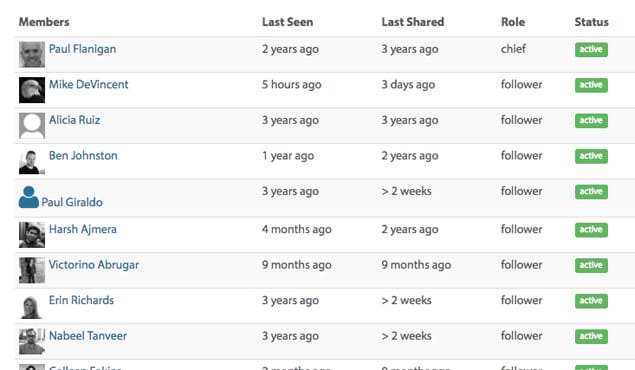 You can find your niche, make friends with great writers, and produce some of the best content you ever have, all with higher share rates than you're used to.
I don't recommend going into it solely with the goal of guest blogging, but of building your blog community. After that, the guest blogging will come naturally.
Fine-tuned for competitive creators
Topicfinder is designed by a content marketing agency that writes hundreds of longform articles every month and competes at the highest level. It's tailor-built for competitive content teams, marketers, and businesses.
Get Started